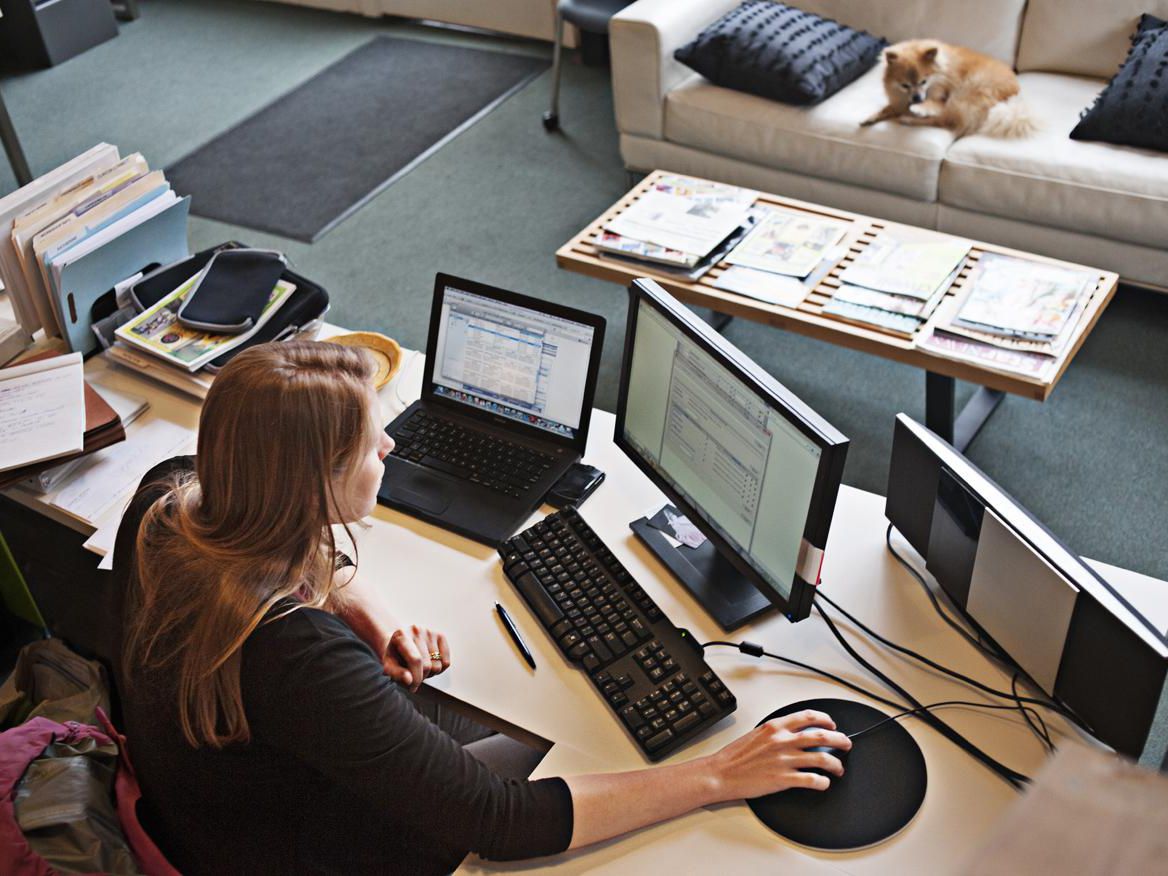 Most remote work resources start off with a recommendation to dedicate a space to work. This can be an official office, a spare bedroom, or even a corner of an existing room. The specific area doesn't matter so much as its work-focused exclusivity.
This is a particularly common refrain for those who are in a work-from-home (WFH) situation. A dedicated workspace allows you to separate activities and establish work-life balance.
Of course, it's difficult to do this if your home office functions as an extension of your personal life. Instead, you must professionalize it. Here are a few of the most important, non-negotiable ways that you should invest in your home office to truly make it a unique, effective, and productive workspace.
1. Start with Your Connection
The modern world revolves around the cloud. If you can't connect to the internet, it will leave you stranded in your work from home situation. That's why the first thing that you want to address is your internet connection.
Start with the internet itself. Resist the idea of limping by with a modest internet plan or using a hotspot on your phone. If you're doing any reasonable amount of work, you're going to want a high speed internet connection. The last thing you want to happen is to deal with dropped calls or a lost connection in the middle of a work project.
It's also a good idea to review your router. It's the most ideal to hardwire your computer to your router with an ethernet cable. If you can't do that, make sure that you have a strong Wi-Fi router positioned high up and near your office. You may even want to invest in the latest Wi-Fi solutions like adaptive Wi-Fi systems or Fiber internet.
2. Address Environmental Concerns
The state of your office environment is also very important. Before you start thinking about desks and computer screens, consider the condition of the space itself. A few ways to ensure that your home office is clean and healthy include:
Installing a smart thermostat to regulate the temperature.
Using an air purifier to keep the air clean.
Getting a humidifier, a dehumidifier, or both to regulate the humidity.
You're going to spend a lot of time in your home office. Make sure it's optimized for both health and comfort.
3. Get Good Equipment
Once you have a clean space and a strong internet connection, it's time to start investing in your actual work setup. There are countless gadgets that you can fill a home office with. Many of these are fun additions to a WFH office. However, we're talking about crucial investments that you can't live without. In that case, there are a few pieces of equipment that rise to the top of the list:
A good computer is always needed to keep you in touch with the rest of the world.
A solid keyboard and mouse that can hold up under daily use are also essential.
A quality monitor (or even two) can be much easier on the eyes than a tiny laptop screen.
A pair of good speakers and/or headphones are needed for things like music and phone calls.
A video camera, a mount for your phone, or both can help you receive video calls.
You may need a printer, scanner, or fax machine depending on your line of work, as well.
Before you start setting up your space, consider what items are essential to your work. Then start filling your office by accommodating each of these needs before you add any frills.
4. Don't Forget Furniture
You may have noticed that there wasn't any furniture included on the list above. That's because furniture is so important it gets its own section. Chances are you're going to spend hundreds and even thousands of hours in your home office. If this is the case, you want to select high-quality pieces of ergonomic furniture to make the space as comfortable as possible.
This should start with a good desk. If you can afford a smart desk that allows you to both stand and sit, consider the investment. This can be great for your posture and overall physical health.
It's also wise to find a chair that is adjustable, can swivel, and has great lumbar support. You may also want to get a comfortable rug, mat, or other foot pad to help your feet stay comfortable. Also, consider if you often have others over to visit in your office. If that's the case, you may want to include an additional chair or even a couch for guests to occupy.
5. Light It Up
The lighting in your space is an easy-to-overlook item. However, it can have a huge impact on your mood and overall productivity. With that in mind, make sure to:
Maximize natural lighting by setting up near windows and removing unnecessary curtains and blinds.
Set up artificial light to brighten your space and lift your mood.
Utilize mirrors to reflect light and create a larger feeling for your space.
Get a SAD (seasonal affective disorder) lamp for your desk if you suffer from seasonal depression.
A well-lit space can make or break your home office experience.
Investing in a Quality Home Office
Many companies are shifting to a remote-first work model in the wake of the COVID-19 pandemic. If you find yourself amongst the ranks of those who are working from home long-term, it's important to invest in your home office.
This starts with basic essentials like a strong internet connection and a healthy working environment. From there, make sure you have the right gear, ergonomic furniture, and an illuminated space.
Once all of these items have been taken care of, it's time to work on personalizing and decorating your space to perfection. Of course, that's a task that is intensely personal and should be unique to your own perks and proclivities. The good news is, once you have a solid home office infrastructure to work with, the rest of the setup process becomes a fun, rewarding experience — and one that leaves you with the best home workspace possible.