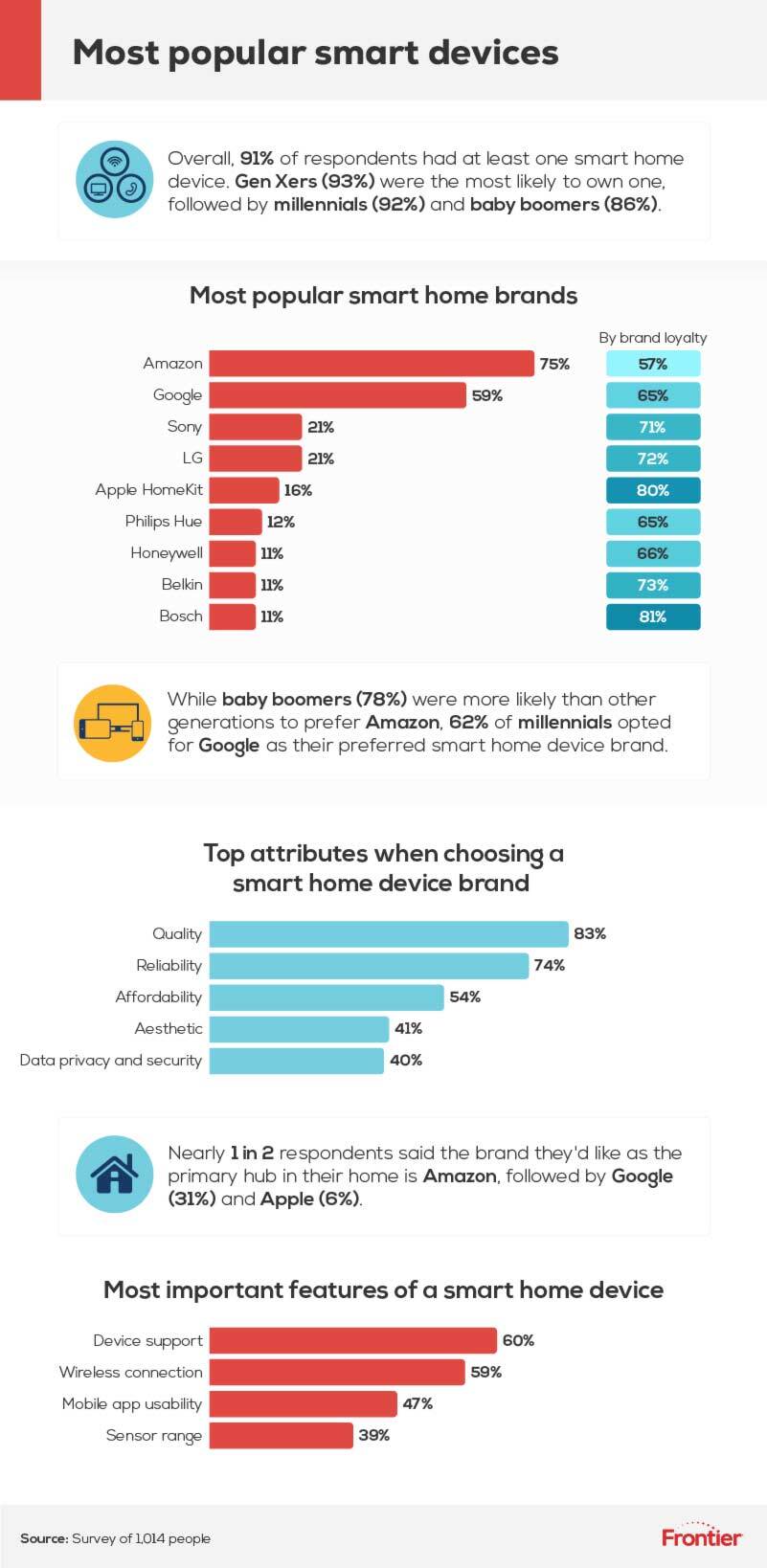 Most people view their home as their resting place, where we can enjoy leisure and convenience along with safety and security. Thanks to big companies continuing to grow smart home tech products, convenience and security have been taken to an entirely new level. Smart home products have the ability to do tasks usually done manually, such as adjusting the thermostat, turning the lights off, and even turning on a fresh scent, all by voice command. These products and features can upgrade your home and add monetary value to it as well.
But what are the best smart home products and features? Frontier Communications conducted a survey to reveal how consumers feel about smart home products and what products and features they prefer to have in their homes.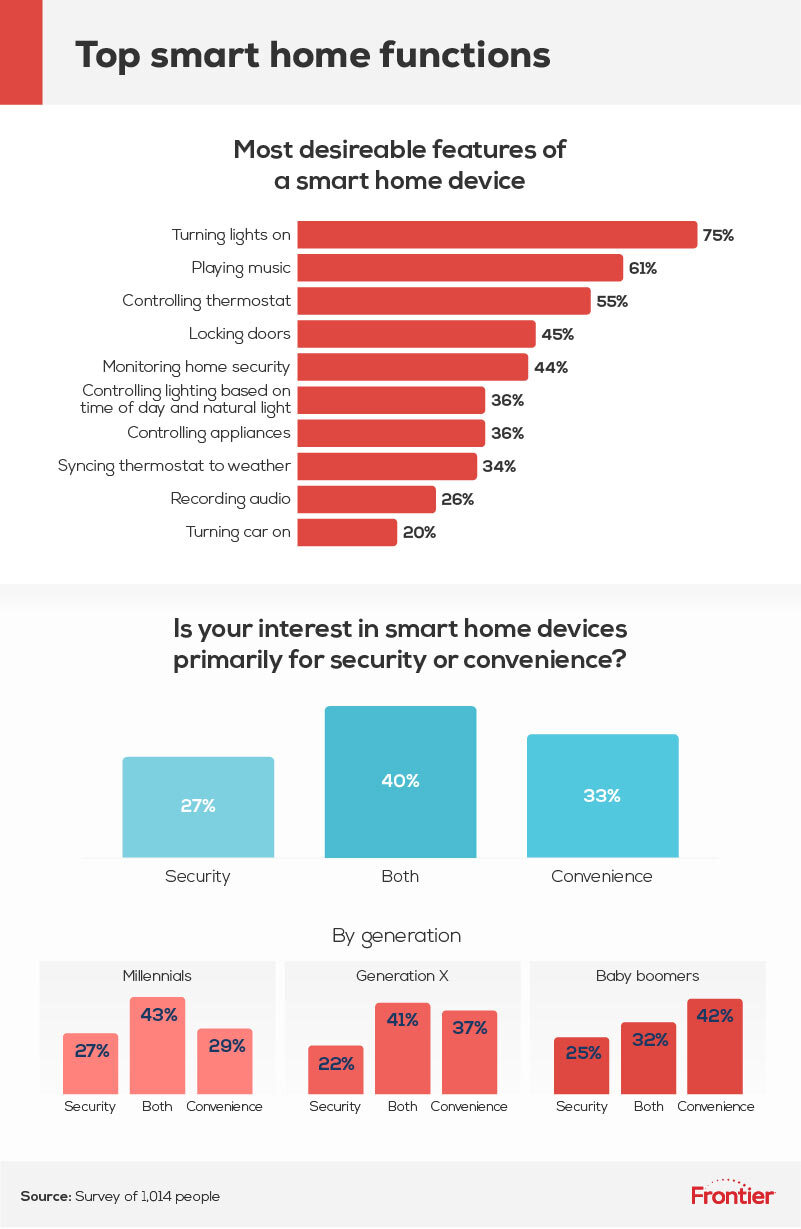 Overall, one in three respondents said their interest in smart home devices was driven by a desire for convenience, while 27% cited security as their primary goal. Baby boomers were the most interested in smart home devices for convenience, with 42% citing it as their main reason to own one. On the other hand, millennials were most interested in having smart home devices for security, with over one in four desiring it the most. This makes sense when considering just how easy smart home devices can make tasks for an aging person. When a device can adjust the thermostat or lock the doors, it makes for less physical work on someone who may have trouble getting around.
Devices that handle some of the most mundane tasks make four of the top five most desired features respondents want from a smart home device. Respondents said the most-desired feature is a device that can turn the lights on and off, with three in four respondents wanting a device that handles this for them. As it turns out, getting up to manually turn the lights on and off can truly be a nuisance. 55% of respondents want a smart home device that controls the thermostat, 45% want one that locks the doors, and 44% want a device that monitors home security. These devices can add monetary value to a home, along with values such as security and convenience for those residing within the home.
Just over one in three respondents want a light that automatically adjusts based on the time of the day and the natural light, while 36% say they would like a smart home device that controls the appliances. These features are offered by popular brands such as Amazon Alexa, Google Nest, and Arlo. Overall, respondents prefer Amazon for their smart home devices, with three in four saying it's their preferred brand. 59% prefer Google, which offers a wide range of smart home devices as well.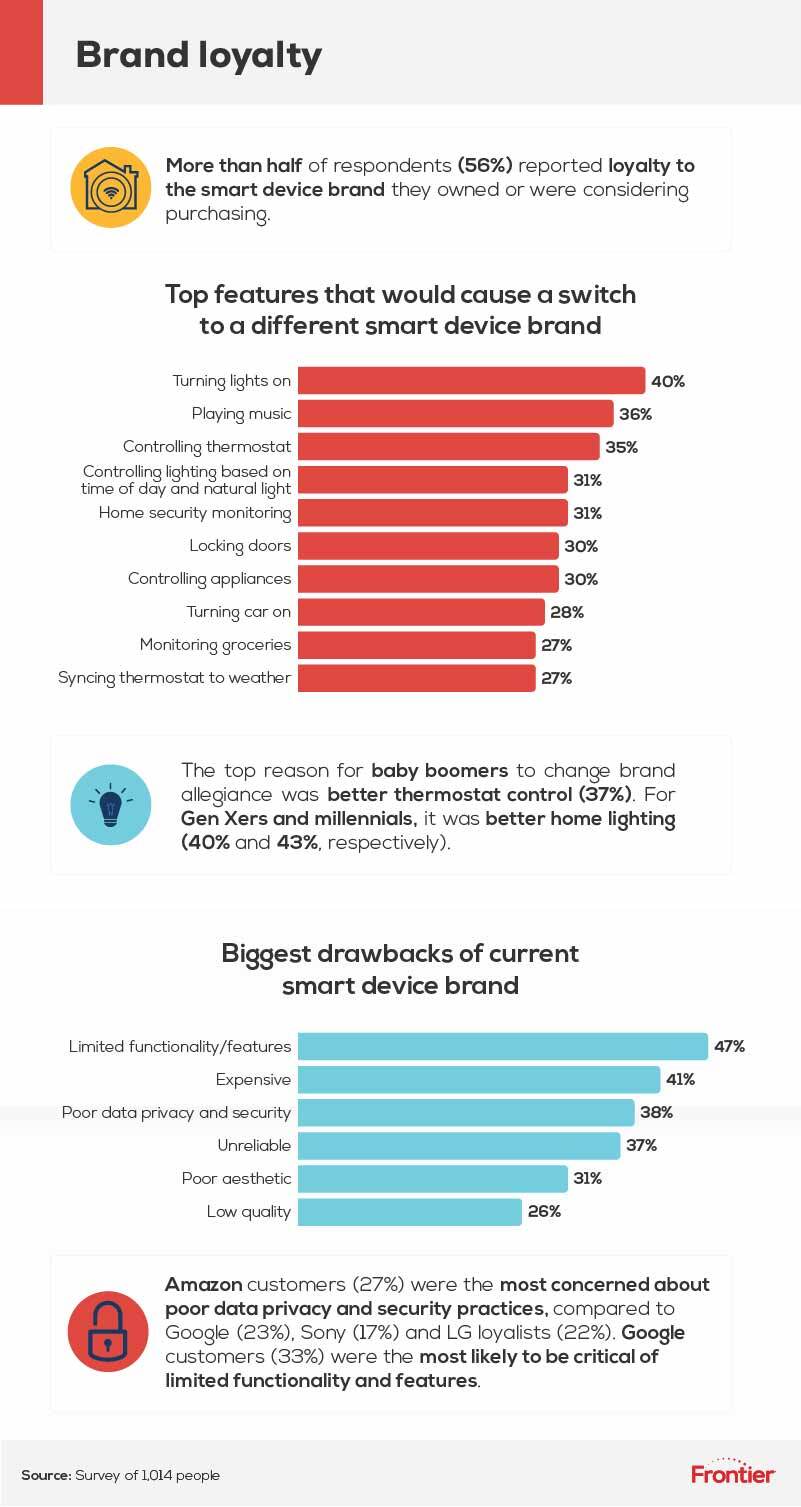 Regardless of the brand, smart home devices can offer features that take your home from the past to the future. A smart refrigerator, smart light bulbs, or a smart thermostat can be a selling point for buyers due to the attraction of the futuristic features and due to the fact that these features are already installed and ready to go. Smart home devices are continuing to grow in popularity and may be worth considering to upgrade your home.