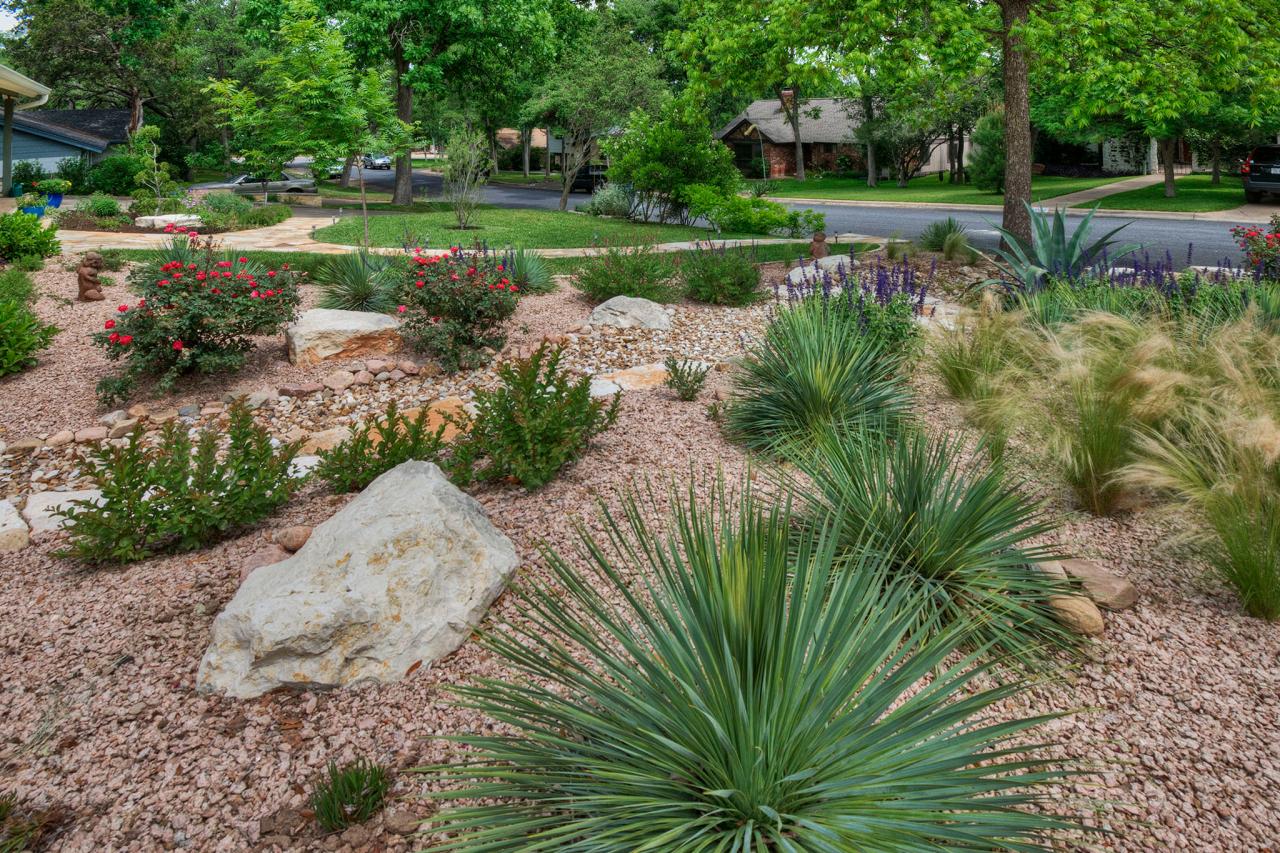 When you're making decisions for your next landscape design or improvement, consider taking a look into xeriscape design practices. Xeriscaping is the practice of reducing your need for excess water on your lawn and landscape. Not only does this work to preserve this important natural resource, but it can also help save you on costs and make your landscape easier to manage. Save on time and costs—who could have a problem with that?
But if you aren't familiar with xeriscaping, you may be hesitant to implement these strategies. Many falsely believe that to xeriscape means you have to turn your yard into a desert. This simply isn't true. Xeriscaping can help you design a sustainable and beautiful landscape that will be the envy of your neighbors. Here, we're taking a closer look at this unique approach to landscape design and how it can transform your outdoor space.
What is Xeriscaping?
You may have heard this term before, but have you stopped to actually define it? According to National Geographic, xeriscaping is the practice of designing and managing your landscape to reduce or eliminate the need for irrigation and additional watering.
Through thoughtful practices and strategies, you can dramatically decrease the amount of water needed to sustain your landscape. By choosing certain plants, trees, ground cover, and being smart with your current watering system, you can decrease the amount of water your landscape uses and reduce your impact on the environment. So, what exactly is a xeriscape landscape design then? As one would guess, a xeriscape landscape design is one that adheres to xeriscaping principles for the planning, development, and maintenance of a landscape design.
What are the Benefits to Xeriscaping for Your Landscape?
There are many reasons why so many homeowners and property managers are turning to xeriscaping practices. With the opportunity to save time, money, and the environment, it's no wonder why this landscaping practice has caught on—even if you aren't in an arid and dry environment. Xeriscaping can work in any climate and still offer amazing benefits to you and your landscape.
Want to see how? Some of the most important benefits to xeriscaping include:
Save water: this benefit has only become even more important in our current age of environmental crises. Conserving our natural resources, especially water, is critical as our populations continue to grow.
Save money: by reducing your water usage, you'll also be cutting down on your monthly utility bill. Not only that, but many xeriscaping features, such as rocks and gravel, are much cheaper than turf or sod.
Save time: we could all use a little more time in our day, right? A xeriscape landscape is designed to, essentially, take care of itself with far less maintenance. Cut down on time spent watering and maintaining your landscape when you utilize certain xeriscaping principles. Now, you have more to actually enjoy your landscape.
Aesthetics: xeriscaping can help you create a unique and beautiful landscape. Natural features, such as a variety of rocks, stones, and gravel for ground cover can be used in tandem with naturally drought-resistant plants and trees that require far less additional irrigation. Together, these xeriscape features can create a truly beautiful landscape design that will make you stand out.
How Do I Start Xeriscaping?
So, xeriscaping is starting to sound pretty nice, right? Saving time, money, and maintenance requirements all looks pretty good, but how do you actually put the practice of xeriscaping to use with your landscape? Believe it or not, but it's relatively simple to get started with your xeriscaping. Small steps, over time, can improve the quality of your landscape, making it more sustainable and beautiful than ever before.
Here are some tips to get you started with your own xeriscaping project:
Make a sun map: direct sunlight is a major drainer on plants, trees, and flowers as it whisks away moisture and raises the temperature. Knowing where, and when, the sun lands on your property is an important early step. Make a sun map of your property to help you plan out where to plant the flora throughout.
Implement rocks and gravel: while many of us love that classic green lawn, it isn't the most sustainable—or cheap—form of ground cover for your yard. Instead of a whole field of grass, consider adding in some rocks and gravel to mix up the landscape design or fill up a larger area entirely. With different sizes, textures, and colors, rocks can add a unique aesthetic to any landscape and they're much easier to maintain. Hint: you don't need to water rocks.
Use native plants: by selecting native plants, trees, and flowers for your landscape, you can cut down on costs and water usage. Native plants have evolved to thrive in your local climate, which means they're used to the amounts of sun, precipitation, and different types of weather. You can find many beautiful native landscapes to fit perfectly with any type of landscape design.
Maintain your current irrigation system: xeriscaping doesn't mean you need to eliminate all irrigation from your yard, but rather, simply do it smarter. This means you need to consistently keep up with maintenance for your current sprinkler and irrigation system to prevent leaks and water waste. Over time, this can also save you quite a bit of money.
Conclusion – What is a Xeriscape Landscape Design?
Contrary to popular belief, xeriscaping is not "zero scaping" your yard. Landscapes in any part of the country or climate can benefit from various xeriscaping practices. And on top of that, you can even make your landscape look more appealing and functional by adhering to xeriscaping strategies.
You don't need to completely renovate your yard to xeriscape. In fact, this method can be relatively easy. Utilize native plants, maintain and repair your existing sprinkler system (if you have one), and water in the afternoon to prevent evapotranspiration. Taking these tips into account for your landscape design can help you not only save water and money, but you can also make a meaningful step toward protecting our environment.