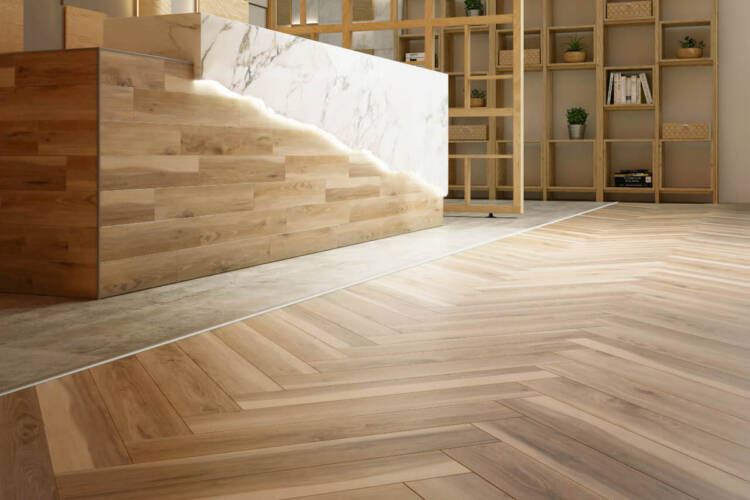 I live in a condo built in the 60s. Well, the condo building I live in is really dated—especially the kitchen and bathroom floors. I guess you could say the floors are solid wood, but there is no way I would put my foot on any of them – they're vinyl tile. No matter the application, flooring has a big effect on your home's aesthetic and its value. Solid wood floors retain their value very well, but they require a lot of upkeep and cannot be replaced easily if damaged. On the other hand, Vinyl tile can be replaced on a dime and is easier to maintain.
Solid wood flooring and vinyl tile floors are beautiful and durable, but they serve different purposes. Both offer advantages for homeowners seeking a new look with minimum fuss and maintenance.
Style and durability
Solid wood flooring (SWF): There are countless reasons why you would want to install hardwood flooring in your home, including aesthetics, durability, and health. Hardwood floors are better for you, for the environment, and the future of our world. You can enhance your life by installing hardwood flooring in your home.
Vinyl tile floor (VTF): The vinyl tile floor is made to look like natural stone or ceramic tiles. This flooring choice can help you warm up your home without breaking the bank. You can choose the colors, styles, and designs you want. Some vinyl tile floors are also waterproof so that they can handle moisture easily.
Eco Friendly
SWF: The lumber used for solid wood flooring is harvested from trees, fallen wood, or created by milling lumber. Most solid wood floors are harvested from forests that are harvested under sustainable practices.
VTF: Vinyl flooring is unique in the realm of flooring because it is made with at least 30 percent recycled content. This means that any time you remove vinyl plank flooring instead of replacing it, part of the process is recycling the existing vinyl flooring rather than permanently disposing of it.
Moisture
SWF: In areas that experience a lot of moisture, such as bathrooms and kitchens, solid wood flooring should not be used. It is a misconception that solid wood flooring is highly durable and unaffected by moisture or water.
VTF: Many house owners are not aware that the vinyl tile floor is moisture resistant, and this quality makes these tiles immune to many forms of liquid accidents. Your kitchen, bathroom, and other water-active floors are now safe from damage due to leakage, spills, or any form of liquid accident.
Maintenance cost
SWF: Solid wood flooring lasts for decades without any problems if given the right treatment. Solid wood is strong by its nature, but it can become dull and can scratch or even chip with time. When this happens, the only thing that can help you is a proper restoration procedure that restores the wood to its original luster.
VTF: The vinyl tile floor is a popular choice for homeowners and renters because it compliments a variety of home styles and provides an easy-care surface. Easy to install and clean, vinyl tile is often more affordable than ceramic or stone tile.