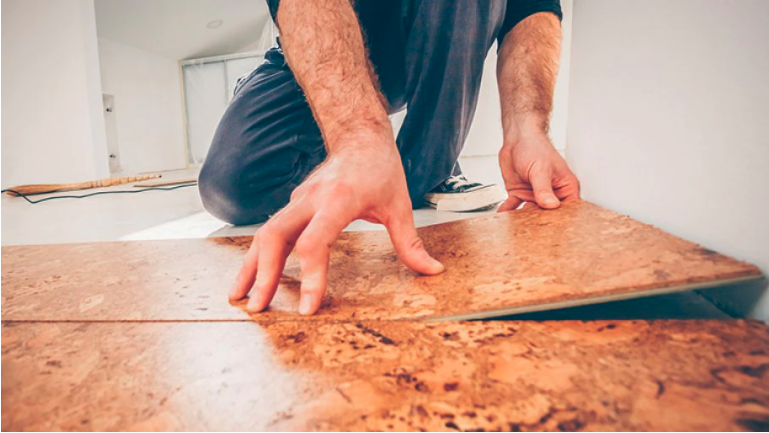 Cork flooring is a popular type that has a lot of great advantages. It looks great, it feels great and it can be the right flooring for a number of different situations. However, there are also some disadvantages of having this type of flooring. If you're torn about whether it's a good fit for your home, let Angi, formerly Angie's List, help you decide.
Cork Flooring Pros
If you love the way this flooring looks, you're already familiar with one of the pros. Cork flooring is also very easy to care for and is an affordable material. You can expect to pay anywhere from $2 to $8 per square foot of this flooring. This is highly comparable to other flooring types like carpet and bamboo. It generally costs less than hardwoods and more than vinyl and laminate flooring.
Many people also choose it because it is a natural material. Using natural materials makes it a sustainable way to create flooring, and that's better for the environment. The cork will eventually break down once it has been used in your home for many years. It's been found that when it's taken care of it can last as long as 40 years.
It is also hypoallergenic, so it's great to use for people with allergies. It's easy to take care of, requiring only frequent sweeping, vacuuming and mopping. It requires no harsh chemicals to be used on it. It's great for high-traffic areas because it's springy and will go back to its original shape after it's been walked on. That also means that it's comfortable to walk on. It's often recommended for rooms where you will be standing a lot. While hardwoods and tile get cold in the winter, cork stays warm, so it's great for bare feet.
Cork goes with a lot of color schemes from dark colors to pastels, so it pairs easily with a given room. It also has a design that allows tiny scratches to blend in with it. The acoustic insulation properties of cork make it a good way to soundproof an area. That makes it perfect for the rooms that are over home offices and other areas that need to be soundproofed. It's also water-resistant, making it great for wet rooms.
Cork Flooring Cons
While cork is durable and ready for high traffic, it is sensitive to light. If you like to let in a lot of natural light, this might not be the flooring for you. It can discolor cork and create lighter patches. It also has to be sealed so that it won't swell up. It's water-resistant, but if liquids sit on it for long enough, the floor can absorb them. If this is allowed to happen, the flooring would swell up and can be badly damaged. This can be an expensive fix that might make this less than ideal for some homes. Every two or three years, the sealant has to be reapplied to the flooring to keep it sealed.
It's a durable material, but it doesn't always withstand heavy objects as well as materials like vinyl. If you moved the furniture around, you could have dents left in the flooring. If you have pets, this flooring can be difficult to have if your pet scratches a lot. Pets can easily damage these floors by frequent scratching.
It makes sense to carefully weigh the pros and cons of this flooring before choosing a type. Visit Angi for more information on cork flooring or to find a flooring company in your area.