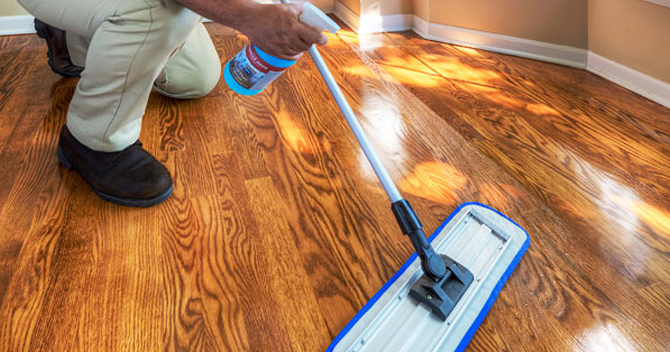 Engineered Oak floors are durable and easy to clean, however, there are some things you need to take into consideration when it comes to maintaining your floor. This guide will take you through the basic maintenance on how to upkeep your engineered oak floor.
Protecting your floor against dirt 
When you're walking in and out of the house, it can be hard to not get bits of gravel and dirt everywhere. Need a simple solution? A good doormat. Having a doormat to clean and dry shoes is a great way to stop unwanted nasties from coming into your home.
Light floors equal more attention 
The lighter your floor, the more you need to clean them. It's no surprise that lighter colours enhance dirt a lot more. Simply vacuum and clean regularly to keep your floor looking spic and span.
Protective pads
Having soft, protective pads on the bottom of chairs and tables can reduce scratches and dints. If you live in a busy household, chairs are bound to get moved around which may cause your floor to scratch. Use a cotton-based material to ensure your floor is getting full protection.
Cleaning your engineered wood floor 
Using a floor steamer is the best way to clean engineered wood floors. Avoid heavy amounts of water as this can cause the top layer of the wood to warp and stain. If you want to give your floor a quick clean, use a sweeping brush and vacuum to get dust and gravel up.
How to remove stains 
Has your red wine-stained your floor? Remove stains as soon as possible with a specific cleaner, for example, diluted water, that can be bought through your flooring manufacturer. Avoid using harsh chemicals as this can lead to discolouration. The last thing you want is to re-oil your floor.
General tips 
Use soapy water and a damp mop to clean up any spillages.
Clean up spills straight away!
Sand your floor every 10 years to keep up its luxurious look.
Avoid scrubbing your floor with metal-based cleaning pads as they may scratch your floor.
Do you have any more cleaning tips? We'd love to hear them!