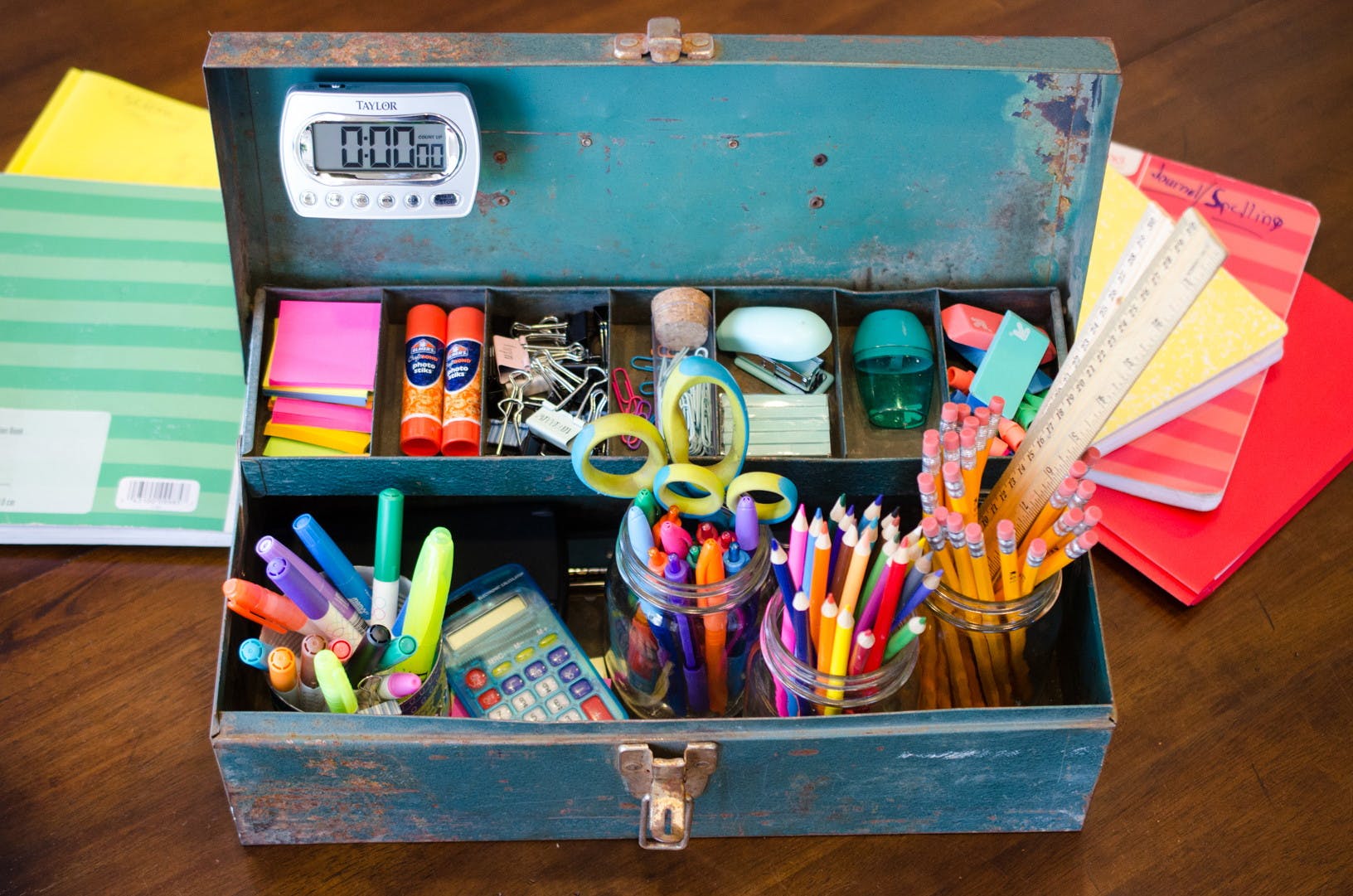 Children's school supplies can keep on increasing, and if not managed, will spread here and there and litter the house eventually. The supplies cannot be thrown away because they are needed a lot by the children. School projects, crafts work, picture diaries, and more require the school supplies.
These supplies include pens, pencils, crayons, stapler, glue, scissors, highlighters, and so on and on.
These are mostly small and get quickly cluttered. That is why organizing the school supplies using various methods, and organizers are necessary. This can be done in one day or over a period whenever there is enough time.
Get Rid of What Is Not Needed
The first step is to find out the used supplies that cannot be used anymore. That means finding out all the empty pens, broken staplers or colors, spoiled crayons, empty highlighters, dull scissors, torn paper or crumbled up sheets or paper/magazines and such.
This might take some time, considering the size of most things and time is taken in checking the state of the school supplies.
After collecting them, either throw them in a recycling bin or a regular garbage can. Everything that cannot be salvaged will go inside the dustbin all together.
There is a need to be careful and not throw anything that may seem unnecessary but is still working. That is because all the school supplies are not needed all year long. Some are required during summer vacation projects only.
Saving the Older School Supplies
The older school supplies that have not been used will come in benefit. These will help save money during the new school term and can be reused until out of stock.
Buying the Necessities
After getting rid of the waste products and unusable supplies, comes the time to get new ones. It means buying the supplies that are missing or are running low and frequently used. The school supplies list will include the things that the child needs for his or her homework.
The list is usually provided by the authorities of the school or the class teacher the things that the child needs to take school for work. The same things will be required at home as well, at the very least.
Ask the children what their school projects are and their homework and make up the list accordingly. Then go to a stationary shop or mall, wherever the school supplies are available, and get them.
This is a critical step, as it will be a cumbersome task to buy a pencil or eraser or glue in the middle of the homework.
Organizers for School Supplies
Now the supplies are in stock, and the clutter is clear. The real task that makes everything convenient is to organize all the school supplies. There are several organizers, along with the organizing methods. The organizers can be bought or made at home for this purpose.
Bring Everything Together
First, bring everything together, in one place. To save time while organizing, it is unavoidable. Better to have everything right in front rather than having a witch hunt during the process.
The only precaution to be taken is not to have "too much" of things. This might give a feeling of overwhelming. It would be better to have only the number of things that one can manage at the very most.
Keep an optimum number of things at hand: Keep the remaining stuff stocked for later purposes. This means not having the entire box of pencil opened and kept in a pen holder, but only three or four. No one will need more than one or two glue sticks at a time.
Keep the extras Stored in Some Safe Place: There will be some extra pens, pencil boxes, crayon boxes, or other school supplies. They should be kept in some drawer, box, or bag and tagged. Please do not keep them in the basement and stack other things on them. This might make them get lost. It is best to keep the things where they are easily accessible, like a closet or in a box in the basement labeled and kept separately.
Sort the Things Categorically
Having a pencil color and a pencil in one place might work. But having pens, pencils, pencil colors, crayons, erasers, sharpeners, and stapler-pins in the same box will not make things easy. It will be messy while taking smaller things out.
It is better to categorize things and then store the same or similar things together. This will depend on the organizers that are available at hand and their shape and size.  Nonetheless, organize the things into groups like a pencil, and similar things go together, eraser, stapler-pins, and such together; glue sticks, scissors, and other craft-related things together.
First Idea: Using A Cabinet Organizer
As shown in the image, a cabinet is suitable for storing a "lot" of school supplies at once. Having extra plastic drawers inside will give more sections to store things separately categorically.
This method's most significant advantage is that it keeps things out of sight. That means preventing them from being overused by the kids. This also prevents the cluttering of things by children unnecessarily.
Cabinet of any kind will work, big or small. It depends solely on the budget and the number of things to be stored.
Some cabinets have drawers in them installed. However, getting a cheap plastic drawer is necessary since the school supplies are small. They need to be stored in small drawers. After storing them, label the drawers, and the job is done.
Below are the links to some plastic drawer organizer that can be used with or without s cabinet.
No products found.
No products found.
No products found.
Second Idea: Keeping the Things in Divided Drawers
This method can be used in any drawer. It involves placing plastic or cardboard dividers in the drawer. This creates all sections in it. The dividers can be bought online as well. Boxes of small size can be used in the same way.
Drawers in the computer table, in the kitchen, in the bedroom closet or children's room, or any place can be used for this purpose. However, it is best to use the drawer closest to where kids work. This is like the previous method, as it keeps the supplies out of sight. This means lesser littering.
The links to some divider organizers were mentioned in the previous section.
Third Idea: Storing Things in Small Buckets, Caddy, Cups, And Other Small Containers
This is for those who do not have a cabinet or drawer, or the cabinet is not close to where kids work. In that case, as shown in the image, one can use many other things. Organizer Carts and utility caddy can be used, are small and handy. Using cups with the carts give the categorical storage option for the school supplies.
A kitchen cart is the best for this as it can store things at different levels and lots of small things. Using the divider mentioned previously in the article will make things even better. Creativity is the key here. Adding small bags and hanging them or adding bins at the edge will give more versatility to the whole cart method, as shown in the image.
Links to buy some Kitchen Carts and Organizer:
No products found.
No products found.
No products found.
Other Ideas- Using Shoe Rack: Over-The-Door
Having an over-the-door shoe rack is never a bad idea. It has a lot of other applications, one of which is as an organizer for school supplies. The plastic rack can be used similarly, as shown in the image. The supplies can be stored easily, and various sections are available for storing different types of things.