A handgun is a short-barreled firearm that can be held and used with one hand. In today's world Handguns are usually examined as self-defence weapons primarily used by law enforcement and military officers. But in many countries around the world, handguns are also widely available to civilians for self-defence.
There are countless reasons why people choose to own guns. Protection, competition, and hunting are the top reasons gun owners cite for why they own a firearm. Feeling safe is a basic human need and Handguns are the most logical choice for home defence. By design, they are easy to handle, engage targets at short distances, and control with one hand, which allows your second hand to hold a phone and call for help.
In this article, we are going to talk about some best handguns available in the market.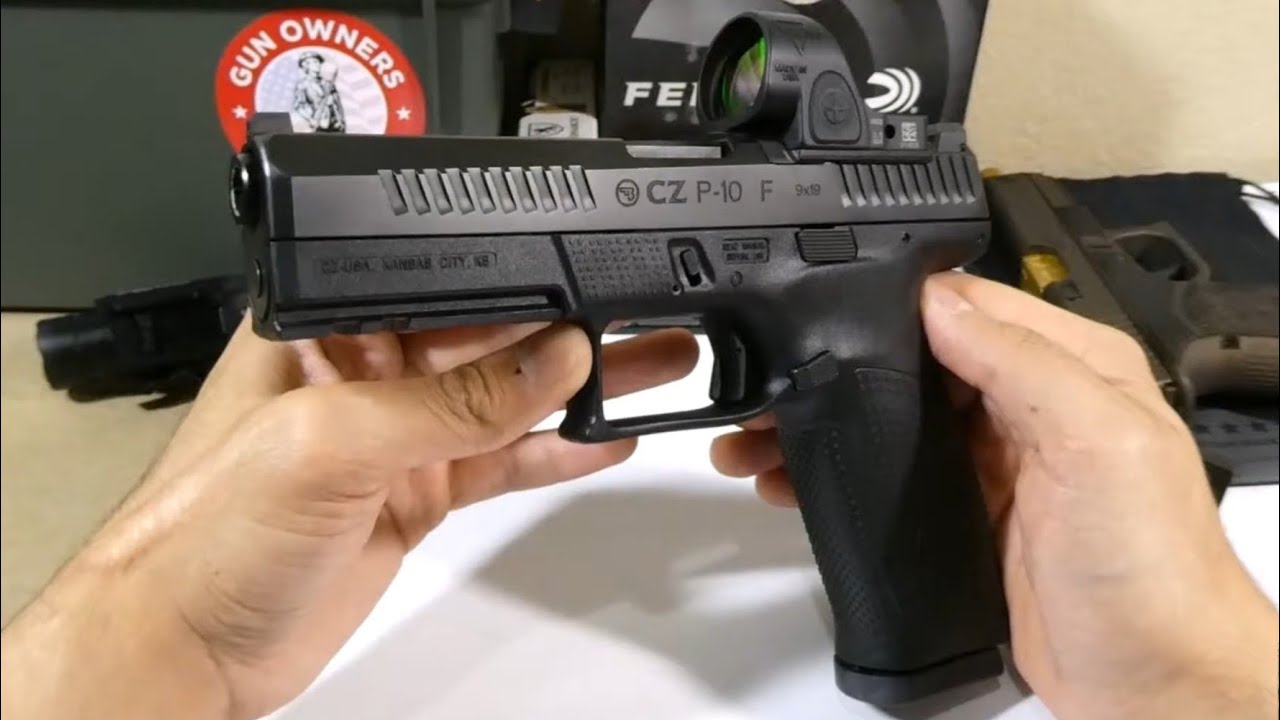 Best Handguns for Beginners & Home Defense reviews
1. Smith & Wesson M&P9 M2.0
The M&P M2.0 is the updated version of the venerable M&P handgun. The M&P in this gun stands for "Military & and Police". It is one of the finest 9mm handgun available in the market. It is a full-sized and rock-solid handgun. The M2.0 version comes with an aggressive texture on it that is designed to swap out the palm swells.
Specification:
Calibre: 9mm
Barrel: 4.25 inches
OA Length:7.4inches
Weight:24.7 ounces (empty)
Grip:Polymer
Sights:Three-dot
Action:Striker-fired
Finish:Matte black
Capacity:17+1
Looking at the gun, it's easy to guess why it is such afavourite handgun. It comes with an adjustable size grip and excellent ergonomics. It looks smooth and modern. The first generation was not perfect, and Smith & Wesson take the feedback from its users and start designing the M2 version by clearing all the issues that its buyers were facing. The result? M&P M2.0 which is now known as one of the best combat handguns in the world.
The M&P9 M2.0 is a striker-fired pistol and comes with a polymer grip frame. It is a full sizes gun with a 4.25-inch barrel and a 17+1 magazine capacity. The Smith & Wesson offers .40 S&W and .45 ACP models along with its compact models that include the new line of shields.You will find many upgrades or new features in 2.0 version compared to its 1.0 version.
One of the eye-catching aspects I found in this gun is its appearance. It looks and feels like a professional weapon to me. Second, the grip texturing. Usually, guns come with light stippling's on the forward edge of the grip, but Smith & Wesson takes it to the net level by adding an aggressive texturing on the entire grip of the gun.It is so perfectly designed, and during the range time with the gun, you barely get any problems.
The chassis is embedded in the polymer frame on M&P9 M2.0 and is designed in a way that reduced flex and torque when firing. If you carefully look at the gun, then you will find that Smith & Wesson using solid pins instead of roll pins for its M2.0.
Talking about the trigger Smith & Wesson called it "crisp trigger" that needs a lighter pull. You can shoot as many bullets as you want without feeling any pain in your finger.
Overall, I'm pleased with the performance of the Smith & Wesson M&P9 M2.0. It is purely a great handgun with a wide range of loads and will not feel you guilty at any point. The price difference of M&P M2.0 and 1.0 is only $30 and still provides loads of new and improved features in M2.0. I highly recommend you to check the Smith & Wesson before finalizing for any other gun.
2. GLOCK 17
Glock is a big name in the world of weapons. Glock Ges.m.b.h. is a weapon manufacturer from Austria. This company is known for its line of polymer-framed pistols, it also produces field knives, entrenching tools and apparel. Glock handguns are used by law enforcement or by the police forces.
The Glock 17 is currently in its 5th generation and is the oldest Glock pistol. Glock 17 is a full-sized handgun and is typically for duty use. The Glock 17 offers a full-sized high capacity frame but still managed to be a very light handgun. It's slim enough to fit into smaller safes.
Specifications:
Barrel Length: 4.49 inches
Overall Length: 7.95 inches
Width: 1.26 inches
Height: 5.47 inches
Weight: 24.87 ounces
Capacity: 17
The Glock 17 is far from a small gun, but light for its size. The pistol has a simple design with a minimum of parts. There are only 33 parts, including the magazine. It can be disassembled within a minute by using a pin. Most of the parts of this pistol are made out of polymer. The metal parts are the barrel, slide, and trigger mechanism. Even though this pistol is made of polymer, it operates well in the temperature range of -40°C to +200°C. All metal parts are covered with a rustproof coating.This gun made a low impact on the firearms market. Today mostly all the major handgun manufacturers are offering polymer-framed pistols.
The Glock 17 has high muzzle energy and provides proper discernment, even with 9×19 mm ammunition. The barrel of Glock pistols serves for approx. 360K shots and it's quite impressive as the barrel of other modern and quality pistols last about only 40K shots.
The semiautomatic pistols are fed from a 17-round double-stack magazine that is also made of polymer. Extended magazines of 13 or 33 rounds are also available. In some cases, magazines are changeable between different models.
This pistol contains no manual safety. Instead of a manual safety, it uses a safe action trigger system. An automatic safety is built into the trigger. It blocks the trigger if it is not appropriately pulled, which eliminates self-action or accidental shots. In Glock 17, you don't need to reset the safety lock manually because, after each shot, the safety lock is reset and turned on. Another automatic safety does not permit fire if the barrel is not fully locked.
3. SIG SAUER P320
This pistol was launched in 2014. Being adopted by law enforcement or Army is the dream for any firearm manufacturer. This was introduced as a replacement of M9 pistol for the US army, but eventually, it was adopted by the US Army as the M17. In an era where everybody is jumping on the striker-fired bandwagon the company didn't have a striker-fired pistol. The SIG Sauer P320 is pretty similar to its P250 model. That's because the new gun is a striker-fired version of SIG's P250, a modular-framed double-action/single-action introduced several years ago.
Specifications:
Barrel Length – 3.9 inches
Overall Length – 7.2 inches
Width – 1.4 inches
Height – 6.2 inches
Weight – 26.3 ounces
Capacity – 17
The SIG Sauer P320 uses the same barrel, grip, and magazine from the P250 handgun. Currently, SIG is offering full size and compact versions of P320 in both 9mm and .40 S&W, with .357 SIG versions on the way.
The major difference between the P320 and every other double-stack pistol Sig Sauer has ever made is that others use hammers and the P320 uses a striker. Normally known for its double action, single hammer-fired pistols, SIG Sauer is the gold standard for semi-auto handguns. Well, striker-fired guns have a lot of advantages that people love, a consistent trigger pull and increased internal safeties are the main reasons armed citizens, police agencies, and elite military units are switching to striker-fired guns.
The mechanisms that makeup striker-fired guns are also straightforward to produce, assemble, and easy for armourers to fix. That is why striker guns are cheaper than traditional guns.
The full-size SIG Sauer P320 has a 4.7-inch barrel, weighs 29.4 ounces with an unloaded magazine in place, and has a 17+1 capacity in 9mm (14+1 in .40). The compact version has a 3.9-inch barrel and comes with a shorter grip and sacrifices two rounds compared to the full-sized version.
In a world of innovative guns, this is a truly innovative design and a step in the right direction for the future of pistols. The SIG Sauer P320 is a modular sun in that frame that is not a frame. The frame is a stainless-steel chassis inside the polymer grip module. The serial number is visible through the window in the plastic on the right side of the grip.
SIG Sauer offers both full-size and small grip modules with small, medium, and large grip sizes. Technically, it is possible to switch the serialized chassis between guns chambered in 9mm, .40 S&W, and .357 SIG. The Sig Sauer p320 has the usual suspect of safety features including firing pin, trigger bar, and others that make the gun just as safe as other pistols in the Sig line.
4. Springfield XDM Mod 2
Springfield is one of the most recognized firearm manufacturers on the market. The Mod 2 is the updated version of the Springfield XD. When it comes to best handguns, then their XD Mod 2 gives tough competition to Glock 17 and Smith & Wesson M&P M2.0.Polymer-framed and predominantly striker-fired, the series is manufactured by HS Product in Karlovac, Croatia.
Specifications:
Action Type: Recoil-operated, semi-automatic
Caliber: 9 mm, .40S&W
Capacity: 13+1 rounds, 16+1 rounds with extension
Frame Material: Polymer
Slide Length: 5.93 inches
Barrel Length: 3 inches
Rifling: 6 grooves; 1:10-inch RH twist
Sights: Red fibre-optic front, white-dot rear
Trigger Pull Weight: 7 pounds, 12 ounces
Length: 6.25 inches
Width: 1.19 inches
Height:4.75 inches
Weight: 26 ounces with an empty mag
Accessories: Two magazines (13 and 16 rounds), holster, double-magazine holder, loading tool, cleaning brush, lockable hard case, manual, cable lock
It is a striker-fired pistol that means there is no hammer, so you're unlikely to hold your belt while removing it from the concealed holster. The trigger is long with a good amount of take-up followed by a squishy and uneven pull. The reset is almost as long as the original pull, and it slows shooting down. Comfortable, reliable, and accurate it's hard to ask for anything more in a firearm designed for concealed carry. Springfield Armory offers a full range of gear with all XD pistols, and the Springfield Armory XD Mod.2 also have one.
The two 13-round magazines in this handgun are easy to add and remove. The plain muzzle produces a natural body for getting the 45 projective out. The curved design of the handle provides you with a comfortable grip. This works well in both hands, although you will have an easier time controlling this with two hands if needed. The fixed rear sight adds a small guide for your convenience.
The safety of the XD Mod 2 includes a grip safety which means your hand needs to be firmly on it to fire and trigger safety along with a striker indicator and loaded chamber indicator. This kind of safety is good since it is more passive compared to an actual switch you need to flip when you upholster. Especially when you are concealed carrying it.
It is a lightweight handgun and weighs under two pounds even when loaded. However,it requires extensive cleaning and maintenance, tough to get a safety feature set up, and produces quite a bit of recoil after each shot.
5. Kahr CW9
Striker fired pistols are always the best choice for beginners and ideal for training. The CW9 is well known for rarely malfunctioning, and this a benefit for newbies who did not know how to sort out the malfunction or jam. It is a simple and reliable firearm to use. It weighs only 1 pound, and beginner shooter will find it lightweight and easy to hold. It is small enough to fit into your pocket, but there are some disadvantages too of small handguns.
The Kahr CW9 is a patriotic handgun. You can find an engraving on the left side of the slide that says "All American". On the right side, you can find the engraved field of American flag stars. Also, the top rear slide of the gun is engraved by a pin-up girl posing in front of the American flag.
Specifications:
Calibre: 9mm
Capacity: 7+1
Barrel: 3.565″, conventional rifling; 1-10 right-hand twist
Length O/A: 5.9″
Height: 4.5 inch
Slide Width: .90 inch
Weight: Pistol 15.8 ounces, Magazine 1.9 ounces
Grips: Textured polymer
Sights: Drift adjustable white bar-dot combat rear sight, pinned in polymer front sight
Magazine:1 – 7 rounds, Stainless Steel
The Kahr CW9 is made of black polymer frame and stainless-steel slide. It is an excellent handgun known for its shooting comfort and lighter frame, which makes it the ideal handgun for a beginner. CW9 uses a 3.565 inches length of the barrel and has an overall length of 5.9 inches. It weighs around 15.8 ounces. It offered a drift adjustable white bar dot combat rear sight and pinned in polymer front sight which takes its performance to the next level.
The Kahr CW9 contains some visible moving parts still the mechanics are very user friendly. Thanks to the easy load and fire design that makes it an ideal handgun for beginners who want to learn shooting fast. It comes with a textured polymer firm grip that makes it easy to handle. If you want a pistol for multiple application, then the Kahr CW9 is all you need.
It has 7 round removable magazine that allows bullets to move through the muzzle. The muzzle is specially designed, and it can move through fast in just a matter of moments. It is an excellent gun for accurate and precise shooting.
Whether you use it for training or concealed carry, you will be impressed with the power, quality, and durability of this pistol. It is affordable for most of the budget buyers. It will surely give you a lot more than what you pay for.
Who Should Consider These Handguns?
First Time Handgun Buyers:
If you are a beginner shooter or first-time buyer and have very little knowledge about things like calibre, safety, ammo style, ergonomics, etc. then this guide will be helpful for you in choosing the best handgun for yourself.
Home Defense & Self Defense
If you are looking at something to safeguard yourself and your loved ones, then Handgun is the first choice. We have added some of the best handguns in this article which offers improved performance along with the latest features that you will surely like to have.
Things to Consider Before Buying a Handgun
Below are the most essential features that you should consider before making any decision to buy a handgun for yourself. Have a look at it.
1. Calibre:
For beginners, we highly recommend using 9mm ammunition for your handgun. They are cheap and widely available to shoot when compared to other larger calibres (~20 cents for a 9mm FMJ and ~40 cents for a .45 ACP round). For this, the 9mm ammo will surely help in keeping the cost of practice down.
Also, 9mm ammo is smaller in size compared to other ammo such a .45 ACP, which gives less recoil. Due to its smaller size, you will get much higher cartridge capacity (15+ rounds). 9mm is used by law enforcement and US Military in the most demanding environment.
However, if you are looking for something larger than 9mm, then .45 ACP rounds will be a right choice for beginners. The .45 ACP ammunition is larger than the 9mm and .22LR, and it has more recoil. They are also more expensive compared to 9mm.
Did you know: FBI is also using 9mm because .40 S&W rounds were causing excessive wear on pistols.
2. Sights:
If you are buying a handgun for self-defence, then we recommend night sight considering most of the crime scene occurs after the sun has gone down or in dimly lit location.
Our mentioned handguns all have night sight, but you can use aftermarket sights and install them from any gunsmith to safeguard yourself. Additionally, you can use a red dot too, which is excellent in close quarters situations.
3. Ammunition Style: Hollow points Or Bust
If you are using your gun for home defence purpose, then our recommendation will be hollow point rounds. Hollow points are known for their stopping power and less recoil.
If you are purchasing ammo for training purpose, then we suggest you buy ammunition in bulk because it will reduce your price per round which saves some bucks from your hard-earned money. For practice and training purposes, we recommend buying 115-grain ammo and 135 grains ammo for other applications. If you are using a suppressor on your gun, then we recommend using subsonic 147-grain rounds
4. Fit:
Before going for any handgun, make sure the handgun is easily fit in your hand. The full-sized handguns are easy to fit in most of the hands. Full-sized handguns allow you to easily shoot since it absorbs more recoil and it gives you a larger grip to hold the gun firmly.
5. Safety:
If you are a beginner, then it is best to avoid external safety. In the real world, I believe that the mind is the best tool for safety. In simple terms, first-time users are inexperienced. There are significantly fewer chances for them to take the safety off their pistol when facing any attackers. For this is it best not to use any external safety when you are just getting started with your handgun.
6. Action:
Most of the guns we mentioned in this article are striker-fired handguns because they provide consistent firing experience. Usually, people prefer striker-fired handgun over revolvers because they can contain higher ammo capacity, lightweight, small size, less visible moving parts, and better performance.
However, revolvers are trustworthy, and you will find the ease of dealing with malfunctions
7. Ergonomics:
Ergonomics plays an important role, and we recommend using full sizes handguns due to their larger grip area. Full sizes handguns ease of use for beginners. You should feel confident when using it; otherwise, you might hurt yourself instead of the enemy.
For home defence, we recommend to stick with the stock trigger as you want reliability from your handgun and that will come only when you use the stock trigger.
8. Review the Capacity:
Mostly sites mentioned the cartridge capacity in a+1 marking. In simple words, a 15+1 capacity gun can handle fifteen rounds with one round in the barrel at a time. The +1 means that one bullet is in the barrel at that time and others are in the cartridges.
Must-Have Accessories for Handguns
Weapon Light
The weapon light is the must-have accessory for your handgun. It allows you to see clearly in the night time and helps you to take down the enemy easily. Recently we have covered the best pistol lights. You can choose one of them according to your need and requirement.
Laser Grips
A laser helps to improve the shooting accuracy and is useful in the dark areas or when the sun goes down. It is advised to use laser grips to enhance the performance of your handgun.
How to Clean A Handgun?
Cleaning is a vital process for any handgun and regular cleaning to ensure that it stays reliable and will last longer. It should be cleaned out regularly to reduce the risk of debris. You can easily clean it with a small brush that goes into the muzzle. Some models can easily be washed off by just taking the gun parts apart.
First of all, remove any magazine from the handgun and check the barrel too by pulling back the slide. It should be unloaded at the time of cleaning to ensure safety.
Make sure to have a cleaning kit with yourself at the time of cleaning that contains cleaning pads, brushes, solutions, oil, cleaning rod, and a soft cloth.
Wear gloves on your hand to protect them from any residue. Now slowly remove the slide from the pistol and gently remove the barrel.
Now after taking off the parts clean all the residue, carbon, and anything else from the extractor, slide, and other spaces inside the pistol.
After that clean the magazine with a cloth and wipe down the guide rod with oil and solvent and ensure it cleaned properly.
Apply lubrication to the barrel and make sure that all the debris and dirt is removed
Make sure to apply lubricant inside your slide and other parts that require some lubricants or oil.
Finally, Re-assemble the handgun and make sure to check the mechanism and trigger the gun and confirm it works properly or not.
That's it! Now you know how to clean your handgun correctly. You can also read the instruction manual on how to re-assemble the pistol if you any difficulty.
Conclusion
So, this is it; I mentioned some of the best handguns available in the market. All guns are reliable and last longer if used gently. You can choose one of them to protect you and your family. If you found this post useful, then leave us your valuable feedback in the comment section. Also, let us know what your favourite handgun is?