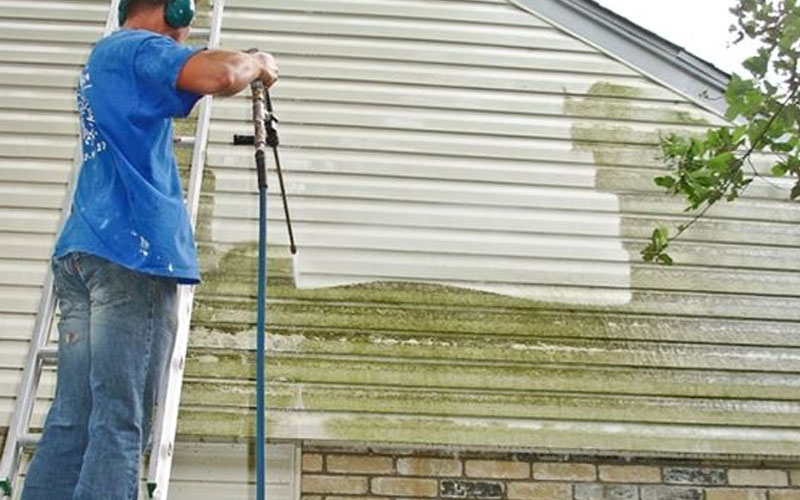 Maintaining a house requires a lot of effort and cleaning. With time dust and dirt start to settle on your property. It makes the entire residence look dull. Therefore regular cleaning is a must. Individuals need to deep clean every corner to make sure their home doesn't remain untidy. One can use various means to clean their surroundings, including pressure washing. With pressure washing, homeowners can get rid of grime, stains, and germs. Often moldy patches are also washed with the help of this technique.
However, pressure washing isn't as easy as it may sound. There are risks associated with the process. If you do not have training for the job, you shouldn't take matters into your own hands. Pressure washing helps maintain the property's beauty only if done by the right kind of people.
Anyone who needs to repaint their home should have their walls pressure washed by professionals. Considering pressure washing as a cleaning option brings in loads of advantages for homeowners.
Saves Property Value:
One of the top reasons to consider pressure washing is that it saves your home's exterior. All far-fetched areas can get a proper cleaning within a few minutes. Whether you need to remove dust or grime, pressure washing comes in handy. It can assist homeowners in removing ugly stains and increasing the beauty of their property.
Most of the time, storms and extreme weather conditions reduce your home's shine. With pressure wash, you can restore your home to its original form. Your driveways and pavements can be cleaned with perfection, thanks to pressure washing. The only thing to keep in mind is the type of material and the pressure it can sustain. Trained service providers have a better idea of cleaning homes at an ideal water pressure.
Protects Property Owners:
When germs and bacteria start to accumulate in your home, they become life-threatening for you and your family. That is why a thorough cleaning session is a must for every building. If you pressure wash your home, you can save yourself from various infections. People having asthma or suffering from other diseases should wash their homes regularly to avoid the risk of infections.
Simply washing with water isn't as effective as the pressure washing technique. With a pressure washing expert, individuals can securely remove mold, mildew, and harmful bacteria from every corner of their residence..
Still, without any experience, you could cause damage to your home. From window screens to walls, anything can be destroyed by the extra pressure. That is why most people advise property owners to avail professional assistance. It helps avoid cracking, unnecessary damage, and denting.
Lack of Direction:
Pressure washing a home is not an ordinary task. You might be able to perform other cleaning processes, but not pressure washing. Without proper guidance and proper tools, you will feel lost. It is not just about throwing water at your walls. Individuals need to clean all the dust and grime settled in the deepest corners of their house. Moreover, you will need to maintain a certain pressure so that your walls or other parts of your home are not damaged.
For every surface, a different pressure is required. Even a single incorrect step could lead to the destruction of your house. Usually, pressure washes improve the exterior of a building and add to the property value. However, without the correct chemicals and accurate pressure, nothing is achieved.
Instead of putting your home at risk, you can take guidance from people providing pressure washing services. Companies like Geek window cleaning have a good idea about the pressure required for various cleaning jobs. You won't feel lost when you are aware of the relevant procedure.
Worsen the Existing Damage:
Pressure washes will get rid of all pests, germs, and dirt for you but only at an accurate pressure level. Often people start using washers at maximum pressure, which leaves behind oxidation spots and holes. It looks unappealing and requires a new layer of paint. Instead of having a clean home, your actions lead to a mess.
All the holes need repairing, hence increasing the cost significantly. You end up spending a lot more than you expect. Individuals' pressure wash cracks to remove dirt, but it will cause the crack to increase in size.
Risk Your Own Life:
Pressure washing doesn't only harm your property but might put your life at risk as well. If you accidentally touch the hot engine of the washer, it will cause severe burns. Similarly, the high-pressure water coming from the hose causes people to lose balance. In any case, pressure washing could lead to serious safety hazards.
Many individuals don't have the proper equipment such as ladders or necessary support gear to make the task easier. Washing the higher stories of your residence is even more troublesome as there is a risk of falling off. Doing it yourself without any prior experience increases the chances of mishaps.