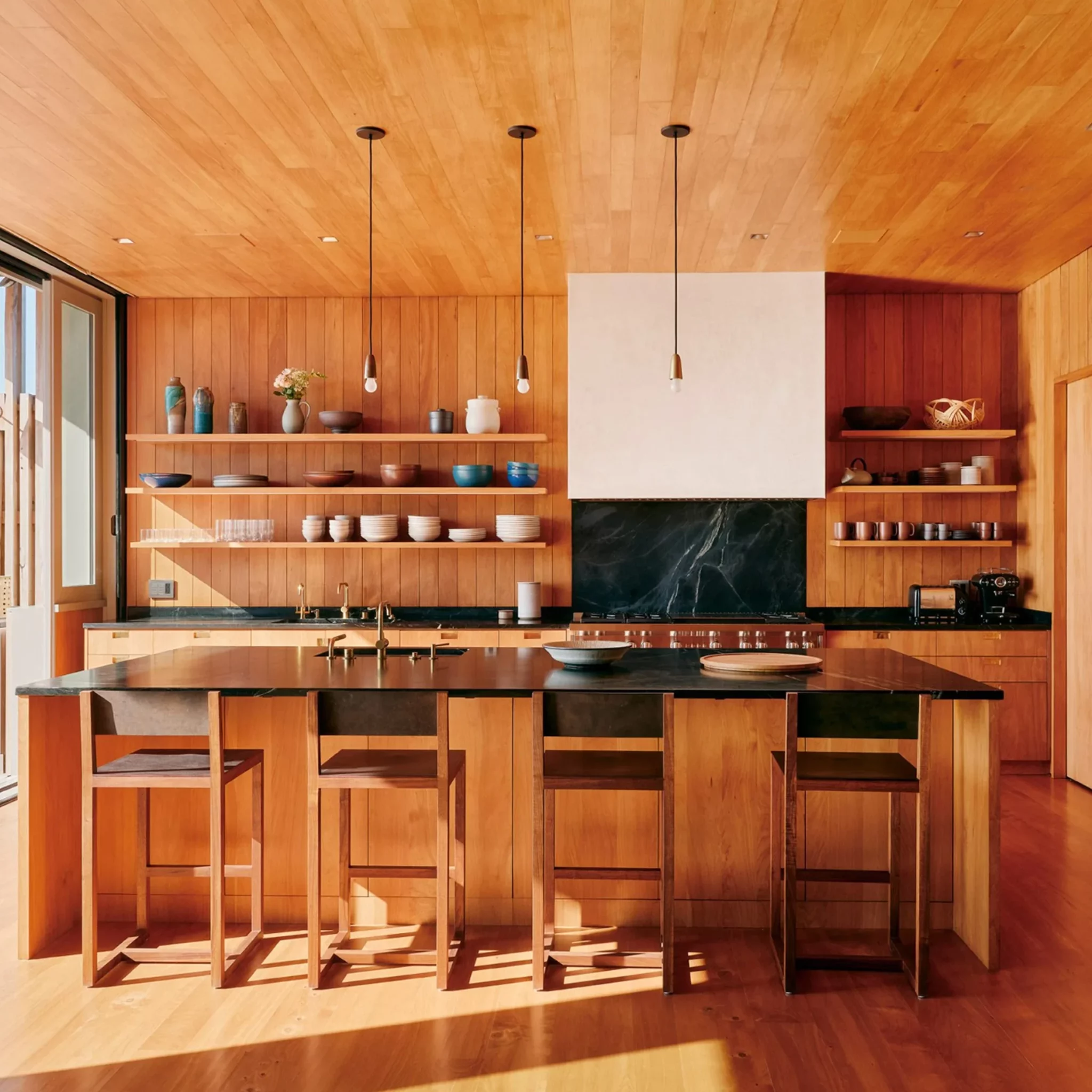 Have you ever walked into someone's kitchen and felt extra cozy? Maybe you joined a friend for lunch and enjoyed your meal more than usual because of your surroundings. Often, the best surroundings in a kitchen consist of wood, whether it's décor or actual fixtures in the kitchen. For instance, eating a meal is quite enjoyable on a wood plank countertop. It just feels like home.
Some of the coziest kitchens are filled with wood, including wood décor, fixtures, and furniture. Most people know from experience that wood makes a space warmer and more inviting, but there's actually a reason behind that.
Why does wood feel so cozy?
If you've noticed that homes with more wood tend to feel cozier, you're not alone. Wood is one of several elements that makes a home feel warmer. It's natural, it looks good, and it creates a completely different feeling than synthetic materials.
When you go for a vacation in a cabin in the woods, you want that cabin to be made of wood. Even if it's not a log cabin, you expect that your vacation cabin will look a bit more like the outdoors than your city life.
As a natural material, wood is alluring and aesthetically pleasing. It gives off natural, cozy vibes. In the kitchen, those natural, cozy vibes translate to enjoying the time you spend preparing and eating meals with others.
Different ways wood makes a kitchen feel cozy
One of the most popular ways people utilize wood in their home is by keeping their ceiling beams exposed. When you add drywall to a ceiling to make it flat, it closes in the room and makes it feel much smaller. Leaving the wooden beams exposed also means you can see the space up to the peaks of the roof. Just being able to see the wood like this makes a room feel more spacious.
When you have exposed wooden beams throughout your entire house, your home will already feel cozy, but having those beams exposed in the kitchen will make your meals more enjoyable.
In addition to exposed wooden beams, some people get a wooden picnic table for their dining room with bench seating rather than chairs. This is a great way to ensure you always have enough seating for your family and friends.
Wooden décor is another popular option, but it takes a bit of space to be able to decorate with real wood. For instance, some people place wooden crates filled with flowers on counters or nailed to the wall.
People with slightly larger spaces sometimes put large wooden crates in corners that hold flowers and also serve as a magazine rack. The possibilities are endless, provided you have the space.
Wood is known to be a strong and durable material when maintained. However, it also smells good. There's nothing like the smell of fresh pine or cedarwood to make you feel good. It's also one of the only materials that looks even better when it's imperfect.
For example, many people prefer the natural look of wood that shows some knots. Knots are as much a desired part of a design as the type of wood and grain.
Wood is comfortable because it's natural
At some point, you may have felt like you couldn't move or touch anything in someone's house because everything looked too neat and tidy. That level of perfection can make you feel uncomfortable, and in a kitchen like that, it's hard to enjoy a meal.
Being surrounded by appliances and cupboards made from synthetic materials may not be something you notice consciously, but it can contribute to feeling like you don't really want to stay in that space. On the other hand, wood is cozy and can make you feel like you want to stick around for a while.
When you're in a kitchen surrounded by wood – wooden cabinets, wooden countertops, and thick wood trim around the windows – there's a level of comfort you can't get with stainless steel and granite. A kitchen decorated with wood feels like it was meant to gather and share meals and stories with friends and family.
Is your kitchen cozy enough? If not, add some wood
If you feel like your kitchen could be a little cozier, add some wood to make it warmer. If you can't change much, start with your décor. Add pieces of wood wherever you can, like signs framed in wood, small baskets in the corner, and little trinkets on the counter. Every bit you add will make your kitchen a little bit cozier.