Grills have become an important part of gatherings and get-together. It offers a clean and easy way to cook food, even when outside the house, which can be eaten there with friends and family. If you are in need of a new grill or are buying one for the first time, then this article will tell you what you should look for in a grill before buying it and which grills are the best for your use.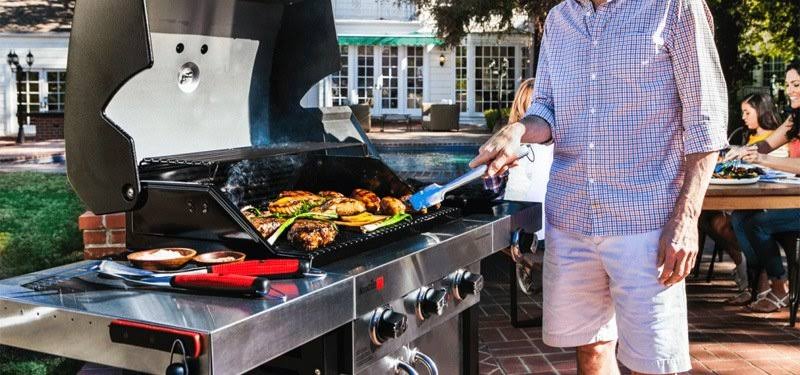 Grills are major purchases so you wouldn't want to invest money in one only to start having issues with it sooner than you would expect. So the question is how to choose the best grill for your money? In this article, you'll find the instructions and features that you look for before buying a grill.
What to look for in a grill before buying?
Picking the best gas grill for you will most likely depend upon what features you expect the grill to have and what price you are ready to pay for it. There is no such thing as a perfect grill as everyone has a different definition of perfect. But there are certain things you should look for when making your decision.
Special features
Cooking area
How much space you can allot to the grill
Follow these instructions to pick the best grill for you
Check the special features
Most grills that you will come across will have some extra features that you may need or not. So always look for features that you actually want or need and then go forward with your choice. Consider what kind of food you want to cook and select a grill based on those preferences.
Consider the cooking area
The cooking area refers to the area available to you on which you can cook your food. It is generally given in square inches. It is an important aspect to look for as it literally defines how much food you can prepare at once. For example, how many kebabs, burgers, hotdogs, or sandwiches you can cook at once. Choose the cooking area based on how many people you'll cook food for. If you have fewer members in your family, then you won't need to buy a huge grill rather a small or medium one will suffice to depend upon the number of people.
How much space you can give to the grill
Don't go for a grill that you cant practically fit in your house or backyard. Always consider the space that you have and how big you'd like the grill to be. Also, consider the extra cabinets and countertops that come with some grills as they occupy more space than their cooking area.
Where to buy the grill?
This is a completely personal choice. You can go for an offline purchase or buy it online. If you buy the grill offline, you will get to see the grill in person before you make the final purchase, so it will give you a better idea of how it will look and where you can fit it. But buying it online will open more doors for you as you are most likely to get good discounts if you purchase the grill online. In this article, we have listed some top-selling grills available on amazon that you can select from.
Weber Spirit E310
Weber Spirit fits just under the $500 price mark, which makes it quite attractive for its price. It is the best gas grill that you can get under $500. Weber spirit provides some unique features that separate it from all other grills in this price range.
It has the perfect size for hosting a BBQ or everyday family grilling.
The grill's heating top is made of Porcelain-enameled, and the cast-iron cooking grates retain even heat for the best tasting food.
Weber Spirit is built to last with heavy-duty, porcelain-enameled lid and cook box that won't rust or peel over time. It comes with six tool hooks for easy accessibility of grilling tools. Low maintenance and easy-to-clean grease management system with heavy-duty caster wheels for easily moving your grill on grass or a patio. This grill boasts of a modern and classy stainless steel design which makes it more durable
Dimensions – 45.5 H x 52 W x 24 D inches
Char-Broil Performance TRU Infrared 480
The Char-Broil TRU-Infrared Performance Grill is a 3-burner propane infrared stainless steel gas grill with a side burner. It features a patented infrared cooking system with 30,000 BTU stainless steel main burners, 3 grate level temperature gauges, and a 10,000 BTU flush-lidded side burner. This grill features 660 square inches of total cooking area. Other features include a stainless steel lid, handles, and side shelves. This heavy-duty, high-end grill heats your food directly, locking in mouth-watering flavors and juices, with no hot or cold spots or flare-ups. It's the right choice for perfect grilling every time and also a great value.
Dimensions – 56 x 21 x 45.5 inches
Weber Q3200
The Weber Q3200 grill is the best choice for those people who need small-sized grills for indoor or outdoor usage. One of the unique features of this grill is the split cooking grate design. The cooking grates can be individually removed and replaces using a flat griddle attachment. This allows you to cook foods such as pancakes and bacon too.
You can cook food in this grill even at night as it comes with a Grill out handle light that illuminates the surrounding space making it much easier to cook. You can also buy additional attachments such as grill pan, a vegetable basket, which will help to increase the functionality of this grill even more. The Weber Q3200 comes with plenty of storage that includes a pocket for 20 lb gas tank, three tool hooks and storage pockets for warming rack.
Dimensions – 55.5 x 50.2 x 30 inches
Conclusion
Whether you only barbecue in the summers or are a die-hard grill enthusiast, cleaning your grill before and after each cooking session is very important. It preserves the life of your grill, maintains heat flow, and helps keep food from sticking. It also improves flavor and minimizes the potential for food-borne illness. You must use a regular grill cleaning brush to maintain this cleaning habit.
Buying a new grill is a major expenditure out of your pocket, so make sure that you make the right choice while choosing the best grill for you. Make sure that you do a thorough check of all the features provided by the available grills.