Get to know all the basic things you need to pack for your next camp grilling trip. Grilling without these essential tools is nearly impossible.
Camping is always fun. However, it is incomplete without some grilling. Grilling is what truly brings out the vibe of camping. No matter what you say, grilling while you are camping somewhere far is a lot different from grilling at home. However, camp grilling can easily go wrong, and it might ruin the whole plan.
Because you are grilling away from your house, you need to be very mindful about packing your stuff. If you don't bring everything you need with you, you might not get access to it where you are camping. Generally, camps are set up in locations that are away from the metropolitan cities. Thus, forgetting to bring something means you will compromise your grilling experience.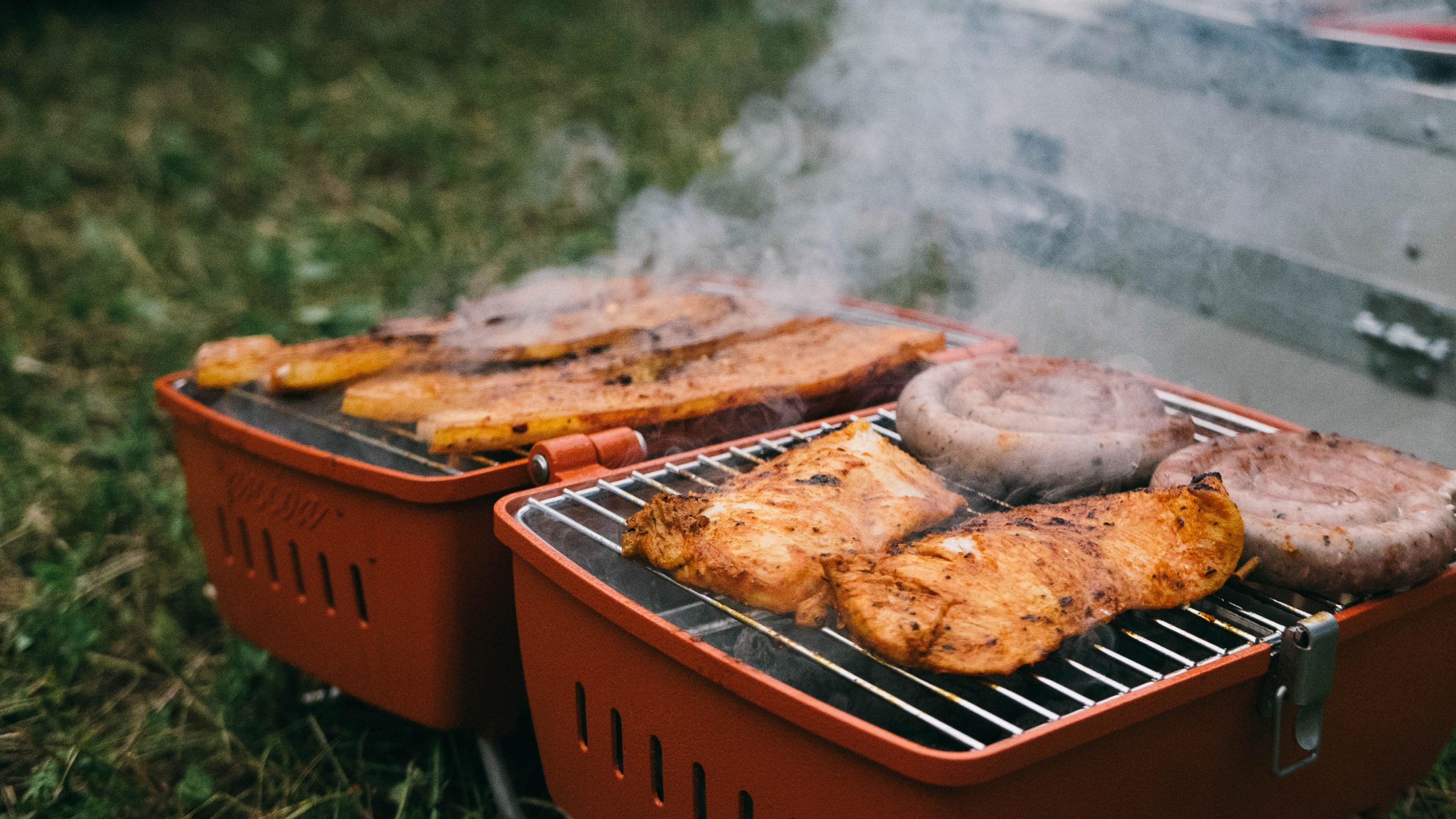 If you are not sure what you should pack and what you should leave, this article is for you. It highlights everything you need to bring with you to have the best grilling experience.
Grill And Grates
This is a no brainer. You will need a grill for barbecuing. However, you can't just bring your regular grill with you. A traditional heavy grill is not something that can be carried everywhere. For camping, you'll need to get a portable grill. It will make taking your grill with you a piece of cake.
These portable grills are very lightweight, so they are ideal for traveling. They won't take up much of your valuable space as well. There are numerous options for portable grills available in the market. Some of them even offer many special features, which make them even more convenient for camp grilling.
Meat Thermometer
Because it is very small in size, many people forget about packing a meat thermometer. Some even ignore it on purpose, thinking it is not critical. If you are an experienced griller, then you probably know how important it is to use a meat thermometer. If you are just a beginner or haven't grilled anything before, then don't make the mistake to leave it behind.
It is even said that "grilling without a meat thermometer is like driving without a speedometer". Without a meat thermometer, you are at risk of serving overdone or underdone meat. Honestly, no one wants an overcooked, dry piece of meat or an underdone, raw piece of meat on their plate. If you grill without a thermometer, you'll get at least a few of these complaints unless you are a pro griller.
Analog thermometers can do the job, but currently, the craze is for digital thermometers. They are easy to use, very reliable, and always accurate. If you don't have a thermometer already, it's better to get the digital one for ease of use.
Propane Tank
If you are using a gas griller, there is no way you can grill something without a tank. Forgetting to bring the tank means no grilling. So, make sure to carry a propane tank. Just like the grill, you'll need to get a portable tank. You cannot take your household gas tank with you. The portable tanks are much smaller and lighter.
Things can go wrong even if you remember to bring the tank. Because the grill needs gas, not the tank. If you don't have enough propane in your tank, your grilling may stop midway, so what you need to do is to check the propane level before going. You need to understand how much propane you might need for grilling and make sure to fill your tank with more than what you need.
Pans And Utensils
It's best not to use nonstick pots and pans for grilling because the excess heat may ruin them. The best bet is to go for cast iron Dutch ovens or skillets. They are much heavier, sturdier, and distribute the heat evenly all over. They are made to cook at higher temperatures and even on open fires. These are must-haves for grilling.
The cast iron griddle will be best for grilling small things, making pancakes, eggs, or even frying something. The Dutch oven can be used to make stews, soups, boiling water, or even baking some bread. Skillets are very versatile, and we all generally have a skillet at home. You can make a variety of skillet desserts with it such as a skillet pie or tart.
Bringing the right utensils and accessories is vital as well. You'll need the right knife to chop the meat or to cut veggies or fish. You can't use a butter knife to cut your steak. So make sure to pack the right knives with you. You'll also need tongs to handle hot food, probably to take it out of the grill, flip it, and toss it. Without the tongs, you may end up burning your hands or dropping food.
Talking of burning your hands, you'll need to bring some heavy-duty gloves with you. As mentioned before, skillets and cast iron pots can handle a lot of heat. So, they tend to heat up a lot while cooking, so hot that it can't be handled with clothes. You'll need some good quality gloves to take them off the heat. You may also want to pack some meat skewers for roasting veggies, marshmallows, and kebabs.
Sauces And Seasonings
Even a pro griller can't make a piece of steak taste good without any seasonings. No matter what you cook, the food can only taste good with the right seasonings. So packing all your seasonings and sauces should be your top priority. Because many of the sauces come in glass bottles, you'll need to pack them with extra safety.
Don't just rely on basic seasonings. If you don't want to try something different on your own, you can get some store-bought marinades or seasoning mixes. It would not only give a surprise to your taste buds, but it will also save a lot of time for you; you'll need to spend less time prepping.
To Sum Up
Nothing can beat the fun of camping with family and friends. But a good grilling experience is sure to make the trip even more special. Follow the steps mentioned above to get the best camp grilling experience without fail.