If you own a gas grill then you most likely know that gas grills come in two types. Propane gas grills and natural gas grills. You might also know that while propane gas grills need occasional refilling, natural gas grills have a continuous supply of natural gas through a connection pipeline. But all this knowledge leaves us with the question, how much gas is enough for a gas gill?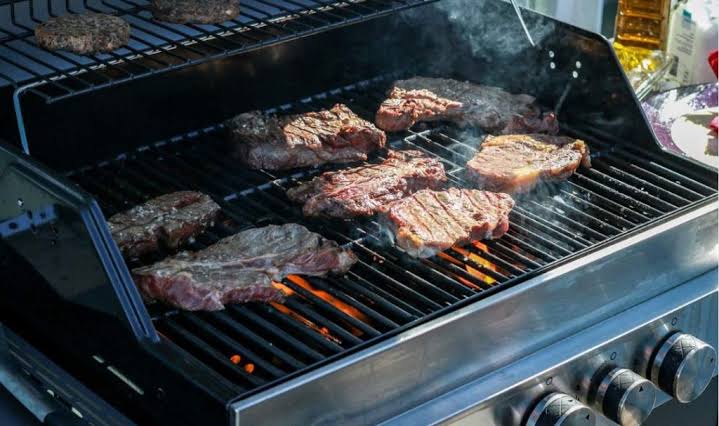 In this article we will take a look at the requirements of gas grills and how can we maximize their efficiency.
What kind of gas do grills need?
Doing a simple search on the internet for the best gas grill under 300, You'll come across tons of articles stating that the two best eco-friendly types of grills are natural and propane gas grills. As the name goes, natural gas grills consume natural gas and propane gas grills use propane as fuel. The major difference between these two types of grills is that while for a propane gas grill you can use refillable gas containers and refill them or buy new ones once they run out, in case of natural gas grills you will need to have a permanent pipeline connection of natural gas to the grill.
This difference in the types of gases used by both the grills raise the question "How much gas is required for a gas grill?". The answer completely depends upon the type of grill you are using and how often you use it.
Gas requirements
The gas requirements for both types of grills completely depend upon different factors such as how often the grills are being used, at what temperature the food is being cooked, and for how long the grill is used. The performance of the grill majorly depends upon the amount of fuel fed to it so it also affects fuel consumption.
Both the grill types use gas as fuel but since propane packs more energy than natural gas, it is easier to get more performance in propane grills using the same amount of fuel as in a natural gas grill.
Natural gas grill fuel requirements
Natural gas grills use the continuously fed natural gas as fuel which is hard to monitor as the amount of fuel cannot be checked unless you use any kind of monitoring system. Natural gas has lower calorific value than propane which means that for every cubic centimeter of gas used you get lesser heat as compared to propane gas. This also means that to achieve higher temperatures for cooking you need to use more gas. Though this issue can be compensated by using a gas grill burner with bigger and widespread holes, this helps to increase the amount of gas volume fed to the grill resulting in increased efficiency.
One more factor affecting efficiency and fuel consumption is the pressure at which the fuel is supplied to the burner. Lower pressure results in improper combustion of the fuel which wastes a lot of fuel. To check if your grill is receiving gas at optimum pressure or not, just life the grill grates and turn the burner flames to the max. Check if the flames are 1 ½ inch high or not. An improperly fed gas grill will have a flame shorten than ½ inch. If your grill has an improper flow of gas, try to clean the burner holes if they are clogged.
The natural gas requirement for the grill can be measured by using a fuel meter that you can attach to the fuel pipeline attached to the grill. Your grill's gas consumption and performance will be affected if you use other gas appliances such as a fireplace, heaters, kitchen stoves, etc simultaneously with the grill.
Propane gas grill fuel requirements
Unlike natural gas grills, propane gas grills require comparatively less gas as propane has a higher calorific value which helps to provide more heat even with less fuel. So if the same amount of natural and propane gas is considered you'll get more runtime with the propane gas as long as the grill is run at the same temperatures. When using propane gas grills you need to use gas tanks that can be purchased from local hardware stores and usually cost $20 for a refill and $30 for a new one. A single propane tank having 20 pounds of propane can last for 18-20 hours of continuous usage at a medium-sized grill while a large-sized grill will eat through that much propane is less than 10 hours.
So unless you use your grill every day for more than 2 hours per day, a 20-pound propane tank should last you for 2-3 weeks easily. Generally, newer models of propane grills come with an inbuilt gas meter that shows how much gas is left in the tank that is very helpful in keeping a track of the gas remaining.
If you would like to calculate the actual amount of propane you would burn according to your grilling requirements the follow the below-given steps.
Find out how much your physical tank weighs. This weight is also called as the tare weight. Usually, the weight of the tank is indicated on the tank itself.
Now, subtract this tare weight from the total weight of the tank including the weight of the propane inside it. This will give you the amount of propane your tank has.
Once you get the weight, divide it by 4.24 as 4.24 pounds of propane = 1 gallon.
Check for the burn rate of your grill. This is usually given in the grill's manual or the packaging. The burn rate is given in BTU per hour.
One gallon of propane is equal to 92,000 BTU. So once you find out the BTU of your grill, divide 92,000 by it. For example, if your grill's BTU is 50,000 the n 92,000/50,000 = 1.84 hours.
Now divide the total gallons of propane in the tank by the hourly burn rate that you got in the previous step. This will give the estimated time that your grill will last on the current fuel tank.
Conclusion
Grills that run on gas especially propane gas don't last long and need to have their gas tanks refilled or replaced occasionally. To avoid running out of the gas mid-cook, it is better to calculate and have an estimate ready for how long the current gas tank will last you so that you can plan the next refill beforehand.