When reading this article, the first question that blinks in someone's conscious mind is what is Mossberg 500 and 590? So let's clear the doubt first:
Mossberg 500 shotgun is a series of shotguns manufactured by O.F. Mossberg & Sons. It was introduced in 1960; all models of Mossberg 500s are based on the same basic concept. The original gun was using a single action bar that was known to bend and even break, was later changed to dual action bars in 1970. This Shotgun comes in different models, and Mossberg 590 is one of them.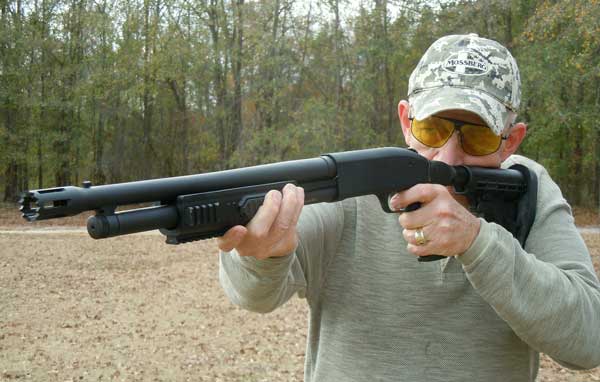 Mossberg 500
The primary difference between these models is in magazine tube design. The 500 magazines are closed at the muzzles end, and the barrel is held in place by bolting into a threaded hole at the end of the magazine tube. While in Model 590, magazines are designed to be opened at the muzzle end, and the barrels fir around the magazine tube and are held on by a cap nut at the end. The model 500 provides the facility of easy barrel changing, whereas model 590 facilitates easy cleaning and replacement of parts.
Both models are made of almost the same materials. Both guns have polymer trigger guards and safeties. These guns are mainly designed for military uses under extreme conditions.
Mossberg 590
So, as now we have a good idea that what we are going to discuss here. We can continue from here
Everyone wants to modify their thing in such a way that they can use them as they want. To do so, some people modify their things as they want. So here, we will talk about some most essential parts that you can modify/upgrade in your Mossberg 500 and 590.
Best Mossberg 500 and 590 Updates
1. Knoxx Breachersgrip Gen III
When talking shooting with shotguns, the place where they often suck is the pistol grip in shotguns. Shooting with a shotgun is not an easy task until you haven't got a good grip in your hands. They are painful to shoot and very difficult to control. A very few shotgun grips work well, and Knoxx Breachersgrip Gen III is one of them. The Knoxx BrechersGrip works with the Mossberg 500, 590, and Mossberg Shockwave.
Designed by the Blackhawk industry, the breachersGrip gen III is more traditional pistol grip as compared to the grip inbuilt in the gun. It features a vertical pistol grip in the back end and provides an extension to you that accommodates an internal buffer.
Most of the vertical pistol grips suck on shotguns, as described before. They physically hurt the user's hands, wrist, and forearms. The internal buffer reduces felt rearward recoil and there reduces any kind of pain and hurt much less in Brechersgrip gen III. The internal buffer extension also extends the length of the weapon to ensure that the length stays over 26 inches, which is supposed to be a good length of a shotgun.
The Breachersgrip is a good recoil reducing pistol grip which is designed for short length shotguns used in breaching operations. The Brechersgrip reduces recoil in a great way and makes the shotguns comfortable. It a good option for handling a shotgun, its sling ready and makes guns so comfortable. Recoil reduction is as important as keeping your hands pain-free. By using this grip, you can easily aim the Shotgun will rarely miss your target when you shoot. You can shoot faster using this grip.
2. Magpul MOE Shotgun Forend
The MOE Shotgun forend is a drop-in replacement forend for the Mossberg 500/590/590A1 12 gauge shotguns, featuring an extended length that increases the weapon length up to 26 inches which are supposed to be a good length for shotguns. It also features front/rear hand stops for better weapon handling and manipulation. It uses the 500/590 MOE pump allows you to add some stuff when you need it.
The MOE Forend for Mossberg is a simple, lightweight forend for the Mossberg 500/590/590A1.it helps in aiming and doesn't affect the target much. It is fit for shotguns with 7-5/8″ assemblies, it will not fit the Mossberg 500 shotguns with 6-1/2″ action tube assemblies. It is designed in such a way to provide much-needed adaptability with the attachments of optional M-LOK accessories and mounts. You can also attach M-LOK or MOE accessories directly to the pump. You can also attach rails to adopt any necessary things that mount to Pica tinny rails. These things allow the easy mounting of lights, lasers, grips, and other equipment.
The pump doesn't overlap the receiver, so it does not interfere with the side saddles. For a sure and fine grip, the pump is ribbed and textured. This makes it cool in looks too. This forend can be easily mounted on a short-barreled shotgun in two ways. The way is to Dremel the pump. By doing this the short action tube fits easily but it also takes much more time and some extra necessary tools. But the process is also much easier. The second way is to use an adapter from Hogue. This way is easy and less time-consuming. This makes the MOE shotgun pump compatible with short action tubes. This way doesn't require many tools.
3. Magpul M-LOK Vertical Grip
When changing or modifying the forend, a vertical grip is a perfect addition to modify. But here the question that you may ask is WHY? Then here I have the answer that says because with a vertical grip you have proper control; on a shotgun. It is likely to have a short stroke of the Shotgun. Using vertical grip, you get a really solid grip and stable platform which enables you to fire easily from any position and angles.
The M-LOK MVG is a lightweight (1.4 oz.), an inexpensive vertical foregrip that attaches directly to Mossberg 500/590/590A1 or any M-LOK compatible hand guards and forends without any additional Picatinny rails required. Made from high-quality polymer, this grip uses TSP texture for better control in all conditions. With its shorter length (3.0 inches) and rounded contours, it's opted for use with the thumb break method. This feature is helpful in shooting and can be used as a traditional vertical foregrip. But like every firearm equipment, this grip also requires a lot of practice to get used to it.
If you want to be effective with 12 gauge shotguns, you need to learn how to handle or reduce recoil. Here the most useful trick is the Push-pull method. And this the place when you will need something to hold on the gun at forend. It's a lot easier when using a vertical grip without worrying about your hand getting slipped. One more advantage that the grip gives you is that since the vertical grip is mounted on the forend pump so it's not going to slip or slide from there too.
4. XS Big Dot Front Sight
When we are discussing the aiming, sights are one of the most important parts of a gun or Shotgun that can be modified to enhance your aiming. Night sights can make a big difference in your low light shooting performance. It helps you to sight targets in the dark and shoot them. The tritium powered Big Dot upgrades your Shotgun with an easy to see, a high-contrast sight that glows in any light.
XS's big dot front sight is one of the best sights available in the market. These sights are made for fast sight acquisition and high visibility in all light conditions whether it is daylight, low light, or half-light. The XS Big Dot front sight is a combination of day and night sights that we usually replace with the original teeny tiny bead in Mossberg 500/590.
The site provides a massive visibility front sight that makes it easy to see regarding the time of day. In the night the sight glows bright so that you'll have no major or minor problem in getting that solid focus of the front side. The sight improves your low light accuracy. For hunters, this sight could be a good option as most of the hunting takes place in low light.
This sight replaces your hard to see stock sights. Installation of this sight on your Shotgun is easy, and you can do it on your own at home. This site is priced at $60 in the online market at Amazon. You can order it from there.
5. Meopta Meosight III
Meopta Meosight III is a red dot sight. Red dot sight is a common classification for a type of non-magnifying reflector sight for those devices that require aiming. This gives the user an aim point in the form of a red dot. Red dot sights allow you to place the target and the reticle on nearly the same optical plane that gives you a single point of focus. This makes them fast and easy to use sights allowing the user to keep their attention on the field of view in front of them.
Meopta Meosight III is a very compact, parallax-free sight designed for instant close-quarter target procurement and accurate shooting when on the move in any conditions. It is also lightweight and dependable. It is an ideal rapid action reflex sight for shotguns, handguns, and tactical weapons.
Since shotguns are the best weapon for close quarter shooting, they are quite comfortable with shotguns. The Mossberg 500 series is always ready for a scope mount on it. Installing red dot scope is quite easy on shotguns. The Meopta Meosight is attached using a QD mount which is very easy and simple to use. The red dot comes in two modes, a manual adjustment, and an automatic adjustment.
In automatic mode, it automatically adjusts the light conditions when needed. The manual mode comes with 8 different brightness settings. You can switch between them manually as per your needs. The red dot sight uses a single button for all the controls in it. Batteries can be changed from the side, you don't need to dismount it to swap batteries.
6. Surefire LED Weapon light
Weapon lights or small tactical flashlights are the flashlights specially designed for use with weapons. They can be used by mounting them with weapons. The Surefire LED weapon light is a flashlight that has been designed specially to completely replace your original Mossberg 500 and 590 forend with a 14 inches barrel.
The light inside the case is a high efficiency LED light that will never burn out like commonly used bulbs that use filament wire. This LED light gives a maximum output of 80 lumens, which is an efficient amount of output from such kind of light. To turn off/on the light, it uses two switches which are on the left side of the forend tube. The flashlight is made of using high-strength aerospace aluminum with Mil-Spec anodizing and impact-resistant polymer. This makes the flashlight body durable. Slender, light weighted and high-impact polymer forend is textured for a secure grip.
This light helps the user to find the targets in dark places, helps in tactical missions and harsh conditions. This light helps the users by creating a far-reaching high-intensity beam — with a larger center spot — that offers the power to positively identify threats at significant distances. It can be used in extreme conditions and high-pressure situations.
The only bad thing about this light is that it can be intimidating to anyone who has never installed any upgrades to any gun before. The battery life is only about 3 hours, which is just average.
7. Magazine Extension
Mossberg 500/590 Shotguns often hold up to five rounds of ammunition, but in some cases when you need more ammo there, they disappoint you. But when you add the extension you should be able to hold more rounds up to 10. Generally, the people who use shotgun ammo extensions are the people who often use these guns in a shooting range or use them for home defense. These Magazine extensions are for those people who want to shot at a target while firing multiple rounds consecutively.
The police and law enforcement departments often use these extensions, so that they don't have to worry about reloading the guns while firing at a target or suspect. Not just in the case of emergency, the extension always gives you a buffer so that you always have some ammo in your gun.
Magazine extensions are one of the most common and popular components among gun owners. The extensions are light weighted and don't affect much on your aiming ability.
It generally consists of 3 parts: tube, tube end cap, and tube nut. After installation, you can take out the end cap and look inside to check if everything is ok or not.
8. Center Mass Laser
Lasers are a great addition to more defensive guns. Using laser lights offers shooters a more defensive way and just another option when it comes to aiming the weapon. The center mass laser displays a ring dot surrounding a center-aiming beam which spreads at the rate of one-inch per yard. An issue that causes a problem is that most of the users run into trouble finding the dot. But it comes to using the LaserLyte Center Mass Laser, this problem doesn't look big as you're not going to find the dot anymore. The center mass target creates a pattern of dots. It throws a 9 dot laser in a circular pattern.
These types of lasers are perfect for shotgun users. The Center mass laser is designed for close-quarters shooting. But it doesn't mean that it makes shooting accurate. It just gives an idea about the target. The pattern glows 1 inch per yard. But with modern shotguns and they're ammo, the actual pattern is a little less wide. But it gives you a massive pattern which is a healthy option in home defense.
It feature three modes of operation: constant on, pulse and Auto-off. The laser uses three 357 silver oxide batteries and provides 2.5 hours of runtime when used constantly. It gives a run time of 5 hours in pulse mode.
The center mass laser uses a pressure pad for ON and OFF switch. It can be mounted easily on Mossberg 500/590 shotguns.
9. Blackhawk Black Shotgun Sling
When you see the word sling in this blog, the question wants to ask is why? And the answer is to carry the Shotgun on your back, of course! This is probably one of those accessories you want, you will need and you should have if you are going on the field for a whole day. In such a long day schedule no one wants to carry a gun in his hands, and here is the reason why they use Slings. Wearing your gun in a sling allows hands-free carrying, which frees your hands to do other tasks.
This is also useful when you use your Mossberg 500/590 for competitive shooting. It allows you a much quicker draw time without ever having to worry about fumbling or dropping the gun. Most of the weight relies on your shoulders and it is secured, so you are good to go with it. Some slings are also used as additional supplementary storage for any additional shells, so this helps is this way too. So it can be used for multiple purposes.
Blackhawk Black Shotgun Sling is one of the best choices for a sling. Great for its intended purpose, this sling is fit for almost every size of people. Pockets are designed well so that shells stay secure inside them. With this sling, you can carry 15 additional shells with you. This sling is made of high-quality nylon that makes it durable. This sling is fully adjustable so that it fits snug and perfect.
So if you're thinking about upgrading your Mossberg 500/590 with a decent looking sling, then the Blackhawk black Shotgun Sling is a perfect choice.
10. Hornady Rapid Safe Shotgun Safe
Every gun owner whether he is an assault rifle (AR) owner or a small handgun owner, each of them wants that no can access their firearms without any authorized authentication. To keep your guns away from the hands of unauthorized family and burglars, you need to have a gun safe. When we talk about shotgun safes then RAPiD Safe shotgun locks/safe are best.
Designed especially for shotguns, this safe can be mounted horizontally or vertically in closets, behind doors, or anywhere you want. You can mount it anywhere you think, you can access quickly using this RFID tag in this safe. These rapid safes provide the same comfort and tamperproof security as other RFID-enabled safes. You might be thinking, what does RFID means? RFID means Radio frequency identification. It is a technology that works on radio frequency and used for automatic identification for the different objects.
In this kind of safes, there are mainly three options for access. The first one is our most traditional and old one using a key and lock option. Which is a good option as if the power goes out and batteries are not charged. The second way is through a 4 or 6 digit security pin combination. You can choose the combination pin as per your wish and you can change the pin time by time. This will prevent hacking. And the third option is the best provided in this safe, the RFID keys.
The RFID keys a kind of little round chips that are outfitted with adhesive to mount to almost anything. You can attach them to anything you want. This safe also includes an RFID enabled wristband. The idea of wristband always makes you ready to unlock the safe in case of emergencies. So as looks in the picture, it's a small safe. This safe will keep kids, naughty guests, and other people away from your Shotgun.
Conclusion
We have listed the best Mossberg 500 and 590 upgrades that we think and believe are the best in the market. So after reading this article, if you think that our choices are good for you, then just go and get them. And let us know if you've got what you were looking for.