Whether you are in a suburban area or deep in the unexplored woods, without a doubt, a knife is one of the most useful and most essential tools anyone can have on themselves. Now, that doesn't change when it comes to an emergency, tactical, or a self-defense situation. And the best knife for the job is the one you have with you and most definitely it will work for you if that blade was built for such an occasion.
These handy blades, despite being a simple technology, have come a long, long way from the stone tools of old. Being made from sharpened rocks such as flints, they were later crafted from metal alloys such as bronze, and later bronze was replaced by iron.
We all have different goals and exceptional tactical skills that make some tactical knives better for you than others.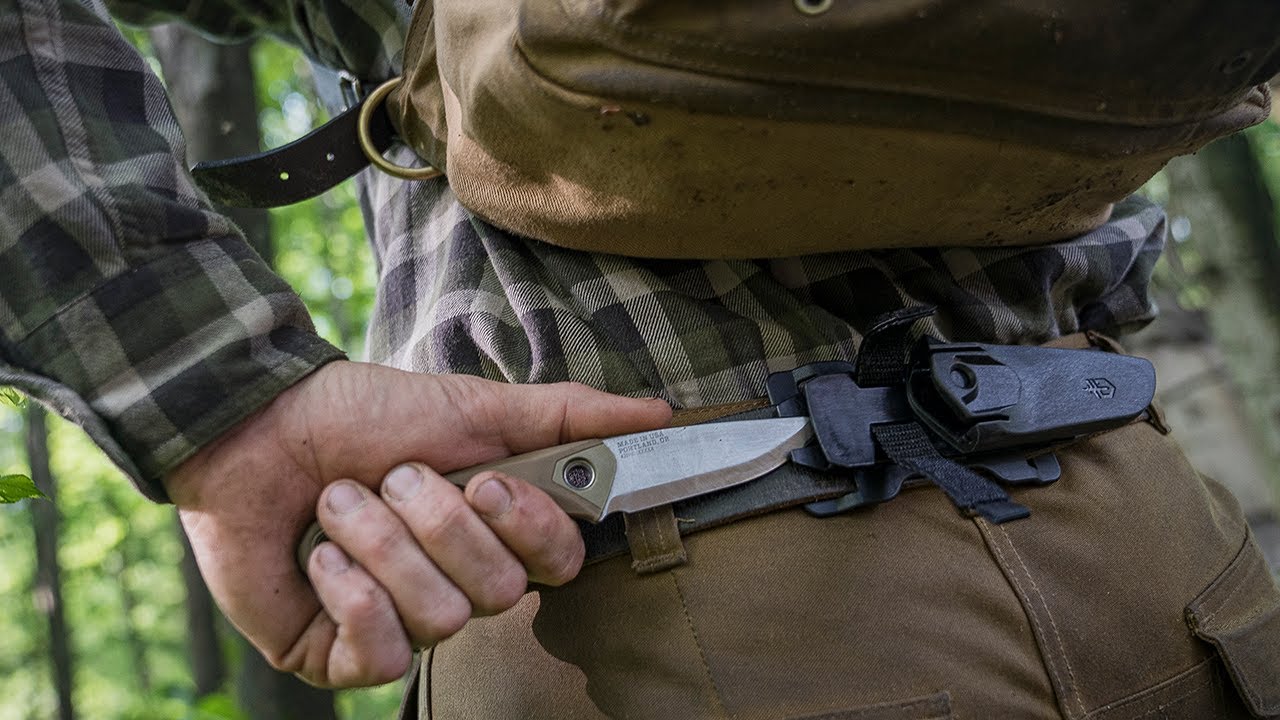 Gratefully, there are so many options out there in the market for sharp tactical combat knives suited to dire circumstances. Some are most surely more apt than the others. So, you don't have any chances of taking a knife which can let you down. We have put together the best tactical combat knives out there which can help you get through some of the problematic situations.
In this post, we are going to be talking about the best tactical knives out there, the things you need to check before buying a tactical knife, and how to take care of your tactical knife.
What Makes a Tactical Knife Tactical?
You may all have wondered sometimes about "what makes a tactical knife tactical?" Well, let me stop you all from wondering for once and all.
If you put it simply, the most usual features of tactical knives are speedy one-hand opening, purpose-built blades, and the aggressive grip material of the knives.
When you go out to buy a tactical knife, you want to consider a few things.
First, is for what purpose you are going to use that knife?
Second, being under what tactical situations will the knife need to perform, and thirdly, how does the knife fit in your hand? If it doesn't fit you and your needs, then no matter how cold or how expensive that gear is, it would be of no use to you.
Why Should You Carry A Tactical Knife?
Undoubtedly, there are lots of great knives out there in the world.
You would want to carry a knife for self-defense, or to boil down to occupation or preparedness. And if you are a first responder, in the military or an LEO, you would know how important a well-built knife can be.
Tactical knives still hold importance even if you are not on the front lines daily. Now, a great tactical knife can be the difference between defending yourself, escaping a car crash, helping others who are in distress or not.
You don't want to bring a knife to a gunfight, but as a last line of defense, a knife can make a difference when it counts.
While there are lots of great knives in the world, not all are built to act under challenging situations. To fail under a critical task is the last thing you would want from your knife.
To Serrate Or Not To Serrate?
Now, this question you all must be thinking about.
It depends on your preference, but with the tactical knife, it depends on the use. If you want to use it for cutting through the rough material, webbing, or you won't be near a sharpener for a long time, then a serrated or partially serrated edge would do you good. But, if you need an excellent slicer and self-defense, then a straight edge will be your thing. You would want the right gear for the job.
What Is A Tactical Knife?
A tactical knife is a tool for tactical use. Tactical knives were mainly used during the wars in the past. But since there are not many wars, nowadays, the term only represents the nature of the toughness, stealthiness, versatility, and quality combined. Tactical knives usually imply a military or a combat-oriented weapon. The tactical knives are anticipated to deliver outstanding results and to keep up with all the expectations if not exceed them. Tactical knives can make the difference between success and failure, and this is something most people cannot afford to risk.
There are so many contributors to the tactical knives which have evolved over the years.
The two functions that the tactical knife blades should perform are:
To slice (cut or slash)
To stop (penetrate or puncture)
The need for a robust and robust blade shape is evident in any tactical knife. After hours and hours researching, we have found some of the best tactical knives that money can buy.
Best Tactical Knives Review 2020
1. Cold Steel Recon 1 Tactical Knife
The Recon 1 is legendary in both the tactical and the EDC worlds for its bang in sinister styling, ultra-reliable Tri-ad proprietary back lock and more. It is the most famous knife out there, be it folding or otherwise. Recon 1 is fitted with a Tri-ad lock you can blindly trust this folder it will perform under any situation you can think of.
It comes with various blade patterns, but for the tactical applications, the tanto is the best. Cold steel engineers have made sure that Recon 1 is as strong, durable, and effective as humanly possible. They are built to be involved and take an incredible amount of use. Cold steel knows what they are making and generally praised by the knife community. Recon 1 has superior CTS-XHP steel. The non-slip grip is also designed with a G-10 laminate scale, which gives it a lot of stability.
[amalinkspro_autoshowcase asin="B00322JP04″ alignment="aligncenter" new-window="true" nofollow="true" /]
Recon 1 series includes the standard blade with a 4-inch blade and the micro with a 2-inch blade and the XL with the 5.5-inch blade models. Micro and the XL models are available with the straight blade while the standard model with the 50/50 (plain and serrated) styles.
2. Sog Seal Pup Elite Fixed Blade
The SOG seal pup elite knife is sharp, really SHARP, and it holds the edge better than the 90% of the knives in the market. You know that the knife is designed to take a beating when the design is the same as the Navy Seals use. You would be impressed by its edge retention and its durability.
The seal pup blade goes under the SOG's proprietary Cryogenic Heat Treatment Process. According to the SOGs, this process helps strengthen the steel on the atomic level, hence increasing the blade's edge retention and its durability. Seal Pup comes with the full tang stainless steel blade. After the treatment, the Steel Pup is then coated with titanium nitride, which further helps to strengthen the knife.
[amalinkspro_autoshowcase asin="B000PW5NAA" alignment="aligncenter" new-window="true" nofollow="true" /]
The full length of the blade is 4.85 inches, and the whole knife measures 9.5 inches long. It weighs at around 5.4 ounces making it easier to carry around.
The SOG Seal Pup is a lightweight and the best knife for those who are looking to keep their packs weigh down. I believe that the SOG SEAL PUP Knife is the best knife out there that I've ever seen.
3. Gerber Strongarm Tactical Knife
Gerber's strongarm is a fixed blade knife that is built to take a beating. Gerber has kept in its mind the fundamentals of military tactical training before designing the strongarm. Gerber Strongarm construction, materials, and shape of the knife will give its user the right balance of affordability and performance. It will not only perform the heavy-duty tasks, but it is also apt for small tasks.
Gerber Strongarm is a versatile knife you can use, whether you're someone who loves to campaign or someone who is preparing for the deployment.
[amalinkspro_autoshowcase asin="B00U0ILXGC" alignment="aligncenter" new-window="true" nofollow="true" /]
Gerber Strongarm is shockingly well finished. It has a full tang blade with an injection-molded polymer handle. The StrongArm handle has a consistent texture and a nice feel. The knife is well built and will never disappoint you.
As you all know that fixed blade knives are built for work, strongarm is the same here as it was designed for the cruel conditions of military service in the Middle East.
The Gerber StrongArm blade is made up of 420 HC stainless steel, which holds up well for chopping and batoning. It has a 4.8 inch fixed blade, and it is overall 9.8 inches in length. And it weighs 7.2 ounces, and it is proudly made in the United States.
4. Smith & Wesson SW7 Tactical Knife
Smith & Wesson is always a great competitor in the fixed blade market as well as guns, and they did it again with their SW7. The SW7 is a special ops knife. It has a full tang blade with a Zytel covered handle and a severe skull crusher at the butt of the handle. Smith & Wesson provides you with all the advantages of the ancient samurai gear, and it is a reasonably priced and well-built package.
[amalinkspro_autoshowcase asin="B00B966OIG" alignment="aligncenter" new-window="true" nofollow="true" /]
Smith & Wesson SW7 knife blade length is 5.2 inches, and its overall length is 10.6 inches. The SW7 blade is made up of 9Cr17 high carbon stainless steel with titanium coating for long-lasting strength and dependable performance. Smith & Wesson SW7 weighs around 8.5 ounces. The SW7 comes with an ambidextrous sheath. And its edge type is straight. You will also get a belt with it, making it easy for you to carry it around.
SW7 is a comfortable tactical knife. Its blade guards protect the hand from the accidental injury. The tanto style blade has a forceful point that handles piercing things well.
5. Spyderco Street Bowie Tactical Knife
In the early 19th century, the first Bowie knife was created by James Black for Jim Bowie, and this is where the knife name comes from. From its very first appearance at a duel known as the Sandbar Fight. Since then, the bowie knife has come to represent many knives. The Bowie term now refers to any large sheath knife with a crossguard and a clip point.
It has a flat ground VG-10 stainless steel blade with a durable black ceramic coating. It has a straight clip point that tips on the knife's centreline for the best control. Bowie has an injection molded polymer sheath, which has high retention while still providing an excellent grip. Bowie supports the versatile G- Clip attachment, which supports both the belt and a clip style carry, making it easy to carry around.
[amalinkspro_autoshowcase asin="B00BQ0SE2O" alignment="aligncenter" new-window="true" nofollow="true" /]
Bowie has a ton- reflective titanium carbonitride coated blade. It was made specially in the demand of several military customers that needed a more reliable, resistant, and sharp blade to fulfill their tasks. It comes with a blade length of 5 inches. And the overall length of 9.38 inches. The street bowie weighs around 3.7 ounces.
6. Ka-Bar USMC Fighting Knife
Ka-Bar US Marine Corps made in the United States is an incredibly high-quality knife, and it has a proven history. USMC is a fantastic practical general-purpose design. It is excellent for most tasks that you might encounter in a tactical environment (fighting, utility, fieldcraft, etc.). The thickness of the blade is perfect for providing adequate strength and cutting capability.
Now that we are talking about the cutting capability, then let me tell you that this knife blade comes out of the box incredibly sharp with a 20-degree grind. The blade has a full tang. The USMC is built with 1095 Cro-van steel, and this steel is also battle proven in the field and fine steel with an edge, which is easy to sharpen. But it is not the best rust-resistant steel on the market so, keep it oiled, and it will serve you pretty well.
[amalinkspro_autoshowcase asin="B001H53Q6M" alignment="aligncenter" new-window="true" nofollow="true" /]
The USMC has a blade that is 7 inches long, and its shape is best for the utility tasks and combats no doubt about it. It weighs around 11.2 ounces and is very efficient with all this knife can do.
Things You Should Consider Before Buying a Tactical Knife
There are numerous things to consider when looking for a perfect tactical knife, including everything from the weight, how easy it is to use, the blade type, or the style. More importantly, it is the material, length, and thickness of the blade.
The tactical knife is a highly flexible tool, and different designs can help you in different situations. Before making any final decisions look at our guide.
SIZE
Now size may not bother some people in some situations, but as far as the tactical knife is concerned, you start by looking for a tactical pocket knife that is best for your intended use and where you most likely to take it. Our recommendation is to go with the knife, which will easily fit in your hands.
Mostly tactical knife blades measure between 3-5.5 inches, and you can get more longer and extreme variants that come in this range.
FIXED BLADE OR FOLDER
When it comes to a tactical knife, any type of hinge is a potential soft spot, and a knife without a full tang is practically useless. So, without any doubt, a fixed blade with full tang will be more long-lasting and hold up a greater level of use and abuse than a folding tactical knife.
TANG
We are not talking about the powdered drink but the tactical knife construction. When it comes to the knife, the "full tang" means that the blade extends the entire length of the knife from the tip to the very end of the knife. The full tang is essential for providing the strength that you will need in many tactical situations. A partial tang is too frail in circumstances where you need to force the blade against a hard object. A full tang knife is much more effective than a partial tang.
STEEL
The majority of best tactical knives are manufactured using some type of steel.
Most blades are commonly made from either high carbon steel or stainless steel. Various knife manufacturers go a step further and coat these steels to provide extra strength and improve corrosion resistance.
STAINLESS STEEL
Stainless steel blades naturally contain 12 percent chromium. It is essential as it improves the blade able to resist corrosion and rust and also to make them easier to sharpen. But, stainless steel knives, in general, need to be sharpened more often as they edge more quickly, and that is because stainless steel is generally softer than high carbon steel.
HIGH CARBON STEEL
High carbon steel is more likely to be sturdy and more long-lasting than stainless steel. Carbon is the most challenging element, and due to this, it produces blades that offer superior edge retention. High carbon steel does not include a drop of chromium, meaning that they have an inferior ability to resist corrosion and rust. To retain their sharpness, the high carbon steel needs cleaning and maintenance more frequently.
LOCKING SYSTEM
You would want to have a good and robust locking system for automatic or folding knives. If a fixed blade is not available, a tactical knife has to have locking without it is not valid. And you make sure that this locking system is robust and reliable. It has to hold the blade for long term use. The greatest is the straight locks.
SHEATH
When you are taking your knife outdoors, a knife which is spacious and has a fixed blade like most of the tactical knives do. This is where the sheath comes to the rescue. Most EDC (every day carry) fixed blade tactical knives come with a sheath. There are some things that you will want to present in your sheath, including the belt loop, the lanyard attachment, a leg attachment, and a secure closing strap. The sheath is essential for carrying the large and fixed blade tactical knife.
BLADE LENGTH
Size matters, as the women always say, but bigger is not always better in the tactical game. Just as a blade that is too thick can make it difficult in carve precision snares. However, if your tactical knife is not long enough, you won't be able to use it effectively for chopping. You need to have a blade that's long enough to do what you need to do but not that long enough that it gets in your way.
Many tactical knives come in the range of 6 to 12 inches. Blades bigger than 9 to 11 inches run towards being too long, which might not come useful in many situations. The bigger the knife, the more it becomes too big to handle.
Is carrying a tactical knife legal?
It is best to check your state's rule and be aware when you are traveling between areas. Maybe they are legal in your state and not in others. So make sure to check the rules and regulations before going anywhere with your tactical knife.
A knife with the blade length of fewer than 2.5 inches will be subtle if you're intended for utility purposes such as multi-tools, etc. When it comes to physical activity, make sure to check the knife laws in your state.
Final Words
So it was the post about the best tactical knives. You might be thinking why we didn't use folding knives in this post? A folding knife is a pocket knife. Folding knives are no more a Tactical/Fighting Knife. It's exceptionally designed is directed towards compactness and portability, not tactical fighting. Think of a Folding Knife as you might a Handgun. It may do in a pinch, and better thank a sharp stick. However, if your life or the lives of other innocents are on the line, it is a poor choice if you are knowingly going into a fight.
Now let us know which tactical knife you like the most? Also, check out our favorites in Best Survival Knives.
TIP: If you guys want your tactical knife to last longer and stay away from the rust, you should always keep your knives clean after every use or whenever you are putting it down.