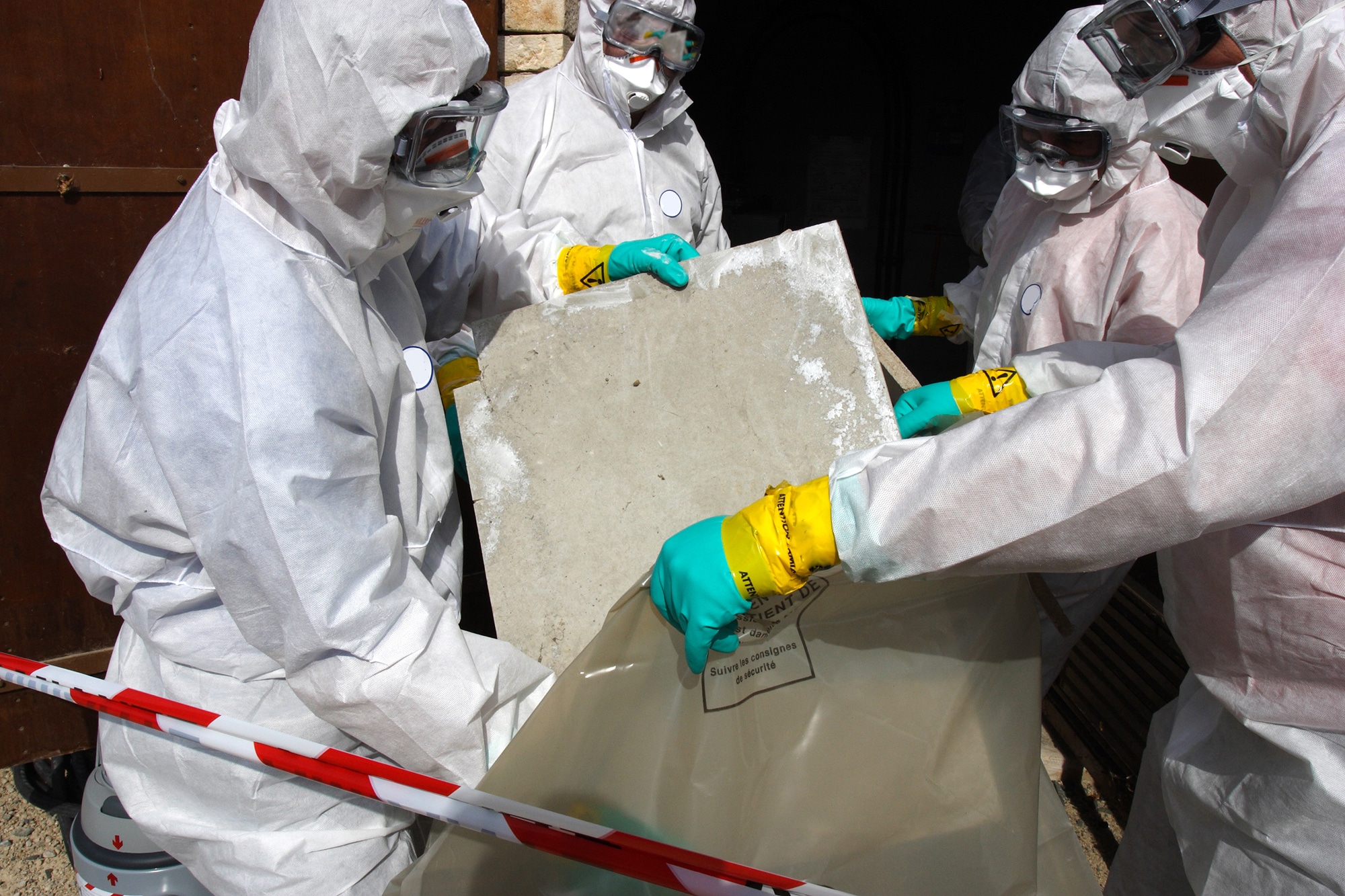 Did you know that one in every three homes in Australia has asbestos in it?
That's because asbestos was commonly used in building and construction materials between the 1950s and late 1990s.
Asbestos was used to build homes and buildings because it's a material that is naturally abundant, heat resistant, flexible, lightweight, and super strong – making it highly desirable.
When a home contains asbestos, it might not be very obvious, as it was often mixed in with other materials, like adhesives, to make them even stronger.
In 2003, asbestos was banned from being used in Australia because it was proven to be a major health hazard when its fibres were inhaled. Asbestos has been found to be the cause of several incurable diseases.
When a home has asbestos in it, it's not always dangerous – asbestos only becomes dangerous when its fibres are loose and can become airborne which happens when it is disturbed.
If your home was built between the `960s and the 2000s the best thing you can do is have your house inspected for asbestos. If it is found to have asbestos materials in it, and you would prefer to remove the hazard, then it's time for you to find an asbestos removalist company.
Today, we're going to provide you with some tips on what you need to consider when hiring an asbestos removal company, because they are not all created equal.
Tips to help you find an asbestos removal company
There are many people and companies out there claiming to be able to remove your asbestos, however, given the health risks and strict protocols surrounding asbestos removal, it's a good idea for you to understand what to look for in an asbestos removalist – here's our top tips.
1. Look for an experienced removalist
Removing asbestos isn't something that just anyone can do. As it can be found in many different areas of homes and buildings, and can also be in many different formats, it's important to work with someone who can actually confidently identify and handle it correctly.
This is where the importance of experience comes in. Being able to handle asbestos materials properly takes practice and training, and someone who has only been doing it for a short time is unlikely to have the right knowledge to be able to do this.
We recommend working with a removalist that has more than 10 years of experience as they are likely to have a broader scope of experience. It's also a good idea to ask them whether they have experience in working with a property like yours, i.e., a home or a commercial property.
2. Look for someone who follows the rules
There are lots of rules about the handling, removal, and disposal of asbestos materials in Australia. So, it's important you work with someone who follows these rules – you don't want to get caught up in any dodgy dealings.
The rules around asbestos removal and disposal are so strict because of the health risks it poses, and if they aren't followed properly, it can result in not only increased health risks to you and those around the property but can also result in fines.
So, only work with those who follow the rules.
3. Get a free quote for the service first
Before agreeing to anyone's asbestos removal services, ask for a free quote. We highly recommend that you ask for quotes from several companies so you can do your due diligence and ensure you're getting the best deal out there.
If someone is offering a price that is a little too good to be true, that's because it probably is. You'll likely find that the asbestos removalists that are highly reputable will have similar prices for their services.
If a company won't provide you with a free quote, then you should walk away.
4. Testimonials and ratings tell the true story
We're not denying that a company that is recognised with rewards as being a good thing, but they only mean so much to the actual customers. That's why it's a good idea to check out what their real customers are saying.
Finding customer reviews or testimonials for a company's services is pretty easy, you can check them out on Google, on their Facebook and on their own website – you can also ask them if you can speak to a previous customer to learn more about their experience.
If you find that there are lots of really good and really bad reviews, but no average or just above average ones, it's worth being a little dubious, as this could mean they have people writing good reviews on their behalf.
When it comes to hiring an asbestos removal and asbestos disposal Melbourne service, it pays to do your homework before rushing in. Use these handy tips to make the process of finding an asbestos specialist a lot easier today!