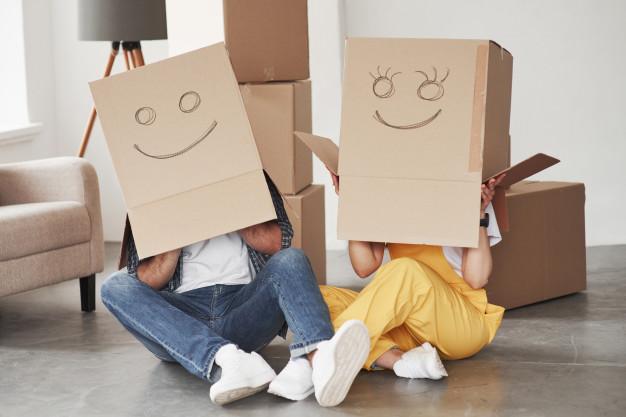 Credit: standret via Free Pik
You might be ready to spread your wings and move to a new home, but is your wallet cleared for takeoff? Pulling up stakes and setting down roots can get expensive, so it's crucial you understand the costs involved with moving house before you lock into a new lease or mortgage. Here are three things that affect your home moving costs:
1. Movers
Whether or not you hire movers will have an impact on your budget. Flat out, movers cost more than when you move under your own steam. But their price isn't a reason to scrap them just yet.
Keep in mind that DIY moving costs include more time, effort, and risk you'll injure yourself or damage your property than if you went with the professionals.
You should examine the cost-benefits of hiring a professional moving company when you're ready to move. Ask around and see how much local movers will cost you. Their hourly rate may be well worth the peace of mind knowing your belongings are in good hands.
2. Distance
A general rule of thumb to remember is that the farther you have to go, the more your move will eventually cost. This applies whether or not you hire local movers.
There are a few reasons for this:
Fuel: You'll be burning through more gas to get your vehicle from point A to point B. And with gas prices set on a steep incline, you'll pay more at the pump than ever before.
Wear and Tear: You have to consider wear and tear if you're driving your own vehicle. Use this driving calculator to see how much your trip will cost you.
Movers' Hourly Rate: If you hire a long distance moving company, you'll have a bigger bill simply because it's a bigger, longer job for their movers.
3. Your Belongings
Packing up all your earthly belongings is an important part of the moving experience. It's also a big factor in how much your move will cost you.
The Volume of Stuff to Move
Just how much stuff you own affects the number of packing materials you'll need. The more belongings you have, the more packing materials you'll have to collect. If you're purchasing boxes and packing materials rather than using second-hand supplies, you'll wind up spending more.
You'll also have to consider the size of your truck. A larger truck will cost more, whether you rent a moving truck or leave it to the professionals.
The Quality of Items to Move
You also have to think about any high-value assets you have to transport. Things like fine art, electronics, instruments, and heavy objects may require extra insurance and special handling that add to your costs.
Don't Move Until You Make a Budget
Sit down with your finances and see what you have saved up to put toward a move. Then, take what you learned here today to figure out how your limits compare to your costs.
No two moves are alike, so hunt down the specific rates that apply to you. Ask moving companies for their estimates, making sure they reflect the distance you're going and the belongings you'll need to pack and transport.
For expert help and advice, speak to a removal firm like White and Company for knowledge and insight into national and international moving.