Roof leaks are unfortunately common, and they can happen for any number of reasons. There are some main causes of roof leaks that you should watch out for, though. The best treatment is actually prevention, so being aware of the causes of roof leaks can help you avoid devastating leaks and locate problems fast.
When you have roofing problems and leaks, it's best to call a professional roofer to inspect and repair the problem. However, you can be your own best advocate by maintaining your roof and knowing what to look for between repairs and replacement.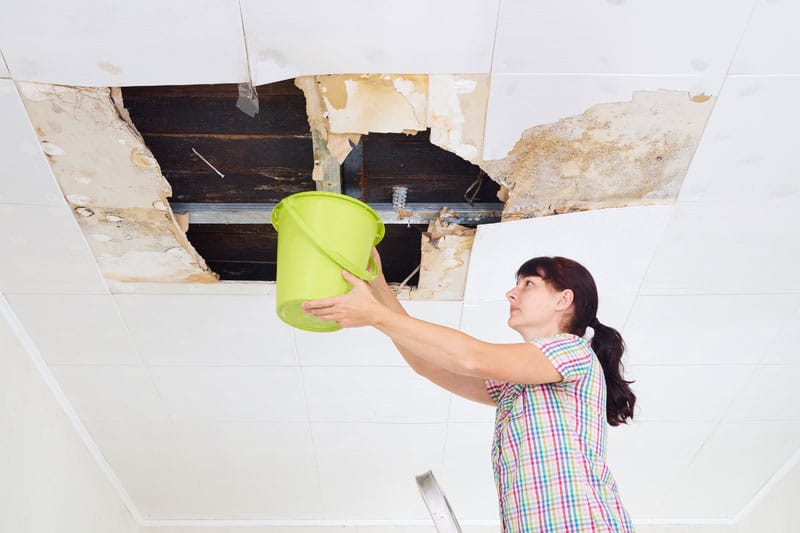 When a storm rolls through, roofs can take a beating. High winds, hail, torrential downpours, falling tree limbs, ice and snow, and other weather can tear off shingles, leave holes in roof coverings, crack flashing and ridge caps, damage skylights and vents, and create other sources of leaks. Storm damage is usually fairly easy to assess, since the leaks often start immediately and the damage may be easily visible. Fortunately, many home insurance policies cover damage caused by storms, so getting your roof repaired may be easier and more affordable.
Most roofs are covered in asphalt shingles, and most shingle roofs are only expected to last 15 to 30 years. So it's expected that many homes will experience roof-age-related leaks at least once in their lifespans. The passage of time can cause shingles, wood shakes, and even more sturdy types of roofing to become brittle and deteriorate. Shingles can curl, tear, and blow off, and flashing and other roof surfaces can become brittle with age. Cracks, holes, and worn areas can allow water to pool and seep into the roof surface, either causing a noticeable leak or slowly leaking over seasons. It's important to maintain and regularly inspect your roof for signs of aging. Unfortunately, a roof replacement is the only way to completely solve the problem of an aging roof.
Poor installation or materials
Hiring a cheap roofing contractor or one that uses inferior materials or installation methods is a good way to ensure your roof will leak or deteriorate earlier than it should. Roofing services aren't inexpensive, but shopping around for the lowest price will almost ensure that your roof is a substandard quality. Cheap roofing materials and poor installation don't last as long as quality materials and service, so leaks are bound to happen. To prevent this, insist on hiring a licensed, experienced roofer who uses quality materials and knows how to install them correctly.
Broken, missing, or damaged shingles
Your roof can't protect your home if shingles are cracked, missing, damaged, or otherwise compromised. Even a single cracked or missing shingle can let in enough water to cause a massive leak. Make that a damaged section of shingles, and you can be in for a torrent of soggy problems. Many times broken and missing shingles are visible from the ground, but if you can't see the problem, a roof inspection may be in order.
Skylight, vent, chimney, ridge cap, and valley leaks
Roof components like skylights, vents, and chimneys can be weak spots in roofs, as can ridge caps and valleys. Skylights, vents, and chimneys are all places where the roof surface is penetrated by another surface, and while those items should have flashing and other sealants to keep water flowing out and away from the openings, they can fail over time. In particular, skylight and vent sealant can become old and brittle from weathering and is susceptible to leaks. Chimneys themselves can become cracked or the weatherizing around the base or top can fail, letting in water. Ridge caps are located at the tops of roof peaks and valleys are the V-shaped areas where two slopes meet. Both areas should have special material and sealant to keep out weather and rain, but water can leak in if the sealant cracks, flashing fails, or if the seals were applied incorrectly in the first place.
Ice dam damage or obstructed water flow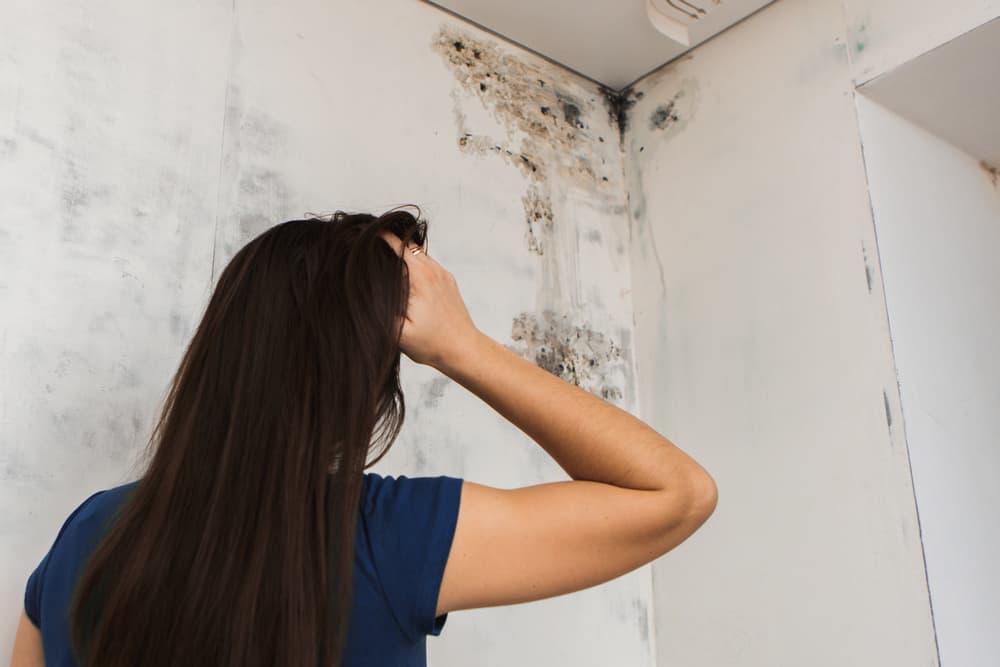 Homes located in areas where snow and ice build up on roof surfaces can be at risk of ice dams. This is when snow and ice build up at the edge of the roof or another area and prevent melting snow and water from running off of the roof, instead damming it up where it pools and can eventually break through the roof surface and leak into the home. Even the weight of the ice alone can cause large sections of roofing to become damaged or fail. Homeowners in cities with heavy snowfall should own tools like roof rakes that allow them to remove snow from the roof edge, snow melt that can melt ice from roof edges, or even install heating tape or heater elements at the roof edge to keep snow and ice from accumulating.
Clogged gutters and downspouts
Gutter maintenance can prevent roofs from leaking. It's as simple as keeping leaves, sticks, and roof debris from gathering in gutters and downspouts. When gutters get clogged, rain can push debris down into downspouts or block downspout holes. This can cause rain to back up in the gutters, eventually leaking down into the home's fascia and soffit, into the attic space, and down interior walls. This can be a major problem, as water can get into electrical systems, insulation, walls, and even foundations, causing mold, mildew, water damage, and even electrical outages or fires.
Roofs are built to have a specific slope to keep water moving off of the roof and prevent pooling and leaks. Some roofs have a steeper pitch than others, but even low-slope and flat roofs are engineered to funnel water off the roof and down to the ground. However, roofs that haven't been designed correctly or have been modified may not have the right pitch or slope to allow rainwater to effectively drain. In this case, water can get caught in valleys or sit too long on the roof surface, causing leaks. Even roofs with proper pitch and slope can leak if the roofing underlayment was not installed correctly or if the wrong materials were used.
Damage from walking on it, wildlife, and trees
Treating your roof roughly, walking on it too often, trees close to the roof surface, and even wildlife like rodents and birds can create leaks. That's because while roofs appear tough and hardy, they have components that can be easily compromised by outside forces. Walking on your roof to inspect it or retrieve items that have gotten stuck can crack shingles and seals, tree limbs can fall or rub against vulnerable shingles, rodents and birds can create holes and access soffit and fascia, and other exterior forces can wear areas, crack seals and flashing, damage shingles, and create vulnerable areas where water can enter.
Some so-called roof leaks aren't caused by water coming into the home from outside. Instead, extreme temperature fluctuations cause moisture in the air to condense between the roof layers or in the attic, creating its own rain that can seep through ceilings and down walls, presenting a lot like leaks but having a totally different source. Homes in areas with very hot summers and cold winters are especially at risk, but there is a way to prevent attic condensation leaks. Preventing temperature fluctuations is key, so clearing or installing roof vents, installing attic fans, and installing insulation and vapor barriers are all ways to stop condensation from causing ceiling leaks. If your home has experienced attic condensation or roof layer condensation, it's also important to treat any mold or mildew growth to retain a healthy indoor air quality.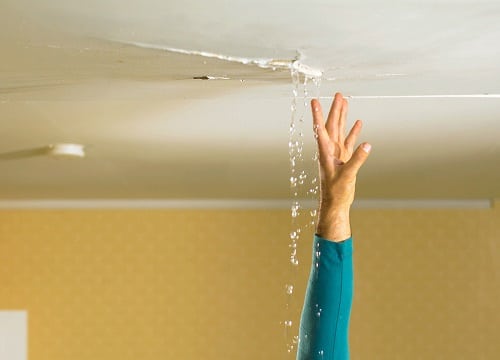 Knowing the possible causes of your roof leaks can help you identify problem areas faster and get the repairs you need before your home faces more damage. All roof leaks need to be repaired right away, usually by good local roofers in order to minimize water damage and related problems and protect your home investment.