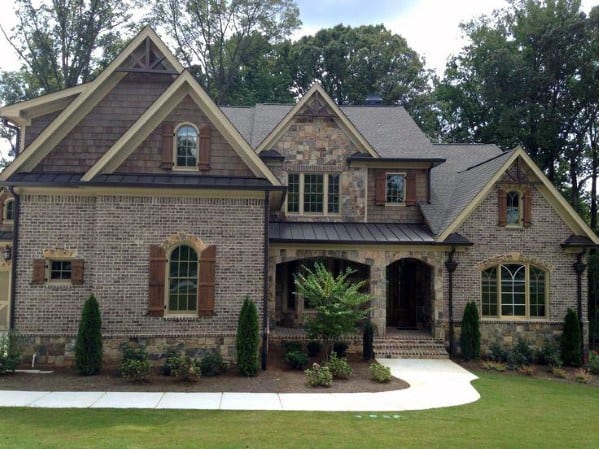 Ready to swap your out-of-style spaces for a customized-chic floor plan? If you answered yes, flipping through magazines and curating an inspiration-infused Pinterest board will be just enough to get home design wheels turning. If you're building a custom home, the first step is to nail down your custom style. Then, without boxing your imagination in, calculate a reasonable budget for your custom home project. Finally, with budgetary boundaries in place, you can make the home of your dreams a spitting image of what you drummed up in your mind. From basic home style to design practicality, read on for the most vital decisions to consider during your home-building process.
Choose your floor plan
Flow is one of the most important things to take into account when building your own home. An excellent base for your design is vital to every operation, and your home is no exception. However, no matter how expertly decorated or updated your features will be, your spaces may feel out of sorts if the home's flow is off. So, whether your new build is a multi-story mammoth or a cozy single-level, be sure to check out a variety of floor plan options like these ahead of time.
Identify your taste
From a rustic farmhouse to a clean-cut modern home, there are a wide variety of angles you could approach your new build from. Not only will your architectural style influence the appliances and decor choices for your home, but it will also set the tone for the exterior and interior alike.
For much-needed interior design introspection, start making a Pinterest board, pull images online, or go old-school by picking out a few magazines. Once you get clipping, there's no stopping your creative ambitions.
Regardless of how you decide to churn up inspiration, you'll be glad those creative juices are flowing.
Analyze your habits
Whether you are the hostess with the mostess who loves an expansive kitchen or an avid reader who would love a quiet place to curl up with a good book, your habits are an essential part of your new home. After all, a custom build is just that – custom. A house built to fit you should work with your habits rather than against them.
Everything from space allocation and doorway height to heated floors and jacuzzi tubs, it's all up to you. But before turning in your swatch deck, you'll need to look within and tap into your deepest design desires. This self-reflection will be critical when selecting things like numbers of bathrooms, floor plan, or potential bonus spaces,
Establish your preferences
Though your neighbors may not welcome nosiness, keep a close eye on friends and family's homes, especially if they also have custom builds. If you think the ceilings are too low for your liking, or there are one too many shelves crowding the walls, make a personal note. What works for one person may not work for the other, which is likely why you chose to build custom in the first place. Take stock of what you love and what you could do without so that your personal space is perfect for you.
Consider your neighborhood
Being unique is a gift, but sticking out like a sore thumb in your neighborhood may not be ideal. If you are moving into a community with elegant Tudor homes as far as the eye can see, consider thinking twice before you erect a stark, modern house. While you don't need to fit in perfectly, it is a good idea to make sure that your neighborhood has an inkling of your style to avoid any clashing.
Form a budget
Home is where the heart is, but it's also where a whole lot of money goes. Your custom home is likely one of the most significant investments you have made thus far, and it deserves to be treated as such. The importance of this step may mean treating yourself occasionally, but it also means that your design should accommodate your budget. The last thing you want is to form a grand plan in your imagination that you cannot execute in reality. So before you set out with sprawling goals, be sure to check in with your bank account so that you can create the best home for your dreams and your wallet.
Be realistic about space
If you have already purchased a lot, consider the amount of space or lack thereof you will have to work with. For example, your cozy craftsman-style home may look great in your imagination but feel out of place on a massive plot of land. In the same vein, your grand colonial home may not have the awe-inspiring effect you desire if it is stuck on a teensy lot. However, if you are waiting on purchasing a piece of land, be sure to think about the amount of space your family requires before you lock down a plot.
Conclusion
Building your own custom home is likely one of the most exciting parts of your life-to-date, so don't be afraid to think long and hard about your choices to ensure the home of your dreams. By considering simple concepts like a solid budget and the vibe of your neighborhood, you are sure to be thrilled with your build.