Artificial Grass Eastbourne examines the real costs of creating and maintaining a great lawn!
Having a lawn will not only make your property look good, but it is quite instrumental as well. You will have the freedom to relax on your garden and entertain your friends. Your pets and children will also have a nice place to play and have fun. This article will compare the costs of maintaining artificial grass versus a real lawn.
Watering – In order to maintain a lush lawn, one of the things you will need to do is to water it on a regular basis. This can end up being expensive in the long term, especially during the dry season. But with turf, you just need to hose it down once in a while, when you want to clean it or cool it down.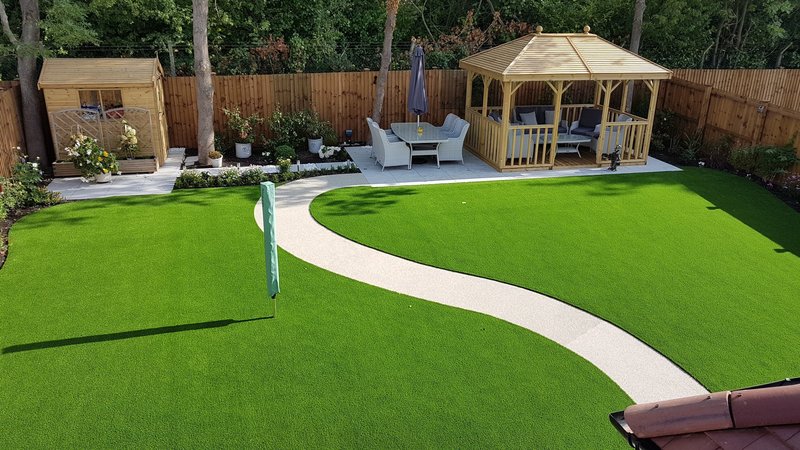 Mowing -The smell of a freshly mowed lawn is something that a lot of people like. To keep your yard looking beautiful, it is necessary to mow your lawn from time to time. If this is a chore that you hate or you do not have the time or energy to do, this is an activity that you can outsource to someone else. What's more, the cost of the equipment and fuel required to get the job on a regular basis can add up over time. This is not something you will have to deal with, when you have a fake lawn.
Equipment – It takes various equipment to maintain any kind of lawn. For real grass, you will require a lawn mower, a sprinkler system or a hose and an aerator. You will also need fuel and oil. When it comes to maintaining artificial grass Eastbourne, the equipment you will need includes a plastic rake, broom and a garden blower. Therefore, you will end up spending more money to buy equipment for taking care of a real law than an artificial one.
Durability-Turf lasts for over 25 years. This makes it a worthwhile long term investment. Once it is installed, just make sure to take good care of it and it will look good over a long period of time. On the other hand, how long a natural lawn lasts will largely depend on the kind of maintenance that is carried out. If not well looked after, the chances of your investment going down the drain is quite high.
Fertilizer and cleaning costs- Some of the things to take care of, when it comes to a natural law includes the cost of fertilizers, herbicides and weed control. These are things you have to do on a regular basis for your vegetation to thrive.
On the other hand, turf needs to be cleaned on a regular basis. This requires the use of detergents. In addition, there is need to carry out repairs on damaged areas. This is to prevent any damages from getting worse. There is also the cost of chemical disinfectants and sprays to keep odors away. This is particularly important, if you have pets like cats or dogs that may urinate on the turf.
Less dirt in the house – One of the issues of having a natural lawn is the fact that children and pets will track in dirt and mud into the house. This will cost you in terms of cleaning products and time. But When it comes to turf, you do not have to deal with this kind of problem since the soil is covered up.
Labor- Taking care of a natural lawn is more laid or intensive as compared to turf. The lawn will need to be weeded, fertilized and watered on a regular basis. The more man hours it takes to work on your front yard, the more the cost of labor will go up. Even though a degree of maintenance is required for turf, it is less labor intensive, making it a less expensive option when it comes to labor costs.
Time-It takes time to maintain a garden. With the busy lifestyle that most people live now, time comes at a premium. What with juggling work and childcare, school and a demanding family life. Most people just don't have the time or energy to put into taking care of their lawns. However, with turf, it is possible to achieve an immaculate looking front yard without putting in too much work into it.
Warranty- Quality turf comes with a warranty. This means that in case anything goes wrong, you can have it taken care of by the seller or manufacturer. But When it comes to natural grass, once you buy the seeds to plant, you will be on your own. It is up to you to ensure that the vegetation grows and thrives.
Recoup your investment- A nice looking landscape will give your property a good curb appeal. This will make you the envy of your neighbours. If you are planning on selling your home, a good landscape can help increase the price of your property. This makes it possible for you to recoup the cost of investment you put into sprucing up your garden.
Even if you are not planning on selling your house, you will have recouped the cost of installing the turf within the first few years. After that you will be saving on time and money that would have gone into taking care of a real garden.
Opportunity Cost-Take into consideration opportunity cost. When you spend time and money on your lawn, it means that you are missing other opportunities where you can invest your time and money in. Perhaps this can cause you to forego a job or another income stream.
Aeration and Overseeding- These are things that need to be done to your garden at least one or two times in a year. The cost of doing this is charged per square metre. Overseeding involves filling in bare patches of grass, so that the lawn looks dense. While aeration makes it possible for nutrients, water and air to penetrate to the roots of the vegetation.
Conclusion- Both real and fake lawns require a degree of maintenance. The difference lies in the amount of work involved and the cost. From the comparison above, the overall cost of maintaining a real lawn ends up being more expensive than that of turf.