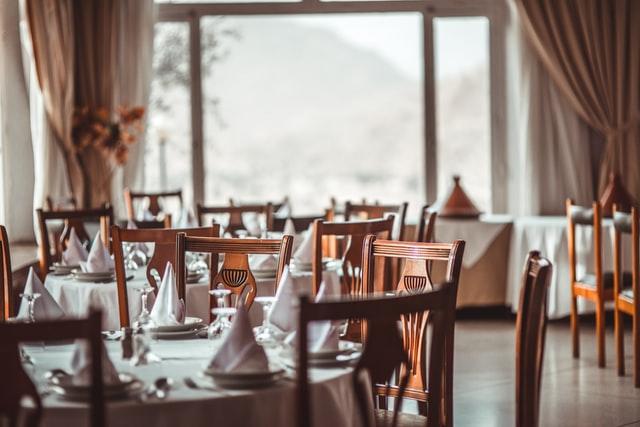 It's becoming clear that recent events over the last few years will have a lasting and transformative effect on societies around the world. From climate change to COVID-19, duly qualified institutions like the World Health Organization and U.S. Centers for Disease Control & Prevention agree that vital considerations need to be made for social and environmental sustainable development going forward.
Already these new considerations are causing a ripple effect through all aspects of daily life, not the least noticeable of which is how restaurant design is changing, possibly for good.
Why is change necessary in restaurant design?
Social distancing, vaccination status and the need for environmentally sustainable standardization of everyday products are just some reasons change is necessary in all public venues, including commercial, leisure and recreational spaces.
In its most modern iteration, restaurants have been with us since the early 18th century. In any major cultural shift — born of necessity or otherwise — with implications on fundamental aspects of daily life, it's a safe bet that restaurants will be among the first to change, and rightly so.
It's worth noting that a transition to environmental and social sustainability doesn't have to be a grim or solemn affair. In fact, some of the most recent changes in restaurant design and operation have been a welcome development among indoor as well as outdoor diners. In this post, we go over how restaurant design is changing, and will continue to change well into 2022 and beyond.
Utilization of Environmentally Sustainable Materials
Whether it be hotel and restaurant chairs or drapery to create an atmosphere, there is plenty that can be done to create a quality dining experience without harming the environment. Here are just three examples of sustainable materials that can easily fit into contemporary restaurant design:
Organic Cotton, when ethically produced, is made from rapidly renewable source materials that have not been exposed to pesticides or other harmful chemicals. The main benefit of organic cotton is that it is among the most affordable alternatives to synthetic fabrics. It also has a better impact on the environment because its production reduces pollution and crop-related water usage by up to fifty percent.
Organic cotton is a solid choice for both ambiance and utility use, such as in drapes, aprons or serviettes.
Bamboo is one of the most sustainable materials in furniture manufacturing, to say nothing of its durability and low-maintenance upkeep. It contributes greatly to the environment by keeping trees alive, which reduces carbon dioxide in the air that can cause pollution. Bamboo is a natural source material that doesn't require any chemical treatment when being processed.
Bamboo furniture contributes to better indoor air quality by absorbing carbon dioxide and emitting fresh oxygen, making it perfect for restaurant, home or even office use.
Hemp-Based Textiles have been used since the Neolithic Age. They are naturally resistant to mold, rot, and pests. Hemp fibers are also substantially more absorbent than cotton which means that it will wick sweat away from the skin, making them ideal for use as tablecloths, napkins and washcloths.
Hemp-based textiles naturally resist wrinkles and don't need ironing. They are among the most eco-friendly options today, as they use less water to produce and require fewer chemical treatments than cotton. Hemp can be grown with little to no pesticides, herbicides, fungicides or other artificial chemicals, and are a rapidly-renewable alternative to traditional source plant materials (i.e. trees).
Open, Inclusive & Social Safety-Oriented Layouts
According to both experts and scientific institutions, coronaviruses and their variants are likely to be with us indefinitely. In light of this, public places of gathering like mass transit stations, sports venues and restaurants are changing how they accommodate the flow of attendees and customers. In the case of restaurants in particular, this has brought about some changes that have proved to be quite welcome among regular patrons.
Over the past year and a half, we've seen restaurants pivot from congested, teeming customer layouts to well-spaced, open floor designs — showing less prioritization for profit potential and more consideration for social distancing and public safety. This has proven to be a convenient development for customers and servers alike, providing a significant increase in walking and elbow room for both parties.
Restaurants are also ramping up their standardization of accessibility protocols in restaurant design, in light of the need to provide quality-of-life accommodations to high-risk and special needs demographics in the era of COVID. This has been welcomed by senior patrons and plus-sized individuals, for whom the pandemic has been an especially stressful time.
As COVID restrictions continue to wind down and public venues reopen around the world, it's likely restaurants will continue to implement social and environmental sustainability-oriented changes going well into 2022 and beyond, in lockstep with other places of public gathering.