One of the things that are necessary to recycle now-a-days is fallen leaves and yard debris. And doing so works to our own advantage. In autumn, these tasks gets more and more tedious if not managed properly. Using fallen leaves and natural debris to make mulch is something everyone will start doing in few years; it is already being used in many households as well as in public parks and gardens. Production of compost fertilizer is an alternative method used in many developed countries. In the places where there is lack of organic matter is soil the use of mulch or compost fertilizers becomes necessary.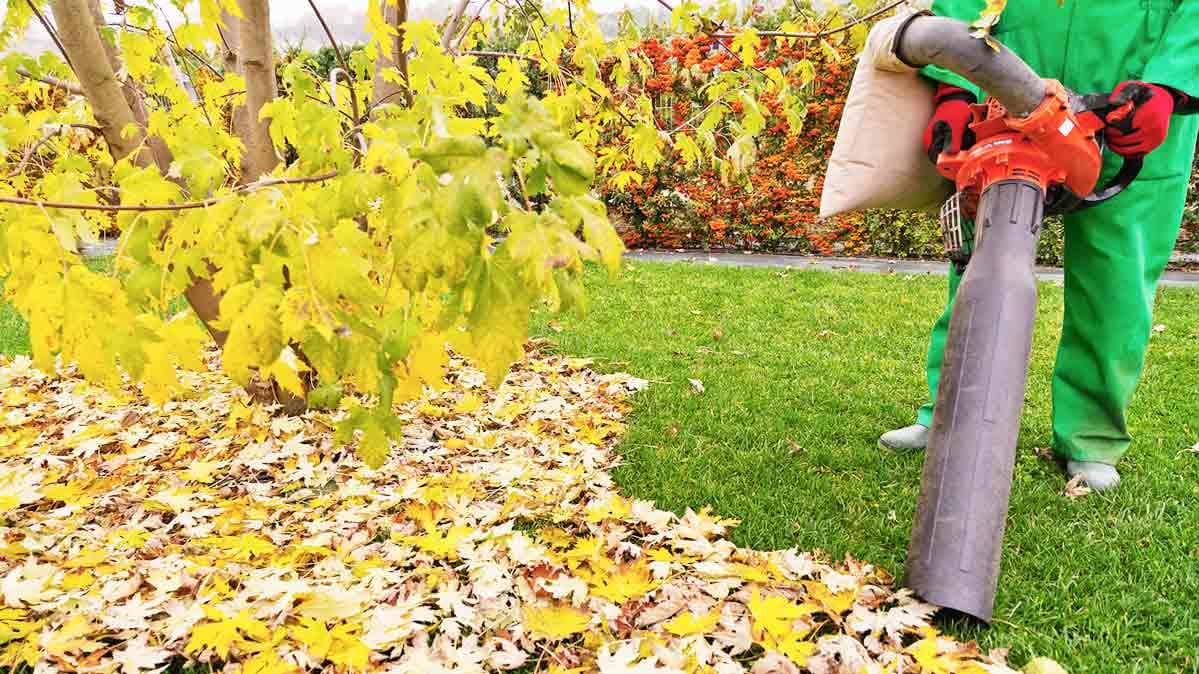 According to researchers, recycling of natural debris can be a useful strategy for decreasing pollution in the longer run. It is also helpful to reduce the cost of maintain public green spaces. There are few drawback of these machines also like noise pollution or air pollution while using gasoline powered models. So we should also keep these things in mind while purchasing the tool.
Treatment of leaves and debris can be taken care with different types of models of mulcher or vacuums according to our and our garden/yards requirement. There broadly four types of these machines. As follows:
Hand held models
Backpack models
Walk behind leaf models and
Tractor ride-on models
While walk behind models are used most commonly, there are few other options also like handheld varieties, large tractor ride-on models. There are easily movable backpack models which are good for managing bits of waste near trees and gardens, while large, more powerful models can clear up large areas and lawns. The choice depends on what are the requirement and quantity of the space.
INTERNAL PARTS OF MACHINE
Research and machines available in markets makes us understand that following are the parameters considered:
Overall dimensions of the machine
Vacuum mechanism and
Parts of vacuum section.
Collection of debris from surface to bag is done by vacuum mechanism as expectation of machine operation. Different tasks of the machine such as, input opening, channels and centrifugal fan are components of the vacuum section.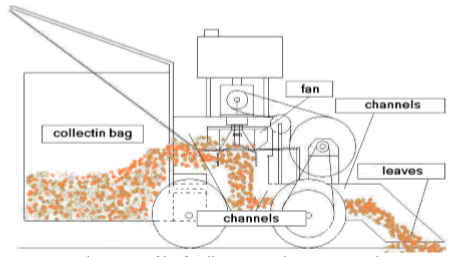 The above image shows schematic of leaf collection and vacuum mechanism from transferring leaves from surface to the bag of a walk behind leaf model.
Explaining according to above image, the design of the machine, input opening, there are continuous part considering channels. As the dimensions and angels play role the plan is designed. The centrifugal plan and plan of channels are placed at different angle, first part at 45° for input opening and other two parts at 90° angle for outlet openings. Input opening is designed in rectangular section and the section for outlet is designed with circular section.
WORKING OF VACUUM FAN
Vacuum fan is a vital part of the collector, there are many different types of fan rotor that can be used for vacuuming leaves; but most of times a centrifugal fan with radical turbine is used for the machine. To determine the size of fan, on basis of low velocity and non-compressible vacuum air, Bernoulli's equation is used between input and output points.
The vacuum for indoor and outdoor have similar mechanics. Vacuum is created in the small compartment placed in the centre containing a high speed fan, which is connected to input and output channels. Air is forced out of the small compartment into the exhaust fan with the help of the spinning fan. A partial vacuum is created by pushing the air aside and leaving the compartment with a low-pressure area. Air rushes through inlet channel to fill this area and that's how suction is created, making a way for leaves to ride in with the jet of air.
EXTERNAL PARTS OF THE MACHINE
The other most needed and important feature of lawn or garden vacuum is the collection bag. It is assumed that we will need a large bag but these machines can make do with relatively smaller collection bag, mostly the size that is provided is 12 cubic feet (0.34 cubic meter) intended to handle a much higher quantity volume of waste. The collected bags can be very heavy and difficult for one person to manage while lifting and dumping out. And so most bags have clamps or zips opening that help you to scoop out debris manually also.
The bigger models of yard and garden vacuums will mulch the debris as well as collect them. And hence, the waste produced will be much thicker when removing it out from the machine's collection bag. If we compare the number of bags of filled the loose leaves collected by rake of leaf blower will be around six to seven bags, while if you bag the amount of mulch made out from same quantity of leaves it will be only two or three bags. Which significantly less but it is almost double in weight. And hence, the type of bag should be extra-strong or use large garbage can to store the mulch.
There are some additional equipment that are available in market because the size of debris may vary and that's why it is necessary to provide range of nozzles and attachment equipments. In sensitive area using large intake nozzle may cause damage to the machine. Smaller nozzle creates more suction. With most of the machines these equipments are included but if that is not the case than specialty attachment kit can be purchased separately.
If you are looking for quieter machine avoid leaf blowers. But the quitter machines have limited engine power so if you are ready to compromise with noise by using earmuffs than you can work with high powered models and as well deal with the noise. Or, few people have to use it for only little time about an hour at a time, you can use battery powered models. This models are also available without wires making it easy and more accessible.
For more information on Best leaf mulcher and vacuum, check our other articles as well. There are articles from what is leaf mulcher? To finding suitable match for your space and many more.