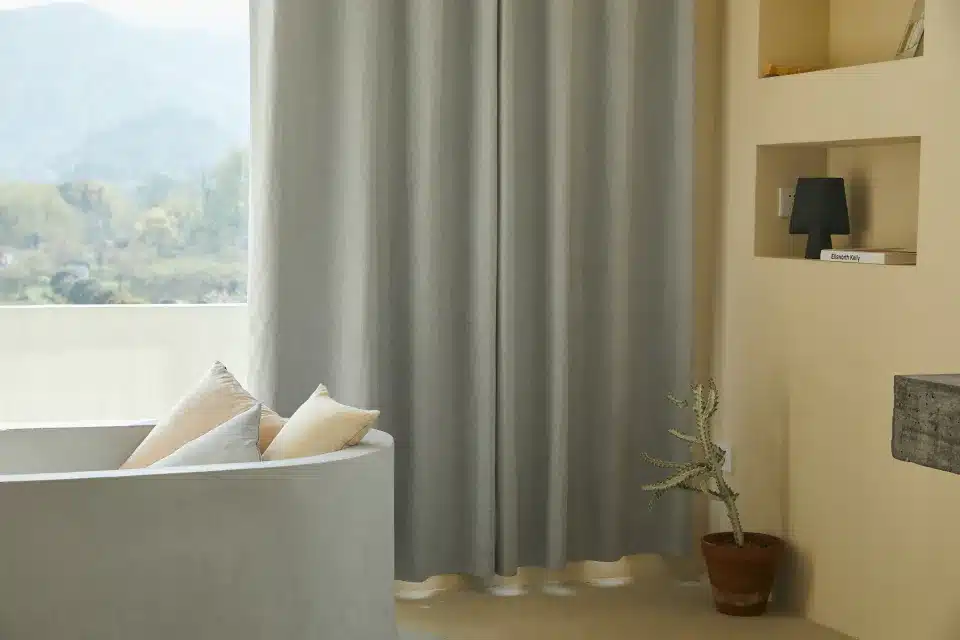 Want to create a feeling of privacy in your home without sacrificing style? You'll be surprised to learn just how easy it is. Investing in the right window treatments for your space can make all the difference between living within a fishbowl and having an oasis of peace and quiet.
In this comprehensive guide, you'll find tips on what window treatments are best for achieving maximum privacy while adding beauty and value to your home decor. From blinds and shades to film applications, curtains, shutters, valances, drapes-and more-we've got a comprehensive guide on creating privacy with window treatments.
Best Window Treatment Options for Privacy
The need for privacy in your personal space is a fundamental aspect of human comfort and well-being. This is particularly true in urban areas where houses are often closely situated to each other, allowing little room for privacy. Luckily, the right window treatments can provide us with the privacy we need while adding an aesthetic touch to our homes.
Referred to as the "eyes" of the home, windows can provide a beautiful view but also make us feel exposed if not properly dressed. That's where window treatments come into play. Let's delve into the best window treatments that ensure privacy without compromising on style.
Roller Shades
Roller shades are a popular choice for those seeking privacy. Available in a range of opacity levels, you can choose a fabric that suits your privacy needs and aesthetic preferences. This type of shade is easy to operate, often operated with a pull cord or a motorized system, and can be custom-made to fit any window size.
Cellular Shades
Cellular shades, also known as honeycomb shades, are recognized for their superior insulation qualities. However, they're also fantastic for privacy. The unique cellular construction allows natural light to filter into the room while keeping unwanted eyes out. They come in a range of colors and cell sizes, allowing for a custom fit for your windows.
Roman Shades
Roman shades are a stylish and practical choice for window privacy. They offer a clean and classic look that blends well with various decor styles. When lowered, Roman shades provide complete window coverage, ensuring maximum privacy. They're available in a range of fabrics, colors, and patterns, allowing you to personalize your space to your liking.
Window Film
If you're not a fan of traditional window treatments, window film applications are an excellent alternative. They provide total privacy while allowing plenty of natural light to pass through. Available in various designs and patterns, you can choose a film that complements your decor style.
Shutters
Shutters are a classic choice for those seeking maximum privacy with an elegant touch. They come in many styles, materials, and finishes, making it easy to find one that fits your home's aesthetic. They're also durable and low maintenance, making them a favorite among homeowners.
Drapes
For a luxurious touch of privacy, opt for drapes. You can choose from a variety of fabrics ranging from sheer to blackout options, depending on the level of privacy you want to achieve. Drapes not only provide exceptional privacy but also add a touch of elegance and sophistication to any room.
Valances
Valances are an excellent option for those who prefer to keep their windows unobstructed while still achieving some level of privacy. They're available in various fabrics, sizes, and styles, allowing you to customize them according to your preferences. Whether straight, scalloped, or arched, valances are a decorative and practical choice for privacy.
Additional Tips for Achieving Privacy in Your Home
Achieving a sense of seclusion and solitude in the comfort of your home is a delicate balance to strike, especially in bustling city environments. The right window treatment can make all the difference, but what can further enhance the room's privacy are some additional strategies.
Implementing these suggestions and window treatments can help you create a perfect sanctuary in your urban dwelling.
Use Layered Treatments
Adding layered window treatments, such as a combination of sheer curtains and blackout drapes, not only adds to the aesthetic appeal but also enhances the privacy of your room. You can adjust the layers as needed based on the time of day and your privacy requirements.
Install Top-Down Bottom-Up Shades
These shades are exceptionally versatile and offer a unique solution to privacy problems. They allow you to lower the top half while keeping the bottom half covered, enabling natural light to enter the room without compromising privacy.
Try Frosted Glass
For those who want to maintain a sleek, modern look while ensuring privacy, frosted glass can be an ideal solution. It lets in light but obscures the view, making it an ideal choice for bathrooms or ground-level windows.
Consider Outside Landscaping
Planting trees or adding structures like trellises or fences can also improve privacy. Not only do these additions provide a natural cover for your windows, but they also enhance the overall aesthetic appeal of your home exterior.
Use Room Dividers
If your room has large windows or glass walls, using room dividers can create an extra layer of privacy. This can also help you divide the space into different functional areas, adding to the overall efficiency of your room.
Opt for Smart Glass
Smart glass, or switchable glass, is an innovative material that changes its opacity with the flick of a switch. You can switch them from clear to frosted, providing instant privacy whenever needed. Though more of an investment, this state-of-the-art solution offers the perfect blend of modernity and privacy.
Final Thoughts
Whether you're trying to escape the busy city life or simply want some solitude in your home, privacy is essential. With these window treatment options and additional strategies, you can create a comfortable and private sanctuary in your urban dwelling.
Remember to choose a style that suits your needs and aesthetic preferences, as well as implement additional tips for maximum seclusion. Click here to get in touch with a window treatment expert and schedule your consultation.