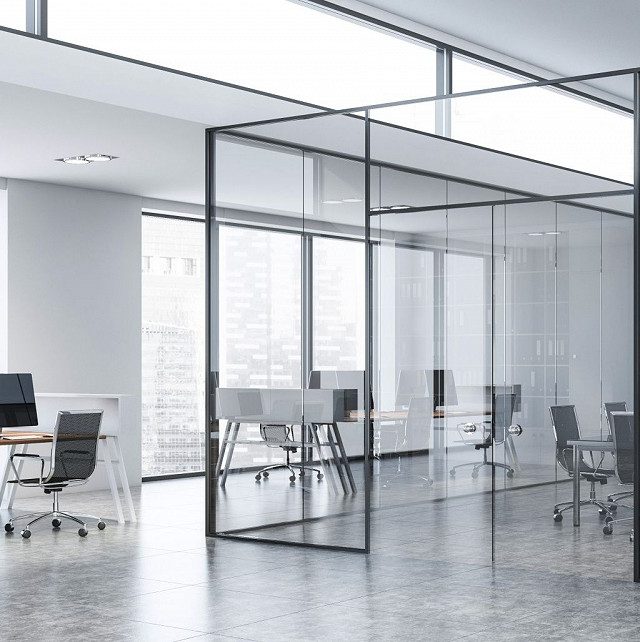 Glass walls have long been a symbol of modern architectural design, offering an elegant blend of aesthetics and functionality. They have transformed how we perceive and interact with spaces, creating a sense of openness and unity with the outdoors and inviting abundant natural light.
In this article, we will explore the versatility of glass walls in interior design and how they can enhance the aesthetics and functionality of any space.
The Aesthetics of Glass Walls
Glass walls are undeniably aesthetically appealing. They exude a sense of luxury and modernity that can elevate any space, from commercial offices to residential homes. The sleek and seamless appearance of glass walls instantly adds a touch of sophistication and elegance to any room.
But the beauty of glass walls goes beyond their visual appeal. They also have the unique ability to blur the boundaries between indoor and outdoor spaces, creating a seamless connection with nature. This is particularly useful in areas with beautiful views as it allows for unobstructed sightlines and brings the outdoors inside.
Additionally, glass walls come in various styles and designs, making them highly versatile and customizable. From frameless to framed, from clear to frosted or tinted, the options are endless for incorporating glass walls into interior design.
The Functionality of Glass Walls
Aside from their aesthetic benefits, glass walls also serve a practical purpose in interior design. They offer a range of functional advantages that make them an attractive choice for many designers and homeowners.
First and foremost, glass walls allow maximum natural lighting to enter a space. This reduces the need for artificial lighting, saves energy and costs, and creates a healthier and more enjoyable environment for occupants. Natural light has been proven to boost mood, productivity, and well-being.
Moreover, glass walls can also improve the flow and functionality of a space. By replacing traditional solid walls with glass ones, rooms can feel bigger and more open, making them ideal for smaller spaces or areas that require flexibility. Glass walls can also be used to create separate zones within a room without compromising on natural light or visual continuity.
The Versatility of Glass Walls in Interior Design
One of the most appealing aspects of glass walls is their versatility. They can be incorporated into various interior design styles, from contemporary to industrial, making them suitable for any space and purpose.
Glass walls can serve as room dividers, allowing for privacy while maintaining an open and spacious feel. They can also be used as statement pieces, adding a unique touch to a room and becoming the focal point of the space. And for those looking for a seamless indoor-outdoor living experience, glass walls can be fully retractable, opening up an entire wall to the outdoors.
In commercial spaces, glass walls are commonly used in conference rooms or offices to promote transparency and collaboration. In residential homes, they can be utilized in bathrooms or bedrooms to create a luxurious and modern feel.
How to Install Glass Walls
While incorporating glass walls into interior design may seem daunting, it's a relatively straightforward process with the right professionals and materials. It's important to work with experienced contractors who understand the intricacies of installing glass walls, such as proper framing and sealing techniques. If you're interested, contact them to start when you're ready.
The type of glass used is also crucial in achieving the desired aesthetics and functionality. For example, tempered or laminated glass is recommended for safety purposes, while low-emissivity (low-e) glass can help with energy efficiency.
Type of Glass Walls to Consider
There are several types of glass walls to consider when incorporating them into interior design. Some common options include:
Sliding glass walls – These panels slide along a track, making them ideal for spaces with limited room for swinging doors.
Folding glass walls – Similar to sliding glass walls, they fold in sections, allowing for a larger opening and more flexibility in the design.
Frameless glass walls – These provide a seamless and modern look, with minimal framing and no visible tracks or borders.
Glass partitions – These are fixed panels that can divide spaces while allowing for an open feel.
Factors to Consider Before Incorporating Glass Walls
When considering incorporating glass walls into interior design, it's essential to keep a few factors in mind:
Privacy – While glass walls offer transparency and openness, privacy can concern some spaces. Consider using frosted or tinted glass for more privacy.
Maintenance – Glass walls require regular cleaning and upkeep to maintain aesthetic appeal. Be prepared to invest time and resources in this aspect.
Safety – As glass walls are fragile, safety precautions, such as using tempered or laminated glass, should be taken.
Final Thoughts
Glass walls are a versatile and attractive choice for enhancing the aesthetics and functionality of any space. From their ability to seamlessly blend indoor and outdoor spaces to their practical benefits, such as natural lighting and improved flow, glass walls offer many options for interior designers and homeowners.
With the right professionals and proper considerations, incorporating glass walls into interior design can elevate any space to new levels of sophistication and elegance.