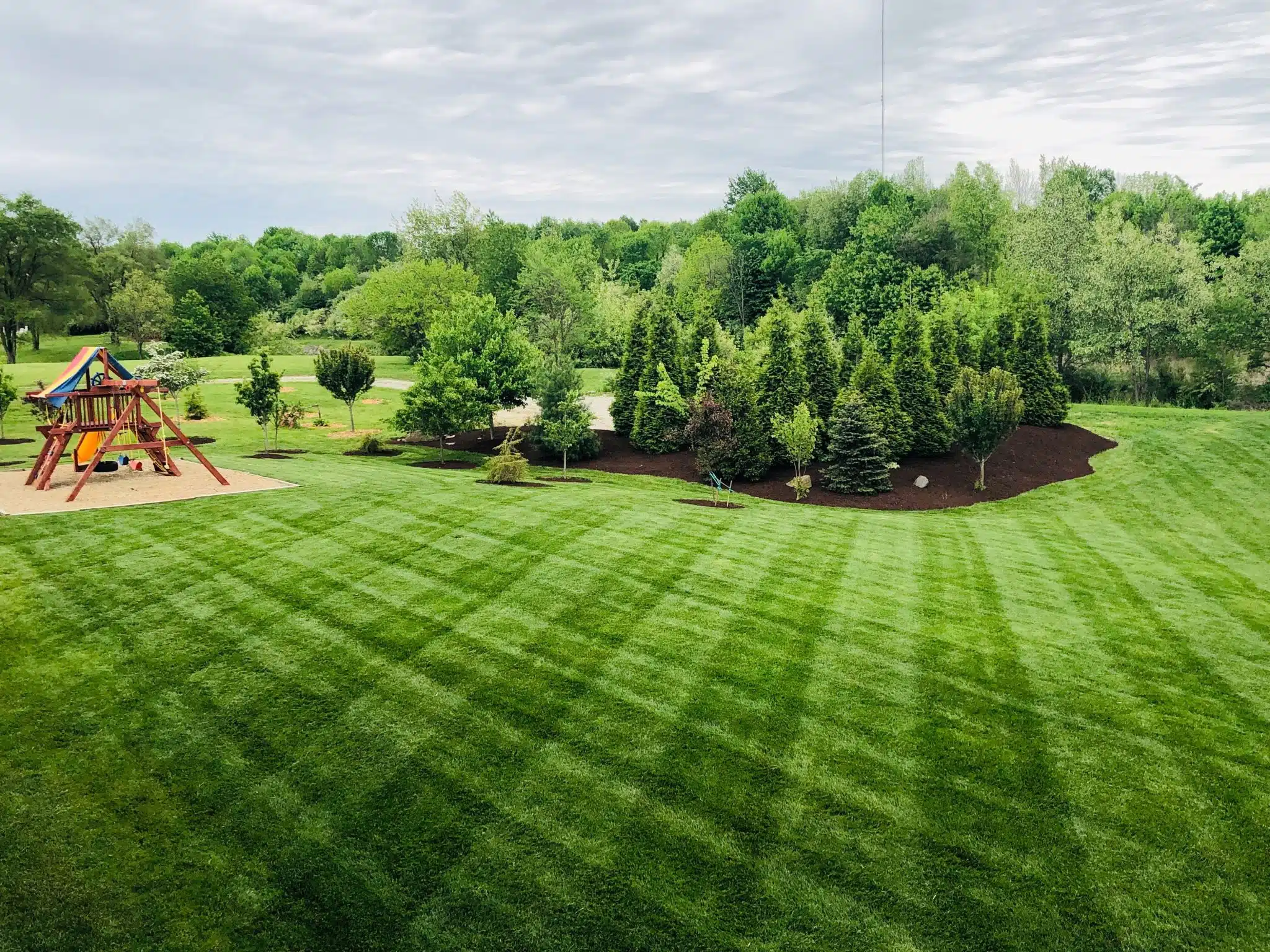 Are you tired of spending money on traditional lawn care products that promise to make your yard look beautiful but end up costing a fortune and leaving behind harmful toxins? If so, organic lawn care is an effective solution for keeping your grass growing lush and green without worrying about dangerous chemicals or high price tags.
Not only can switching to all-natural methods save you time and money, but it's also better for both people and the environment – making investing in organic lawn care one of the best decisions you can make for yourself and your home.
Why Go Organic?
Choosing organic lawn care products comes with a host of benefits that extend beyond a healthy and vibrant lawn. These products not only maintain the natural beauty of your lawn, but also contribute to a safer environment and overall improved health. Let's delve into the key advantages of going organic for your lawn care needs.
Eco-friendly
Organic lawn care products have minimal environmental impact. They are made from natural materials that decompose and enrich the soil instead of depleting it. They don't contaminate water sources or harm local wildlife. By choosing organic, you're contributing to a sustainable ecosystem.
Healthier Lawns
Organic products help develop a stronger, more robust lawn. They improve the soil structure and encourage beneficial microorganisms, leading to healthier, more resilient grass. Your lawn becomes less dependent on external aids and more self-sustaining.
Safer for Children and Pets
Traditional lawn care products often contain harmful chemicals that pose a risk to children and pets who spend time playing on the grass. Organic products, being free of these harmful chemicals, are much safer, allowing your kids and pets to enjoy the outdoors without worry.
Cost-effective
While organic lawn care products may sometimes seem more expensive up front, they prove to be cost-effective in the long run. They cultivate a self-sustaining lawn requiring less watering and fewer treatments, saving you money over time.
Improves Soil Health
Organic lawn care aims at maintaining and improving soil health. Organic fertilizers add natural nutrients to the soil, enhancing its quality and fertility. This results in healthier plants and a more vibrant lawn.
Reduces Carbon Footprint
By choosing organic lawn care, you're reducing your carbon footprint. Traditional lawn care methods emit harmful gases and contribute to air pollution. Organic products are made from renewable resources and have a lower impact on the environment.
Eco-Friendly Lawn Maintenance Tips
To make the most of organic lawn care, it's important to take into account certain fundamental practices that can help maintain your yard in an eco-friendly manner. This not only ensures the health and beauty of your lawn but also contributes to a sustainable environment. Let's explore some of the best practices for sustainable lawn care.
Use Organic Fertilizers
A crucial part of organic lawn care is replacing chemical fertilizers with organic alternatives. Organic fertilizers release nutrients slowly, improving the health of the grass over time and reducing the risk of over-fertilization. They also enrich the soil with natural elements that contribute to a more robust, resilient turf.
Opt for Drought-Tolerant Grass Varieties
Choosing drought-tolerant grass varieties can significantly reduce the amount of water your lawn requires. Grasses like Bermuda, Buffalo, and Zoysia are known for their water efficiency and can thrive even in dry conditions.
Compost Your Lawn Clippings
Instead of throwing away your lawn clippings, consider composting them. This not only reduces waste but also gives you a rich, organic material that can be used to improve the soil fertility of your lawn.
Use a Manual or Electric Mower
Gas-powered mowers emit harmful pollutants, making manual or electric mowers a more eco-friendly choice. While a manual reel mower is a zero-emission option, electric mowers also have a significantly lower environmental impact than their gas counterparts.
Practice Smart Irrigation
Overwatering is not only wasteful but can also harm your lawn. Practice smart irrigation by watering deeply but infrequently, preferably in the early morning. This encourages deeper root growth and makes your lawn more drought-tolerant.
Embrace Natural Weed and Pest Control
Opt for natural methods to control pests and weeds in your lawn. This could include introducing beneficial insects, using corn gluten meal as a pre-emergent herbicide, or employing vinegar-based solutions to manage weed growth.
FAQ
Are organic lawn maintenance products as effective as traditional ones?
Yes, organic products have been proven to be just as effective in maintaining a healthy and vibrant lawn. They may take slightly longer to show results but also promote long-term soil health and resilience.
Will switching to organic lawn care eliminate all weeds and pests?
No, switching to organic methods does not guarantee complete elimination of weeds or pests. However, it does provide a healthier environment for your lawn to resist and manage these issues naturally.
Is organic lawn care expensive?
Organic products may seem more expensive upfront, but they prove to be cost-effective in the long run. Additionally, practicing smart lawn maintenance techniques can further reduce costs.
Can I use organic methods even if my lawn is currently unhealthy?
Yes, you can transition to organic methods at any stage. It may take some time for the lawn to adjust and improve, but the long-term benefits are worth it.
Is organic lawn care only beneficial for my lawn?
No, choosing organic also contributes to a sustainable environment by reducing harmful impacts on air and water quality. It also promotes healthier soil and supports local wildlife. Enjoy a beautiful lawn while making a positive impact on the planet.
Final Thoughts
Opting for organic lawn care benefits your lawn and has numerous positive impacts on the environment. It promotes a healthier and more sustainable ecosystem while reducing your carbon footprint and creating a safer outdoor space for children and pets.
With the right practices, you can achieve a vibrant, resilient lawn without compromising on your values or the health of our planet. Contact a lawn care expert to learn more about how you can make the switch to organic and reap the countless benefits.