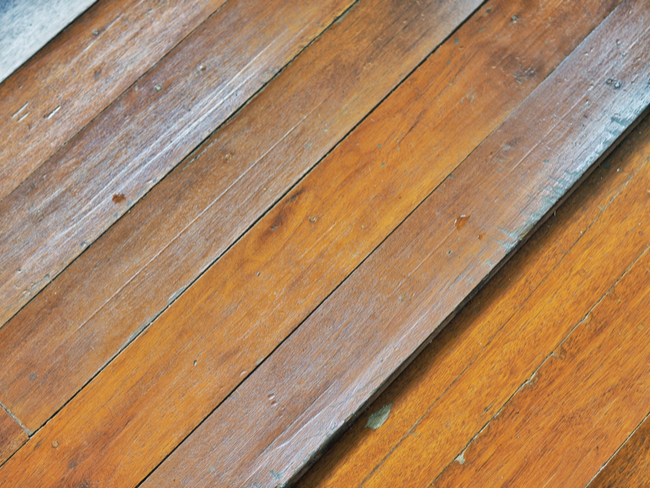 For many homeowners, luxurious hardwood floors are a must-have feature in their homes. Natural hardwood is beautiful, warm, and elegant. One of the worst nightmares a homeowner can face is damaged wood flooring.
While with proper maintenance wood floors can last for years rarely needing refinishing, there are some issues that can arise and will need to be addressed quickly to keep your floors looking great. One common problem that needs immediate attention is wood floors that begin to buckle.
In this post, we'll explore the causes and cures for buckled wood floors. But first, what exactly do we mean when we talk about buckled floors?
What Are Buckled Wood Floors?
When we talk about buckled floors we are talking about floors where the boards rise causing humps and uneven surfaces. It looks terrible, and when severe can even become a trip and fall hazard.
Because wood is a natural material it expands and contracts due to environmental conditions. This is a normal characteristic of wood. However, when exposed to particularly harsh conditions, severe expansions and contractions can prevent your floor from going back to its original position. This is how buckling starts.
Properly installed wood flooring that is maintained and cared for can look great for years, be sanded and refinished, and hold its value and beauty. However, changes in temperature and humidity can cause floors to show grooves, hills, and valleys, or undulation as a result of abnormal tension in the flooring.
The Causes
For a wood floor to be susceptible to buckling, it must get separated from the subfloor. Buckling is often accompanied by "cupping" and/or "swelling." This is where the edges of the wood floor plank curl up resembling a cup, or the middle begins to swell. There are several conditions that can cause your floors to buckle. They include:
• Water
A slowly leaking appliance or moisture from a concrete slab subfloor can cause your floors to buckle. When it gets wet, the wood must absorb the moisture. This can cause the planks to swell which leads to buckling.
• High Humidity
High humidity is another common cause of buckling. This is why in states with high humidity, like Florida, wood flooring is usually not recommended. Humidity can cause problems especially in smaller spaces or windowless rooms in your house. Your floor can even absorb excess humidity from the air. Fans and proper ventilation can reduce buckling.
• Poor Acclimation
Before installation, natural wood flooring needs to be acclimated or it is subject to expansion or contraction after it's installed and this can lead to buckling. Acclimation is simply placing the wood planks into the rooms where they are to be installed and letting them adjust to the temperature and humidity of their new environment. The entire process takes about two weeks.
• Improper Installation
Proper installation is a key element for long-lasting, beautiful wood floors. When improperly installed wood floors can buckle. This can be caused by improper installation of nail-down floors, incorrect subfloor construction, or improper nailing. For glue-down floors, insufficient adhesive, or using the wrong adhesive can cause contamination or separation of wood floors that can also cause damage. Finally, leaving an improper expansion gap around the perimeter of the room to adjust for expansion and contraction can also cause buckling.
Repairing Buckled Wood Flooring
The good news is that buckled floors can be repaired fairly easily. However, it's critical to determine and track down what caused the buckling to begin with. You'll need to first eliminate the cause, then go about repairing the damage.
As we explained, the biggest culprits of buckling are water and humidity. If the buckling is minimal there are a couple of steps you can try to fix the issue. You can try drying the damaged area using fans or improving ventilation to see if your floor returns to normal. You can also try putting a bit of pressure or a heavy object on the buckled area to try to get it to settle back in place.
Once you've addressed the cause of the problem, and you've dried the area, you can consider trying the methods above or doing some spot repairs including reinstallation, renailing, and refinishing. However, in most cases, complete replacement of the damaged area may be necessary.
If this is the case, then it's time to call a professional. A flooring professional will find the cause of the buckling and will resolve that issue before repairing or replacing any damaged boards. Wood floors are elegant, luxurious, and with proper acclimation and installation, can last a lifetime!
To keep your wood floors looking like new, you need to keep moisture under control, thoroughly clean up any spills, and perform some minimal maintenance and you can enjoy your wood floors for many years to come.