When you are building a home bar in your garden, there are a few things to consider so that you can have a fun time building one in your own backyard. With a few simple steps, it is possible to build a home bar in your garden and with current Covid-19 restrictions, there has never been a better time to invest in your home.
One of the most important things to think about when you want to build a bar in your garden is what kind of material to use. You can start by simply laying concrete in your garden to create a foundation. Once you have poured the concrete on the ground, you will need to dig out the holes for your bar stools, tables, and other decorations. However it is always a good idea to speak to a professional contractor to ensure the work you are doing is safe. It may even be a better idea to hire contractors to build your external home bar to ensure you get the best results.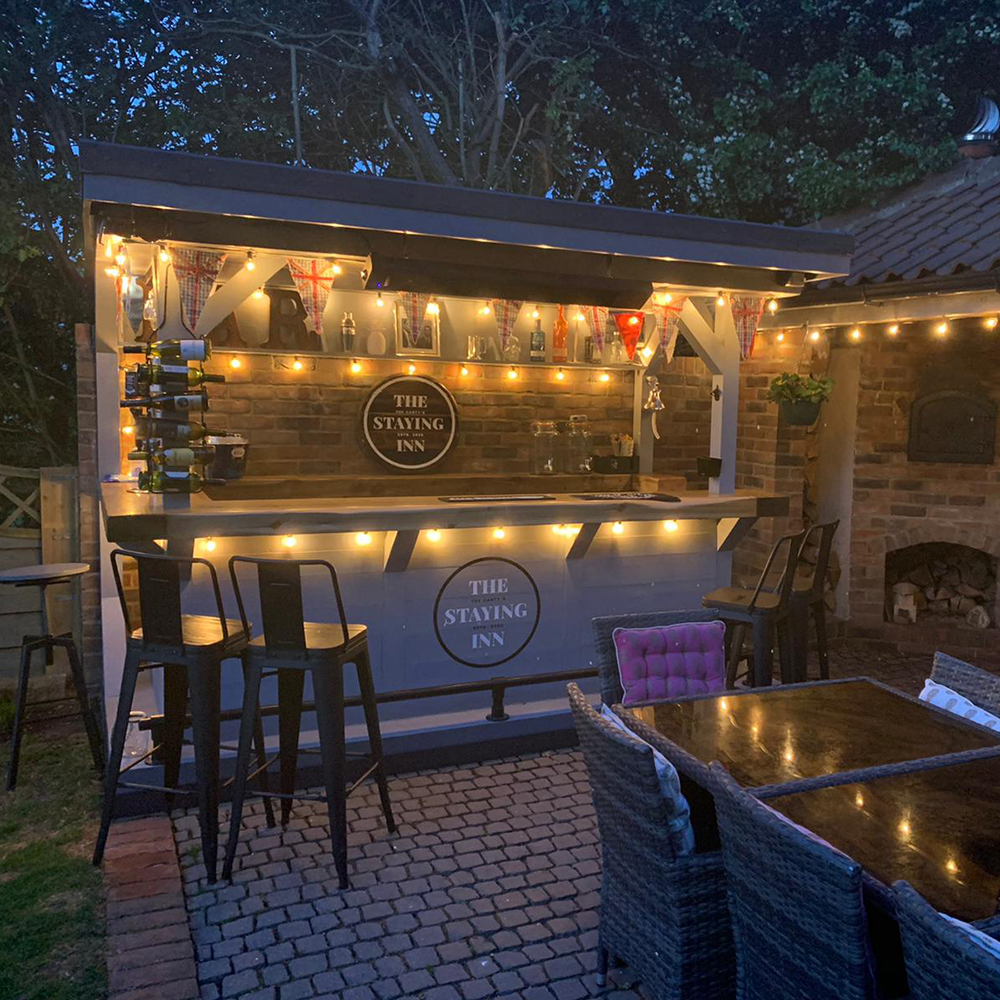 Homeowners often worry what effect building in their home can have, whether it will increase value or decrease. If they are using the right materials to ensure what they ae building is safe and secure. It is a good idea to have all of your homeowner questions answered prior to embarking on any building work in your home. Here are a few examples of questions you may ask a contractor:
How long will the build take?
How long will the build/installation cost me?
What are the best materials to use for my home bar?
Will I need planning permission?
It is important to keep in mind how many guests you will have at your bar. If you plan to make it an intimate place to enjoy a drink, then you should consider building a small bar with a bar stool seating only two or three people. If you plan to have a large bar with many people eating, then you will need to find a larger piece of wood to place your bar stools on, and possibly add tables on each end of it. This will make it look much more inviting.
Another important step is to build stairs up to your bar. If you decide to build a home bar in your garden, then this is also very important because this will ensure that your guests will be able to safely get in and out of the bar during your happy hours – this is another time when it would be important to speak to a professional. Here are some additional things you may need a professional to help with when building your home bar:
Laying flooring
Installing electricity
Adding water lines
Building furniture
Furniture For Your Home Bar
Bar stools are a very good way to add a unique touch to your home bar. You can choose from a wide range of different bar stools made of different materials such as steel, glass, wood, metal, and even aluminium.
Another type of bar stool that you might want to consider is the bar stools made out of wicker. These are great for outdoor parties. You can use these stools outdoors, indoors, or even indoors if you have a wooden patio. These bar stools come in a wide variety of colours and styles and will help to create a festive atmosphere in your home bar.
Some other furniture you will need for your home bar:
Bar top
Refrigerator
Table
Chairs
Glasses
Beer keg
Wine Cooler
Beer Fridge
Mixology set
Cocktail shaker
Drinks
Some of the best things to do when you are building a home bar in your garden is to build a patio around your bar. Patios come in all shapes and sizes, so you will have a lot of options to choose from when it comes to finding the right type of patio to build. Patios are also great for relaxing after a busy day.
Once your patio is built, you should consider decorating it with a couple of tables and chairs around it. You can set up decorations and candles around the patio and surrounding area to make it a great area to relax in. Having the option to sit inside and outside means your home bar is perfect for all for all seasons. You could even add a patio heater to the outdoor area!
One of the most common questions that people ask when they build a home bar in their garden is whether or not they should buy chairs for the bar. However, you will have to carefully consider this question, because of the fact that there are several different types of bar stools available.
Ways To Make Your Home Bar Family Friendly
You want your home bar to be somewhere you can spend time with your friends and have fun, but also somewhere you can spend time with the family.
A great way to make your bar family friendly is to add a dining table so you can enjoy family meals in a different environment. Or how about adding a TV to the wall so you can create your own cinema and host family movie nights!
Overall a home bar is a brilliant and versatile addition to your home. It is a cheaper alternative to a full extension but gives the same effect. Ensure you speak to professionals and have all of your questions answered prior to starting a building project in your home.