Everyone can likely use some extra space in their homes—the best place for that extra storage space in the house's basement. It is full of clutters, be it from some previous residual construction material or random excess stuff that was not needed anymore and was stuffed downstairs for the same reason.
Basements become the place where anyone dumps anything without a second thought. This results in the cluttering of the place. Things get easily lost, and if by chance, something is needed from there, it becomes a hefty task to do.
The basement's disorganized things eat up a lot of space that could have been used better. Organizing the place can allow for versatile use of the space as per the personal needs, from using it as a living space (with some extra work) or to store more stuff.
Whatever the reasons may be, here is the step by step instruction for organizing the basement.
Getting Rid of The Clutter
The first and foremost thing to do is clean up all the clutter- declutter the basement. This means getting rid of any unwanted material lying in the basement which is of no use and will not be used to anyone in the house.
This task may seem Herculean, especially if the basement is large enough. Many people suffer from the "out of sight, out of mind" syndrome, in which if something does not come in front of their eyes too often, it does not bother them that often, then it is not a significant thing to even think of.
That is not the right thing to do. That is also because most of the time, people do not visit their basement often as well. Decluttering and organizing will benefit once done and lift a heavyweight from one's shoulder as they will feel lighter mentally when seeing lesser things in the basement and realize how wrong they were to ignore the task for so long. Now they can do a lot with extra space.
The Task Might Seem Too Difficult at First 
The process is complicated also not just because there are many things to sort from and fish out, to find what is of no use at all, but because many of the things might have sentimental values associated with them. That could include some old broken baseball bat from childhood or a grandfather's cabinet but now in a lamentable state.
Many such things might make someone reconsider before getting rid of them or even make someone postpone the task. That is not the right approach. What one needs to do is figure out what is "actually needed" and what sentimental things are most sentimental and worth keeping, and what can be taken out of the house. That way, the most crucial sentimental stuff can be saved while clearing up.
Use Boxes
To make things much more comfortable, use boxes or some bins or bags as temporary storage for the things while sorting out in the basement and then carry out the bags with unnecessary items upstairs for removal. Keep the remaining bags separately in a corner or somewhere.
Planning Out the Basement Using Areas
In this step, one needs to figure out the way the basement is going to be used. This means planning out different areas or zones in the basement for different uses means having three necessary zones- utility, storage, and living area zones.
Utility Area
In this area, things like the water heater, electrical wires, circuit boards, circuit breaker box, sump pump, water valves, furnace, and other such household equipment. The things that are needed ultimately and are useful as well as necessary to keep.
The critical thing to do here is having a clear pathway towards the utility zone. There should not be cluttering on the way or the storage bags previously made during step 1. This is because in emergency scenarios, it will be necessary to get to some of the things in the utility area quickly and having a pile of things to cross over will not help.
In case there is not enough space in the basement, and there is a necessity to keep things nearby, then using metal shelves with wheels to keep to those things is good enough. The shelf can be easily moved away from the utility zone when needed.
No products found.
Note- remember to not keep anything flammable near the furnace and other electrical things in the utility area.
Storage Area
This zone will be focused on for organization in the article in the upcoming organizing steps. This is where most of the household stuff will be stored, be it decoration material, sports equipment, camping tools and pieces of equipment, construction tools and excess furniture, and more.
Living Area
This area is the one that has the best finish and looks nicer. It may not exist in some basements. But if it does, then here, keeping minimum things, the area can be used as a playroom (small or big depending upon the basement), a workout area, craft room, workshop, or anything of the sort or more.
Organizing the Things in The Basement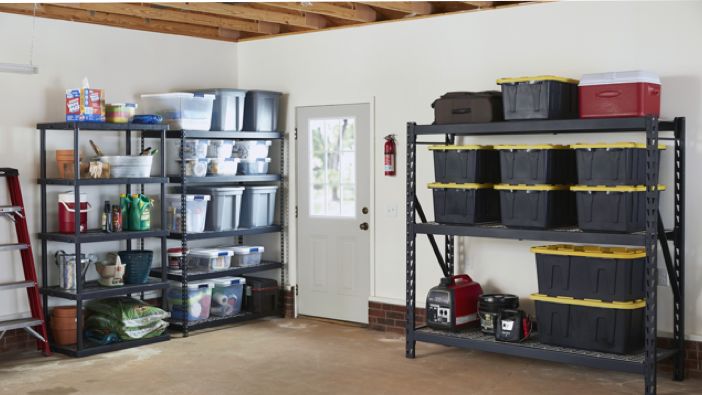 In this step, keep similar things together. That also means keeping the bins/storage box/ bags made in step 1 to be sorted and decided which ones go together. As per the priorities, they can be stacked one above the other or placed side-ways if they are not too many.
The critical thing to remember is not piling up the bins too high as it could get too challenging to access. Having an organizer for storage bins can be useful for organizing here if there are many bins/bags.
As shown in the image, it gives hassle-free access to the bins with ease. Provides more storage space as well. Remember, keep the similar items' bins together or close and higher priority bins at a relatively lower height.
No products found.
Think About the Following Storage Ideas
Some items in the basement can get damaged with time. Such items may include newspapers, photographs, food, bills, books, metallic products that can get rust. That is because basements can get damp and even flooded at times, or full of humidity due to some reasons. Think of these storage ideas like a backup solution for those scenarios, even if they will not arrive—better precaution than cure.
Using Boxes Made of Plastic Instead of Cardboard
Having sturdy plastic storage boxes will save things from dampness. This will also save things from rodents and some pest issues. In cases of floods also, it will keep things pretty much dry.
Keeping things at a higher position, above the floor
This is to keep things that can get damaged very quickly from floods. Having them at a relatively higher position will safeguard them and having the plastic boxes will add more to the safety.
Make an Inventory
Label all the boxes and bins, and more. Keep general names for them such as "metal bin," "photograph bin," and such. This will provide the person with an idea of the contents in the box.
Make an inventory list of the boxes while organizing and stick it on some wall near the boxes. If not, then having labeled boxes will help get access to the wanted things in a breeze.