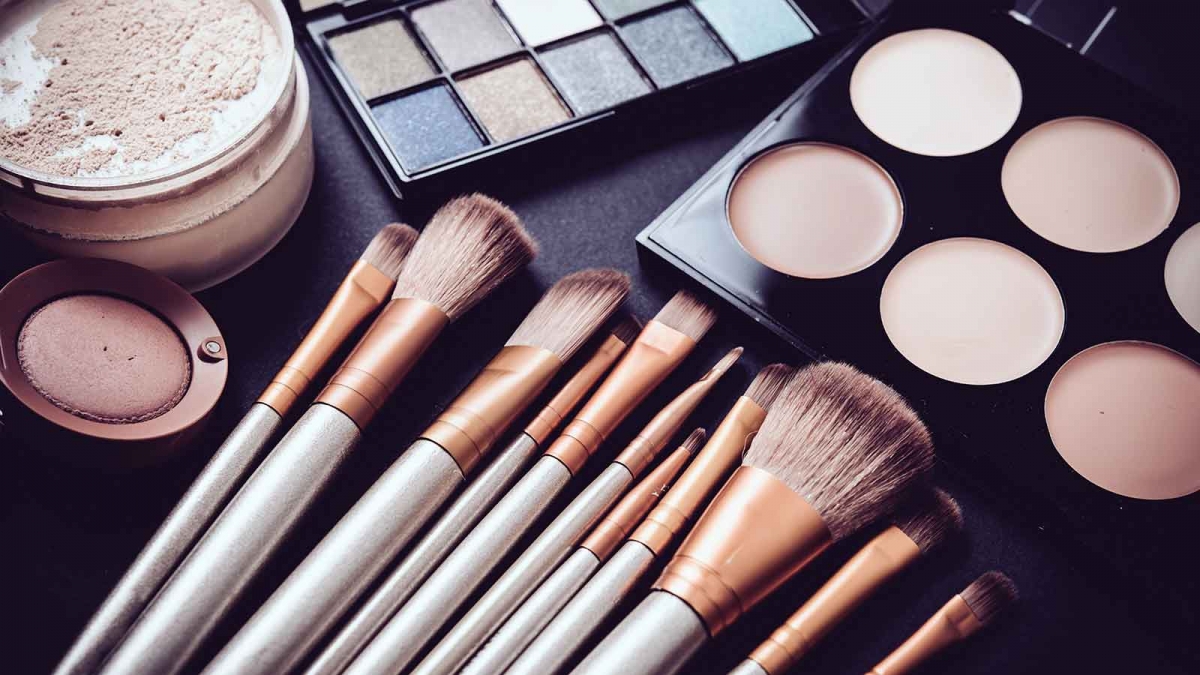 We know it is not easy to throw away your favorite eye shadow or the perfect match foundation.  But ditching makeup items once their shelf life is over is very crucial. Using any expired items on your skin will cause irreversible damages.
The chemicals from the makeup can decompose and cause skin irritation like rashes, burns, irritation, etc. Be extremely cautious about your eyeshadow shelf life or any other products you apply to your eye like mascara, eyeliner since applying them on your eyes beyond expiration dates can have serious consequences.
But the twist is that it is not an easy job to figure out when it is time to toss out your shampoo or fragrance. It is quite probable that you have already caused damage to your skin without this knowledge, but to avoid further damage, keep reading.
Foundation
Please do not save the end portion of your favorite shade foundation bottle till death since they often clump and separate with time. If you notice any subtle change in the texture, shade, or consistency, dump it.
Shelf Life:  A sponge-style or a cream-based foundation will hardly last for six months since they easily get contaminated with bacteria every time you re-dip your fingers into it. The pricey bottles at maximum have an expiration date of up to a year.
Eye Shadow
Do you have different palettes of eyeshadows for different occasions?  Chances are, you do not want to throw them away. The Pro tip is to clean your eye brushes regularly for your favorite palettes to last long.
Shelf Life: If you always double dip your eyeshadow brush to the palette, oils from your eyelids will transfer to it, causing changes in the color of the product. This is when you should consider throwing it away. Eyeshadow shelf life on an average is a maximum of three to six months and should be replaced frequently since they are applied to eyes.
Blush
Though not everyone seems obsessed with the blush, this beauty product is still a favorite for few due to the youthful radiance it leaves on the skin after application. But powder formula blushes can last for the most extended periods if used frequently or else old germs might stick on your face.
Cream or stick blushes, on the other hand, do not last that long. But no matter whichever formula you are using, regularly clean your tool of application.
Shelf Life: If you find out that your gel or cream blush has gotten quite sticky or dry and changed its texture and smell, it is time to throw them in the dustbin. Powder blushes ideally last if two years, whereas cream or stick blushes hardly have an expiration date of twelve to eighteen months after manufacture.
Mascara
Even a minimalist who is not a makeup fan will use this product solely due to its ability to make your eyes look brighter. However, this popular product has a shelf life equal or even less than an everyday eyeshadow shelf life.
Using this item for long is dangerous. The application of this makeup product requires double-dipping, and it is applied to exposed areas that come in touch with body fluids. So, the chances of yeast and bacterial contamination in the tube are much higher.
Shelf Life: If you notice that the product has turned thick or clumpy and has started to smell or change color, it means the product has already reached the end of its shelf life. It is smart to switch mascaras every three months since you use it on your eyes.
Lipsticks and Lip Pencils
Lipstick is probably any lady's confidence stick. Every woman has a signature shade when it comes to lipsticks, and it is tough to bid goodbye to that one favorite shade. But usually, we use this makeup item daily, which increases its shelf life a little.
Shelf Life: When you notice dryness or cracks in your lipstick or lip liner and notice a significant change in shade, you can no longer keep it in your makeup box. Lipsticks, if stored properly in a cool and dry place, can stay approximately up to a year. Eventually, they get exposed to skin oils, bacteria, oxygen, and you must throw it out once it expires.
Brow Pencil and Kohl Eyeliner
Probably the favorite item in any lady's makeup kit would be her eyebrow. Eyebrow pencils define the shape of your face, and ladies will always keep it closer to them. For keeping them in good condition for longer, keep them away from steamed bathrooms.
Shelf Life: Here's good news for you, ladies. Eyebrows have a shelf life much longer than the eyeshadow shelf life. Since eyebrow pencils are always sharpened, exposed contaminated layers of it come off frequently. This is the reason why this makeup item lasts longer than most eye products. The same is the case with kohl eyeliners. If stored and used correctly, they can almost last up to a year.
Liquid Highlighter
All we ladies cannot ever get enough of any makeup item that makes our skin glow. It is a fact. Products like highlighters are the most loved ones for any lady since they give a sheer shine. And the best part is they do last longer if maintained properly.
Shelf Life: Power highlighters do have a longer expiration date, but even liquid highlight will last almost up to a year if stored properly. Try to keep your fingers distant from the bottleneck and store it in a cool, dry place for it to last longer.
Liquid and Gel Eyeliner
This is yet another common makeup item used by every other woman. But unfortunately, their shelf life is again as short as mascara or eyeshadow shelf life.
Shelf Life: Never commit the blunder of sharing your gel or liquid eyeliner with your friends. They are most prone to germ contamination and can easily cause infections on sharing. Usually, the shelf life of a gel eyeliner is hardly three to four months, and even worse, a pot of gel eyeliner will only last hardly two months or even less due to how easily it traps bacteria.
Concealer
This is not a very famous makeup product among ladies. But quite a few of them, who want to stick to a complete makeup routine, cannot do without it. However, it has an extended expiration date and is a good investment.
Shelf Life: Just like a foundation, even concealer can last only a year. It is advised not to expose the product to strong sunlight and to avoid applying it using fingers and rather than a clean sponge. Do you notice the separation of layers in your concealer? It is probably time to ditch it then.
Why is the Eyeshadow Shelf life and Shelf life of another Eye Makeup so Short?
Usually, eye-area cosmetics are more prone to microbial infections due to their exposure to fluids. This increases the chances of eye infection every time you use them.
Manufactures mostly recommend throwing away your eye-makeup items after three months or a maximum of six months.  Every time a person uses mascara on her eyes, it gets exposed to bacteria and fungi, making it dangerous for use after the expiration date.
Are There any Rules for Regulation of Shelf Life and Expiration Labels of Cosmetics?
There is no proper regulation that requires cosmetics to have specific expiration dates or proper shelf life on the labels. However, it is the responsibility of the manufacturer to ensure the safety of customers.
Some personal care products that are not strictly makeup items but form a part of drugs under the law, such as sunscreens or moisturizers, must be compulsorily printed with expiration dates on labels. Eye products like contact lenses also have an expiration date, you must not used an expired contact lens for your eyes protection, you can view here for different contacts options available online.
What are the Industry Guidelines?
Brands are supposed to test the shelf lives of different makeup products by subjecting various samples to multiple conditions of temperature and humidity levels.
This helps them track the periods for which the makeup is safe for use. However, FDA does not impose any strict regulations on the companies to share these details with them.
Some Tips and Best Practices for Using Various Makeup Items
Never throw away any tiny spatulas or mini nozzle caps or anything for that matter from any makeup item. They are meant to keep your makeup away from contamination.
Never add water to your cosmetics since you destroy the pH and the preservation concentration of the products.
Always wash your hands as well as your makeup brushes before applying your makeup.
Buy cosmetics only from well-known brands and never share your personal make up items with anyone.
Store your makeup items in a cool and dry place to prevent the breakdown of chemicals.
We are sure by now, you have understood the importance of shelf life and expiration dates of makeup items and will not repeat the blunder.