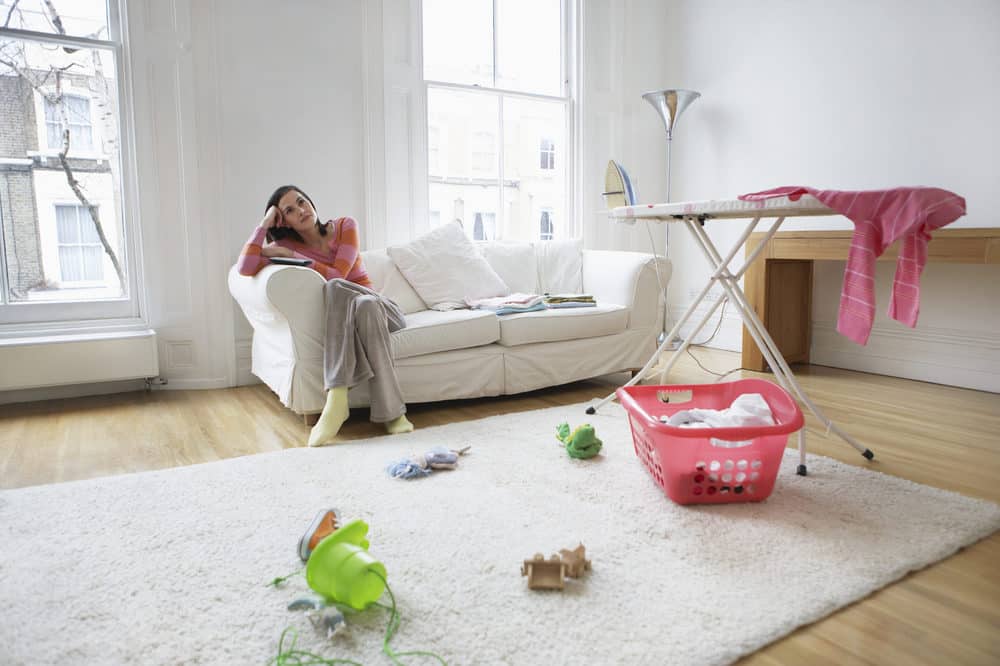 Organizing and storage ideas for ironing board and accessories for every home can never be the same. It will depend a lot on how often you iron your clothes or the design and layout of your laundry space. The ironing board is quite a large item, and storing it can be challenging.
You have run out of solutions to store it and organize ideas for your other iron supplies and accessories like steam iron accessories, spray starch, etc.
We have some fantastic collection of creative ironing board storage ideas for you that can come handy when you are trying to declutter your laundry room. Ensure you declutter at least some iron supplies every day if you do not want to overwork later.
Attach on your Door by Using an Ironing Board Holder
Want an easy and straightforward way to store your ironing board and accessories? Find one of the doors in the corner of your room that you do not use so often. Attach an ironing board holder to it for easy storage of your ironing board.
Most of these holders have additional chambers or compartments attached to them, where you can easily store your ironing supplies and accessories right away along with your iron board itself.
Sounds simple and convenient? Pull your ironing board down whenever you need to use it and keep it out of your path when you are not using it with this simple idea.
Simple Houseware Over-The-Door/Wall-Mount Ironing Board Holder, Chrome
Great organizer for your iron, ironing board, water mister, fabric sprays, starch, wrinkle releaser and stain sticks.
Great use of limited space in laundry / utility room or hang over the door. The over the Door hooks fit regular door up to 1-3/4" thick.
Support BOTH Over the Door and Wall-Mounted hanging methods. Hardwares screws are included.
Sturdy construction with elegant chrome finish
Over the Door Dimension: 20.2"H x 12.5"W x 5.5"D; Wall Mount Dimension: 11.75"H x 12.5"W x 5.5"D
Fold-Down Over the Door Ironing Board
The most convenient method of ironing board storage can be to use an ironing door with a magnet that attaches over the door. One of the best models you will find in the market for utilizing this idea is an ironing board that easily folds down from the door whenever you need to use it. This is a much different and more straightforward idea as compared to the previous one.
You no longer need to take off your hangers and shift them in different parts of your home if you use this convenient idea. This is a fold-down model instead of where the ironing board sticks to your door. When you want to iron something, easily roll down the board and press your clothes standing right near the door. One of the drawbacks of this solution can be that you need a lot of laundry space to implement this idea.
Even if you have a small laundry room, make sure you keep it organized enough. Keeping the room clean will create a lot of space where you can completely fold out your board and stand comfortably to do your ironing. These ironing boards also come with small attachments where you can organize your ironing supplies and accessories. 
Ironing Board Rack Foldable,Ironing Board Lightweight Iron Rack Adjustable Foldable Stand Folding,Table Top Ironing Board 8131.578CM
☆ The ironing board is very stable and durable because the frame and base are made of steel.
☆ The Ironing Board is really easy to fold and takes a very small place for storage and light weight for transportation.
☆ Cotton cloth cover with anti-scalding coating and thick high-density foam for smooth and efficient steam ironing.
☆ This lovely table top ironing board is perfect if you have limited storage space, or simply if you prefer to iron sitting down.
☆ With a height of 78 cm and non-slip plastic feet to keep it securely in place, you can stand comfortably at the board while ironing. When folded it measures 128 cm including the board, iron rest and legs.
Fold-Down Wall Mounted Ironing Board
Is your laundry room not big enough to execute the above idea? Do not worry! We have a better ironing board storage idea for you. Get yourself a wall-mounted board instead and enjoy the flexibility of absolutely placing it anywhere.
Just make sure you are careful with the space selection. Choose a place only where there is enough gap to extend your ironing board completely. Also, do not forget the fact that you will need some comfortable space too to stand and press your clothes out there!
Mount your ironing board on the wall at a height that is only comfortable enough for you.  Secure and mount it correctly on the wall, especially in the studs, to make sure that when you press down on the board during ironing, it does not fall off. Also, keep in mind not to press the ironing board too hard with the iron, or it might pull away or detach from the wall.
This ironing board storage idea is a superb one and comes quite handy. Imagine, all you need to do is pull the ironing board down when you need to use it and pull it back up when you are done with the pressing.
Didn't your life just become easier after knowing this idea itself? No more troubles with the giant ironing board ever again! Also, even these models come with compartments where you can easily store and organize your ironing supplies and accessories.
Wall-Mounted Ironing Board
Easily mounts to your wall
Board measures 37-3/8'' L x 11-7/8'' W
Constructed of steel with white epoxy coating
Comes with one cloth ironing board cover
Board swivels 90 left and right, and locks in place in any position.
Wall-Mounted Cabinet Ironing Board Storage Solution
Want something fancier and more decorative storage solution that can complement your laundry room décor as well and make it look slightly better? We have a brilliant idea for you! There are various wall ironing boards available in the market in the form of recessed cabinets.
Sounds great, right? They are the same thing as the wall-mounted model, just prettier. Also, space will no more be an issue at all when you are using this version. You will also have to worry about mounting it out from the wall entirely, even when you apply a lot of pressure.
In this way, you will have an additional décor element in your laundry space as well, along with an ironing board storage solution. Also, the extra attachment and the side compartments in the cabinet can be used for keeping the ironing accessories and supplies.
You can even utilize the top of your cabinet-style storage for ironing board for this purpose. How cool is this idea? We are quite sure this is going to be one of the most favorite ideas for most homeowners.
Wall Mounted Ironing Board--by Superior Essentials
Mounts to Wall
Board Dimensions (approx) 37x12 Inches, Must mount into studs or mounting plate, cannot be mounted directly into drywall
Made of High Quality Steel to last a lifetime
Board can be moved and locked in multiple angles
Includes Wood Mounting Plate for easy Installation
Consider Ditching the Giant Ironing Board Entirely for a More Compact Solution.
Are you one of those homeowners who are too busy or might be even lazy to do the laundry and ironing so often? We have a great ironing board storage solution for you, which will not fail to impress you. These are a few convenient ideas if you have a least spacious home. The above ideas might be great for people who do a lot of ironing and laundry daily. But not for you!
You do not want to use up so much space in your room for nothing, do you? We suggest you to completely put off the idea of a giant ironing board out of your mind. Instead, use something smaller and more compact that will take up a much smaller space and still be of great use to you for your occasional ironing needs. Here are some of the best ideas, especially for homeowners like you
Use a Mini Ironing Board
One of the best and most convenient ironing board storage ideas can be to use a mini ironing board that can be quickly placed and mounted for the time being on the surface of any table or anywhere you feel like. This must be one of the great solutions if there is not enough space in your home for a separate laundry room altogether.
Store this mini board compactly wherever you wish, behind the door or under the bed, or even in your wardrobe when not in use. In this way, you do not have to worry about a storage solution at all. Isn't that amazing?
Sale
STORAGE MANIAC Tabletop Ironing Board with Folding Legs, Extra Wide Countertop Ironing Board with Cotton Cover, Portable Mini Ironing Board for Sewing, Craft Room, Household, Dorm, White
Extra Wide Panel & Dimension: The compact ironing board of overall size: 23.62 x 14.17 x 7.08 inches, the portable ironing board of cover size: 23 x 14 inches, our ironing board is wider than other small ironing board, which is more convenient for ironing shirts and other items that need ironing
Space-Saving & Sturdy Frame: The Folding tabletop ironing board stores easily in most small places, folded when not in use for easy storage; Good quality material, more durable than particleboard
Removable & Washable Cover: 100% cotton cover and thick felt pad of mini ironing board provide a resilient and roomy ironing surface, easy to clean. This small ironing board leg can be folded and placed in the corner
Reinforced Steel legs & Cooling Porous Pad: the portable ironing board of reinforced steel folding legs are stable, non-slip feet caps protect the countertop, the porous pad has good vapor permeability and heat dissipation
Durable Panel & Multi-Use: The ironing board panel is not easy to rot like particleboard, it can breathe and dissipate heat quickly, and has a long service life; The countertop ironing board is suitable for sewing or craft rooms or small, confined spaces, where storage space is limited. Also can be used for laptop desk or snacks table
Use a Combination of Two Storage Solutions
Multi-function storage items are a necessity for homes with small space. Use a single piece item that can act like both a laundry sorter and an ironing board. In this way, you can have dual functions in the same amount of space. What a great space saver, right?
Sale
Honey-Can-Do Rolling Laundry Sorter with Ironing Board
3 bin laundry sorter with removable bags
Large hamper with ironing board that easily lifts up
Locking wheels for easy mobility and stability
Iron or fold clothes on top surface
Triple laundry basket separates lights and darks
Ironing Mat
Yet another excellent ironing board storage idea is to replace your ironing board with an ironing mat. With the help of this item, you can easily convert any flat surface to your ironing board. Sounds surprising, right? It has a magnet attached to it to use it absolutely over any surface like your washer or even dryer.
You need to make sure to use something that does not slides off easily on applying pressure and has some friction to resist slipping so that you do not burn your hands.
YQMAJIM Ironing Mat,Extra Large Thickened (47.25 x 21.55 inch) Ironing Blanket Portable Ironing Pad, Double-Side Using Isolate Heat Pad Table Top Countertop,Great Replacement for Ironing Board
【 Upgrade double sides fit for different garments】one side without square stitching on the surface-will not leave a square imprint on the clothes,suitable for thin clothes like shirts, etc.
【 Our ironing pad is thicken 30% than others】Touch-up clothing without worrying about damaging the pad itself or the surface underneath.
【 The silicone iron rest pad-specially designed for iron】Protect the counter top,a reliable and easy way to store a hot iron on tabletops, counter tops or storage area.
【Mult-Function Ironing Pad】This Ironing Mat is the perfect alternative to the heavy, full size ironing board. Whether you just need a quick pressing,a small ironing job or you simply don't want to have to haul out a large ironing board.
【 100% Satisfaction Guarantee】90-Day Risk Free 100% Money Back Guarantee.If you are not satisfied with this ironing mat,we will provide a full refund.