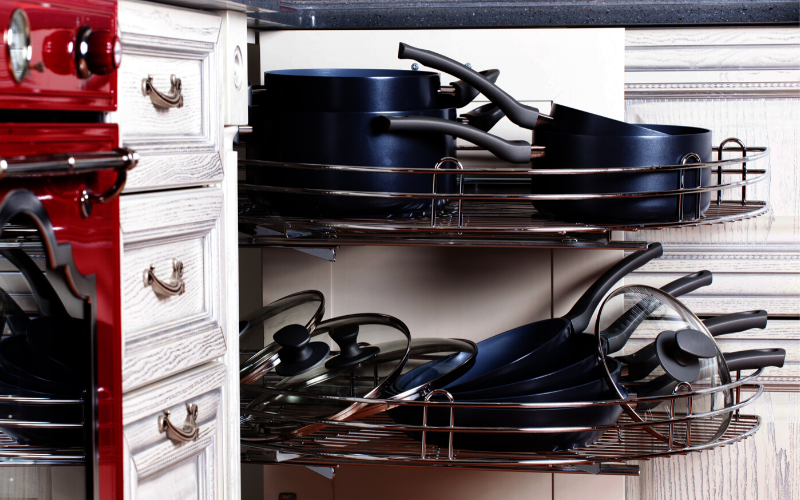 It does not matter whether you have a tiny or a big kitchen; most of us never seem to have enough space for all the cookware. Pots and pans are everyday kitchen essentials, and storing them is a big deal. Pots and pans, especially the ones with pesky lids, are often bulky, and almost every one of them has different shapes and sizes, which makes it further challenging to organize them.
If the storage is not neat, it spoils the entire look of your kitchen, making it look cluttered. Simply hanging pots and pans on the racks attached to walls is not the default solution. Get a little creative!
There are plenty of smart, innovative organizing ideas that can make your kitchen look a lot better. Want to know a few of the best ones? Here are some of the best pots and pans organizer ideas to help you make the best use of your kitchen storage.
Use Paper Plate Divider
What is the most common problem you face while storing the pots and pans in the kitchen? We are guessing it is getting their surfaces scratched while stacking them all together in such a manner that they stick to each other. Here is an easy idea to avoid it. Place thin paper plates in between each of the pans and pots so that their surfaces do not touch, and you are done.
In this way, there will be enough cushioning on the sides and bottom. You will not find a more straightforward idea to store your pots and pans by using so little space. Do not have enough paper plates in your kitchen to use this creative idea? You can buy these cheaper ones from Amazon.
Sale
Stock Your Home 9-Inch Paper Plates Uncoated, Everyday Disposable Plates 9" Paper Plate Bulk, White, 500 Count
Everyday Dinnerware: Make cleanup easy with these disposable paper plates. With this value pack, there are plenty plates for you to serve your family or guests multiple courses.
Perfect for Any Occasion: These plates are great for big family meals, banquets, catered events, picnics, birthdays, parties, barbeques, camping, and other indoor or outdoor functions.
Made in the USA: Made of durable paper material, these plates are refrigerator and microwave safe.
Great Value Pack: Save money by ordering this value pack of 500 paper plates. Each plate has a 9. 0" diameter, large enough for serving guests for catered events.
Order Yours Today!
Pan Organizer Rack
Do you follow the pattern of stacking one pan or pot on top of the others? Do not because that is too messy! No one wants to dismantle the entire stack again and again? Use your kitchen cabinet to install a pan organizer rack. Organizing pans and pots in four sort dividers is a smart pot and pan organizer idea.
Sale
SimpleHouseware Kitchen Cabinet Pantry Pan and Pot Lid Organizer Rack Holder, Bronze
Great pan organizer to save cabinet and countertop space, stores up to 5 pans
Varied Installation: Free Stranding includes Vertical or Horizontal installation
Allowed to be secured to a fixed position by incerting a screw into the bottom screw hole, hardware included
Dimension: 8.75'' W x 9'' D x 12'' H, Compartments Height is about 2.5'' to 3''
USPTO Patent No: USD823078
Deep Drawer divider
Are your kitchen drawers deep enough? Then here is an excellent idea for you! Make your DIY organizer using cheap foam boards to create dividers if you are not willing to spend any money on this. Cut clean, equal pieces of foam board in good shape and stick them to the base layers on the drawer.
This will create distinct spaces for storing all the pots and pans. Are you curious about a more straightforward hack to store the utensils in a more organized manner? Use one section for all your roasting pots and the other for your frying pans. Sounds convenient?
Sale
Drawer Dividers Organizer 4 Pack, Adjustable Separators 4" High Expandable from 11-17" for Bedroom, Bathroom, Closet,Clothing, Office, Kitchen Storage, Strong Secure Hold, Foam Ends, Locks in Place
➽【EXPANDABLE & ADJUSTABL】: Slide and simple one-click installation with no tools or glues required. Simply lift the lever, place in drawer, adjust to fit, and lock in place. Powerful spring tension locks each divider in place and stays upright. Use these expandable dividers to easily adjust compartment space to create a storage solution tailored to your needs
➽【MULTIPURPOSE DRAWER DIVIDERS】: These drawer organizers can be installed in any drawer of your house or office. For instance - you can install them as safety separator for kitchen silverware and utensils, tableware, sharp knife; drawer organizer for cosmetics on the dressing table; drawer separator for socks, underwear, bra fabrics and other clothes in the wardrobe; drawer dividers for towels in the bathroom and even as bookcase and shelf dividers
➽【SUPERIOR MATERIALS】: The ends of these cutlery drawer organizers are covered with high quality Eva foam sponges so they do not scratch or damage the inner walls of the drawer, leaving no traces or residue. The strong spring-loading mechanism will not weaken over time; it can be securely held in place even in drawers with heavy spice containers
➽【WELL-DESIGNED SIZE】: We have 4 drawer storage boxes, each 4 inches high and 11-17 inches long. The expandable design fits most drawers and cabinets from front to back or from side to side, so you can extend the drawer organizer and adjust it to the size of any drawer in your home or office
➽【KEEP YOUR DRAWERS TIDY】: Do you have trouble finding your socks and underwear in those stuffed and messy dresser drawers? These dresser drawer dividers are going to help you organize your clothes and keep your drawers neat and organized at all times! Contact us if you are unhappy with your purchase for any reason; we will solve the problem for you
Cabinet Hooks
One of the most basic pots and pans organizer ideas is to use hooks. Just use any of the doors of your kitchen cabinet to fix hooks where you can hang your pots and pans. Simple enough? In this manner, the cabinet will not feel cluttered anymore, and you can easily reach the lids of your utensils as well. These are the best kitchen cabinet hooks you can use for your kitchen.
Sale
JINSHUNFA Wall Hooks 13lb(Max) Transparent Reusable Seamless Hooks,Waterproof and Oilproof,Bathroom Kitchen Heavy Duty Self Adhesive Hooks,8 Pack
PERFECT STYLISH APPEARANCE -Unique transparent design makes it almost invisible which is quite suitable for nice home decoration.
TRANSPARENT DESIGN- Stylish Adhesive Wall Hooks,almost trace-less and invisible.
EASY TO USE-Easy to paste and won't damage your walls, no need to nail and drill. Easy to remove without surface damage,Can be utilized repeatedly after cleaning and dry.
STABLE AND DURABLE - Solid stainless steel and PC construction, ensuring quality and longevity. Small and light design, multifunctional.
WIDE APPLICATION -Widely used on a variety of surfaces, like Wood, Tile, Ceramic ,Metal, Plastic Surface and more (please pay attention that there are limits on painted walls),especially great for hanging shower or bath accessories in a bathroom or kitchen utensils and tools on a tile backsplash。
Sliding Storage
If you want your storage solution to be seamless and stylish, there is not a better idea than this. If you have a kitchen with a classy décor that looks stunning, the above ideas might look a bit too ugly for your kitchen. It is wiser to rather spend some bucks for storage than compromising the look of your kitchen in that case.
We suggest you install sliding storage racks in your cabinet and use that space for storing pots and pans. This is one of the most popular and effortless pots and pans organizer ideas. You can either place the utensils on the wire rack or hang them depending on the style of rack you are purchasing. You will love this solution for organizing your pots and pans.
2 Pack - Simple Trending Stackable 2-Tier Under Sink Cabinet Organizer with Sliding Storage Drawer, Silver
【Sliding Basket Organizer】Provide versatile storage in compact spaces to keep supplies and essentials neatly stored in your kitchen Bathroom office
【Removable Drawers】Mesh design for easily visualize and access storage. Drawers slid out effortlessly and carry supplies where you need them
【Stackable Design】4 Holes for adjust different height; Include 4 connectors and stack up to multiple units that maximizes storage space in the same footprint
【Stability Construction】Package include assembly tools and easy to assemble. Sturdy durable metal Square tube construction with silver coating; PET anti-slip pads to prevent it from sliding or scratching surfaces
【Dimension】8.5"W x 14.25"D x 13.25"H; Drawer Height: 3.8''; Drawer Width: 6.75''; USPTO Patent Pending
Hang pots and pans in case you have a small kitchen
Do not have much space in your kitchen to install a cabinet? If you are on a tight budget, you can consider cheap hanging storage solutions to store all the pots and pans. Just imagine the amount of time and energy you will save here rather than searching for the utensils in deep kitchen cabinets. This is precisely the hassle-free idea you were searching for all the while!
Use Tension Rods to keep the Pots and Pans separated
This might look like one of the most straightforward, naïve ideas but believe us, and it is useful. This is one of the best pots and pans organizer solution if you are running low both on money and kitchen space. They are easy to install, budget-friendly, and extremely convenient.
Use a Basic Pegboard
You do not need an out of the box storage solution for the "Wow Factor."  A basic pegboard would do the work. On it, you can hang a whole lot of your collection of pots and pans, and this is such a simple yet smart idea. Want to make it look a little more attractive? You can paint outlines or stripes on it to give it some cool and funky ideas. In this way, you have an additional décor element and a storage solution for your kitchen! Sounds great?
Sale
Wall Control 30-P-3232GV Galvanized Steel Pegboard Pack
More than ten times stronger than conventional pegboard and 32in Tall x 16in
Galvanized steel pegboard panels accept slotted, stable, and more secure hooks, pegs, brackets, and shelves
Steel panel prevents the pegboard holes from fraying and wearing out over time. For mounting into concrete, we would recommend using Blue TapCon screws or equivalent
Steel pegboards are constructed with a pre-formed 3/4-inch flange that separates the panel storage surface from the wall
Pegboard panels mount directly into studs or sheet rock with no framework required
Use your Windows
This might come across as surprising, but yes, you can use your kitchen window as a pots and pans organizer. All you need to do is get a little more creative! If your kitchen space is congested, then this idea can work wonders. You can place a simple rack on your window where you can hang all the cookware of different shapes and sizes easily. Yes, you will not get a window view anymore. But if saving space is your priority, it is worth it.
Buy Readymade Drawer-Type Cookware Storage Solution
You will find many customized cookware storage solutions in the market at an affordable price. There will be a shallow compartment for storing lids in the upper section of a drawer in this storage solution. Arrange your pots and pans in them in a neat manner so that you do not have to waste efforts hunting for them.
No products found.
Hanging Copper Pipe Structure
How do you keep everyday cooking items within reach? Imply hanging a pot rack over a kitchen island does the trick.  Want to spend as much less as possible? Simply DIY by using long copper pipes and attach S-hooks to it in an evenly spaced manner, and you are done. This is an inexpensive yet stylish pot and pans organizer to store and display your utensils and cookware.
Use your Old Wooden Ladder Creatively
Do you have an old and worn-out wooden ladder that you cannot use for climbing anymore? We all probably have one such in our homes. Dust it off because it is time to make the best use of it. Repurpose it to support your pots and pans. But your cookware is not that light, though. So, it would help if you first looked for the joists in your ceiling.
You can Repurpose your Dresser as a Pots and Pans Organizer.
This is probably the coolest idea of all! Get creative and use your dresser drawers to store the cooking pots and pans. We are sure you have never imagined this idea even in your craziest thoughts. Take the drawers out of your mini wardrobe or dresser and add hooks to the underside so that you can hang your kitchen utensils to them. Such cool craftworks are any day great for both your home and your pocket.
Use a Dishpan or Basket-Like Storage
The lids of our cookware come in a variety of sizes, and storing them is a troublesome task! You will rarely find a storage solution for them of the right size. Here is an essential way how you can store them. Put them all in a dishpan or any other basket-like storage, and you have your pots and pans organizer. Here are some great varieties from Amazon.
Sale
Simple Trending Stackable 2-Tier Under Sink Cabinet Organizer with Sliding Storage Drawer, Chrome
【Sliding Basket Organizer】Provide versatile storage in compact spaces to keep supplies and essentials neatly stored in your kitchen bathroom office
【Removable Drawers】Mesh design for easily visualize and access storage. Drawers with plastic plate to protect small accessories from falling
【Stackable Design】4 Holes for adjust different height; Include 4 connectors and stack up to multiple units that maximizes storage space in the same footprint
【Stability Construction】Package include assembly tools and easy to assemble. Sturdy durable metal Square tube construction with chrome coating; PET anti-slip pads to prevent it from sliding or scratching surfaces
【Dimension】8.5"W x 14.25"D x 13.25"H; Drawer Height: 3.8''; Drawer Width: 6.75''; USPTO Patent Pending
Hang on the Refrigerator
What is the best utilization of a refrigerator door you have figured out so far? Do we guess it is hanging business cards or random artwork? But we will teach you how to use it better. Have you ever thought of more practical use of it, like hanging pots and pans? Just use some heady duty refrigerator magnets with a scratch-resistant rubber base, and you are done.
Hang on a Magnetic Knife Strip
Magnetic Knife Holders always look stylish, modern, and enhance the aesthetics of the kitchen. But you can use it beyond merely hanging knives and as an actual pot and pans organizer.
Modern Innovations 16 Inch Stainless Steel Magnetic Knife Bar with Multi-Purpose Functionality as a Knife Holder, Knife Strip, Magnetic Tool Organizer, Art Supply Organizer & Home Organizer
★ POWERFUL MAGNETIC KNIFE BAR: This modern magnetic knife bar is covered in an elegant, satin finished, high grade stainless steel that will compliment your kitchen décor.
★ HEAVY DUTY MODERN DESIGN: This state of the art knife bar has a fully magnetic surface powered by a strong neodymium magnets which allows you to safely hang even your largest kitchen knives instantly and securely.
★ ORGANIZE IT ALL: This magnetic strip has an extended length that allows you to hold more knives than most knife blocks on the market while still being small enough to versatilely fit into many nooks and crannies in your kitchen or workspace. Use the magnetic knife storage strip to hold knives, scissors, tools, children's' toys, keys, and whatever else you can think of as the ultimate organizer.
★ GREAT FOR DISPLAY: This well-designed stainless steel knife bar is a must-have in every kitchen or craftsmen's workspace. Easily access your knives or tools without having to search all over or get creative and artistically display metal pieces for wall décor. *Actual length 15 3/4 inches, width 1 7/8 inches, and thickness 5/8 of an inch to give you a little room to mount it.*
★ EASY INSTALLATION: This magnetic bar comes with mounting hardware and instructions so you can set up your magnetic knife strip and organize your kitchen right away! This magnetic knife bar is also compatible with Velcro or any kind of mounting tape.
We hope you have got many ideas and solutions to how to organize your pots and pans right now. So, get going.