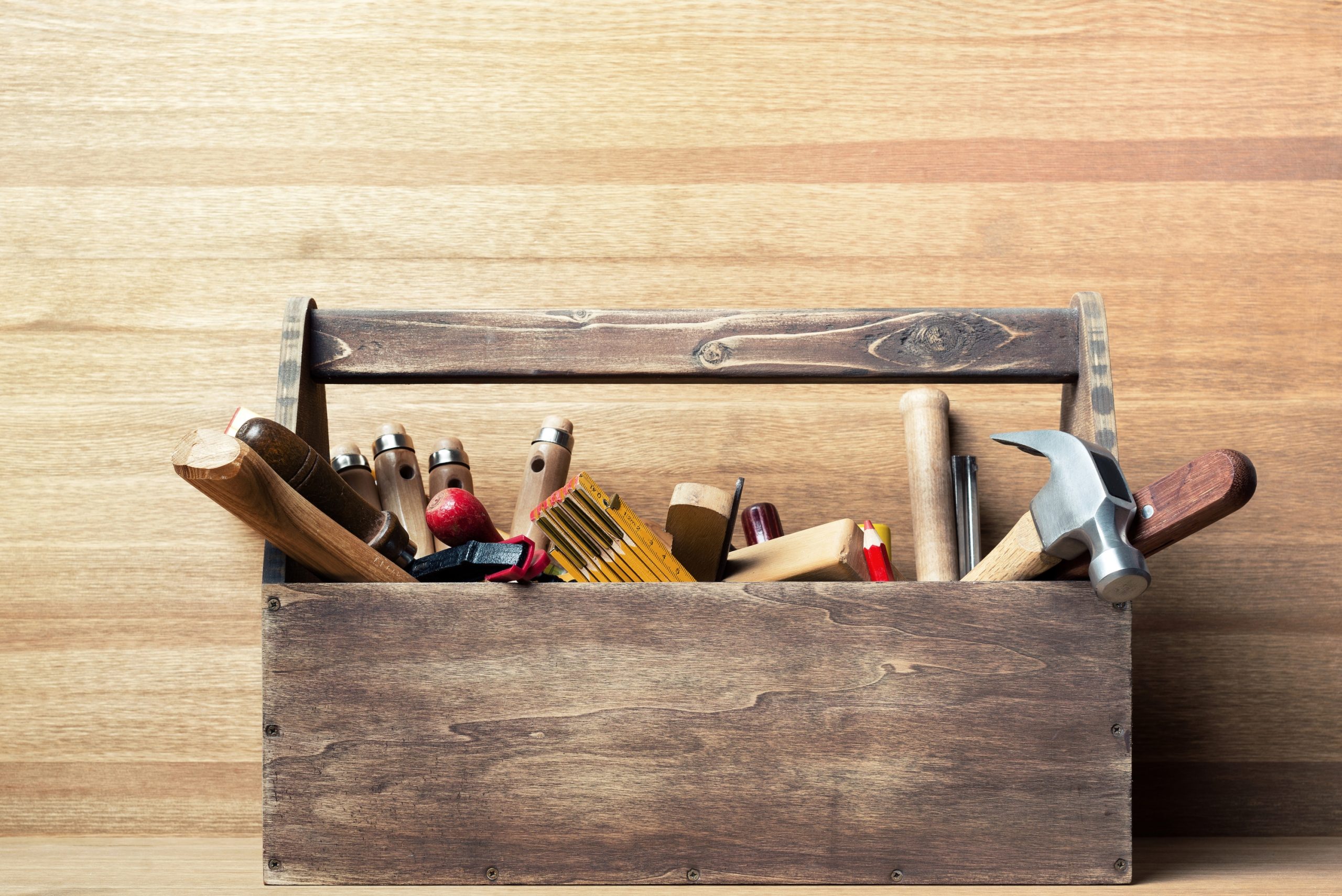 The requirement of a basic tool kit list is essential for DIY (Do It Yourself). Even though you are not interested in DIY, we recommend you go through the essentials list. Here we list the ten most needed tools for every household.
The whole purpose of DIY is to save money. And spending on a toolkit for DIY must be a well-thought decision. So, make sure you go through these articles and save a bundle. Choose only those tools which are necessary, inexpensive, but durable.
Another thing about this essential tool kit list, it contains only general tools! No power tools (except one) or specialized tools are included in this list. These general tools are used for multiple house repairs and DIY projects.
Bare Tool Kit List Essentials
Hammer
The toolbox without the hammer is incomplete. It is an essential tool required in your house.
Uses
Hammer goes with nails. Either when you can remove or drive the nails. The claw is used to pry the nails out while the hammer's head is used to drive in the nails. Another use of a hammer is that it can be used to break or whack any object.
Smart Pick Suggestions
Go for the usual 12-ounce one but depending upon the weight you can carry, hammers can differ. Right from 8-ounce till 16-ounce hammer can be chosen. Always check for the one with a smooth head and curved claw. Usual go for the wooden handle but if you want the inexpensive ones, then go for a fiberglass handle. Even the ones with wooden handles can be bought cheaply.
While the metal handled ones are expensive, they are quite sturdy and durable. Go for the one you are comfortable with! This tool is required every often, so comfort comes first and then durability. Buy the one which you feel grips well in your hand and is well-balanced when you swing it.
No products found.
Advantages
Hammer is an essential tool.  Its main advantage is its reliability and multiple usages. You always require a good hammer for nailing the walls.
If you are interested, then you can save quite good cash by using hammers. Instead of buying readymade furniture, you can go with the ready-to-assemble ones. But this is a personal choice, and it is not possible for everyone. Hammer is an essential requirement in DIY projects. Any whacking requirement is incomplete without the usage of a hammer.
Screwdrivers
Another essential one! Just like Hammers go with nails, Screwdriver go with screws. Different screws require different sizes and shapes of screwdrivers, so make sure that you have the ones usually used.
Uses
It is an essential tool because screws are everywhere in your house. Just in case a screw loosens, you will require a screwdriver to fit it back. Screws hold the objects. In case they are not tightly fitted, they can seriously damage your objects or family members. Screwdrivers are used to loosen and tighten the screws, just like hammers work with nails. Thus, screwdrivers are quite essential for any household! Arguably they are the second most used tool from your toolbox. The first being the hammer.
Smart pick suggestions
The types of screws determine which type of Screwdriver is required. The most common screwdrivers in the US are the slotted and Phillips. At the same time, slotted and Posidrive is commonly used in Europe. Buying a set of screwdrivers is preferable as you may have to deal with a large variety of screws. Go for the basic screwdriver sets, which are usually available in the market.
Another option is to go with the all-in-one or multi-bit Screwdriver. These are the ones with only a single handle, and you can replace the driving end of the Screwdriver according to your (screws) requirement. The significant advantage of this Screwdriver is that it can save some space in your toolbox. Like hammers, even for the screwdrivers, you should go for the durable ones and grips well in your hand.
No products found.
Advantages
Just like a hammer, a screwdriver is an essential tool that is required for ready-to-assemble furniture. As there are many electric appliances and other objects comprised of screws, screwdrivers become necessary while they repair or replace.
Wrench/Spanner
The name varies upon where you live! A wrench or spanner is a tool used to apply torque. They are usually used for nuts and bolts.
Uses
When objects are not attached with nails or screws, they can be attached with nuts and bolts. Wrenches are used to tighten and loosen bolts. These bolts are tightened or loosened over the nuts, which require a wrench.
Smart pick suggestions
Well, you can go with an eight-inch one or a set of six-inch and ten inches one. Six inches has its advantage such that it can fit into tight spaces. While ten-inch, one can be more effective while tightening or loosening bolts. Eight inches one is like the best of both the spanners. And as always, go for the comfortable one. It should be durable and grip well in your hand.
No products found.
Advantages
Apart from its usual advantages regarding nuts and bolts, the wrench can be used in multiple DIY projects. It can be used in simple repairs, such as in plumbing.
Pocket/Swiss Knife/Utility knife
Pocket knives are inexpensive when compared to the swiss knives. Pocket knives are quite handy as these sharp bladed knives can do many tasks like cutting, trimming, and shaving.
Uses
When you compare your standard kitchen knives with a pocketknife, you will have a perk of safety. The blade is usually stored inside the handle. Thus, you cannot hurt yourself or your loved ones, even due to an accident. Its sharp edges allow you to use it for different works of cutting and trimming.
Smart pick suggestions
A pocketknife should only be bought if the handle is safe, sturdy, and comfortable. If you go with the swiss knife, you will have multiple options to choose from. Choose wisely according to your DIY projects. Sometimes Pocket/Utility/Swiss knives have some additional features like lock-in in a particular position or an extra space for another blade. You can choose your add-on features according to your requirements.
No products found.
Advantages
A utility knife is a must. It is undoubtedly a prime member of this essential tool kit list. Any DIY project or anything involving cutting or trimming will indeed require a good sharp knife that is better than a handy, easy to carry, multipurpose Swiss or pocketknife.
Other Tools
With essential tools being wrapped up, there are some other essential tools essential for specific DIY projects and other repairs.
Pliers
Controversially, pliers are not essentials but are quite useful when in the primary home tool kit.
While you are busy during a repair or DIY project, you may require holding onto something. Usually, we try to grab them with our bare hands, but it does not help. That is when pliers come into the picture.
They have long handles at both ends and metal teeth that hold the material. You can use a plier to hold the nails while hammering. This process can be used smartly to protect your fingers during the process of hammering.
No products found.
Handsaw
A simple handsaw is nothing but a cutting blade (usually the one with teeth) attached to a handle (usually a metal one). For wood-related DIYs and other projects, a handsaw is a must. You can go ahead and buy a power saw, but they are usually expensive. For smaller and thin cuts, a handsaw is preferred as it is much easier and quicker than the power saw. It is also used when the bulky power saws cannot be used.
No products found.
Tape Measure
Another controversial non-essential tool in the primary home tool kit. In some repairs and DIY projects, accurate measurements can be required. Locking and retracting tape measure is the best option.
No products found.
Tape
Tapes are not a good idea when it comes to repair jobs. But on the flip side, they can be useful in quick fixes. There are different types available in duct tape, electrical tape, and plumbers' tape. Either you can choose amongst them or go with the multipurpose tape.
No products found.
Drill Machine
One of the most useful power tools and the one that can be included in the essential home tool kit list. The drill can also be used as a power screwdriver. Just replace the drilling head (bit) with a screwdriver head, and you can use your drill as a power screwdriver. They are usually used to make holes in the walls and took tighten or loosen screws.
The real decision you make is about whether you go with cord or cordless ones. Cordless ones are expensive when compared with the ones with cords. But again, the cordless ones are not as powerful as the corded ones.
No products found.
Safety Gear
Some repair or DIY projects can be potentially risky. Thus a few protective types of equipment like safety goggles, gloves, and masks should be used.
Finally, these ten essential tools are most used in repairs and DIY projects. We recommend you have at least the essentials. While the other tools are not compulsory but required for any specific requirement, they can be bought.
No products found.