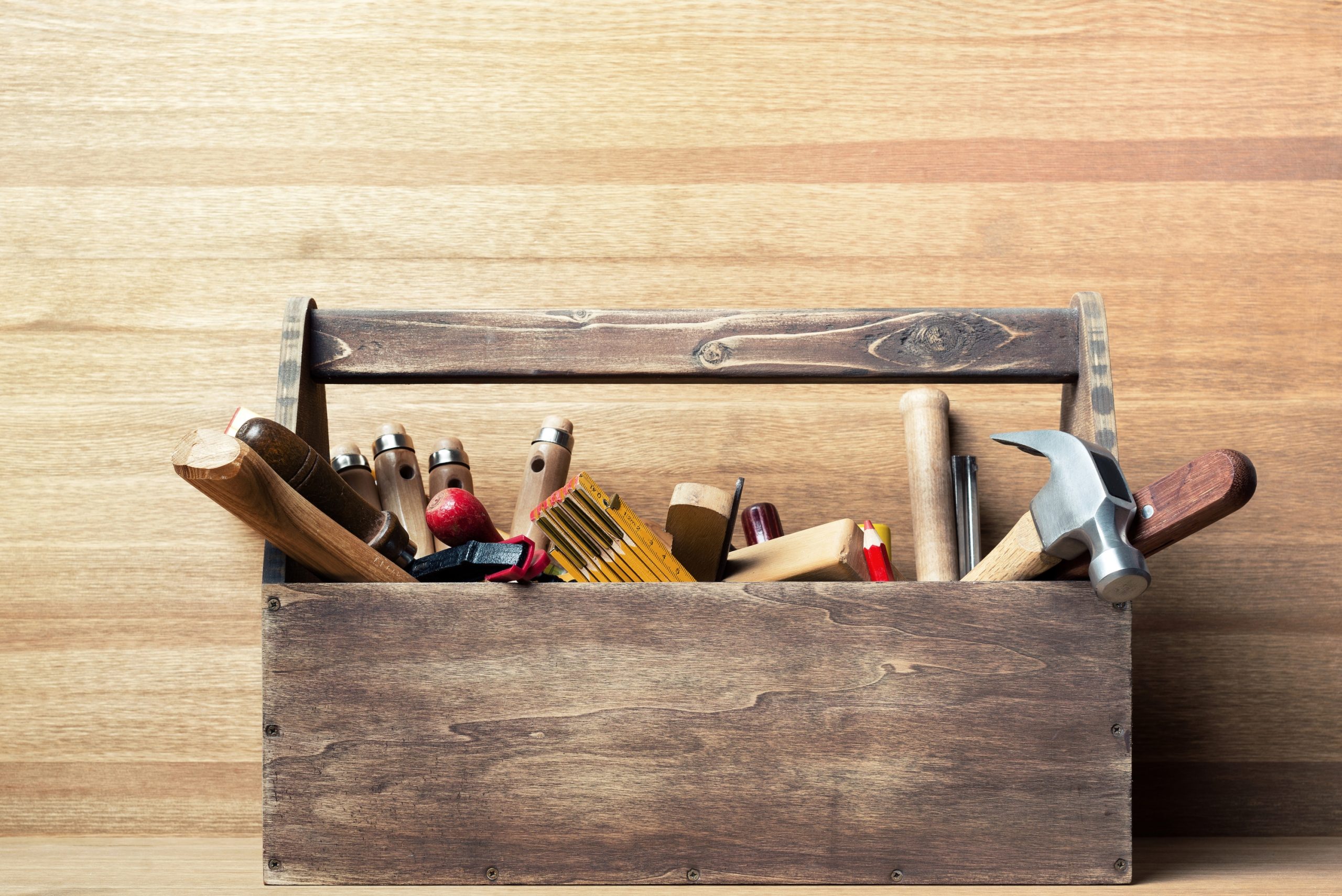 The requirement of a basic tool kit list is essential for DIY (Do It Yourself). Even though you are not interested in DIY, we recommend you go through the essentials list. Here we list the ten most needed tools for every household.
The whole purpose of DIY is to save money. And spending on a toolkit for DIY must be a well-thought decision. So, make sure you go through these articles and save a bundle. Choose only those tools which are necessary, inexpensive, but durable.
Another thing about this essential tool kit list, it contains only general tools! No power tools (except one) or specialized tools are included in this list. These general tools are used for multiple house repairs and DIY projects.
Bare Tool Kit List Essentials
Hammer
The toolbox without the hammer is incomplete. It is an essential tool required in your house.
Uses
Hammer goes with nails. Either when you can remove or drive the nails. The claw is used to pry the nails out while the hammer's head is used to drive in the nails. Another use of a hammer is that it can be used to break or whack any object.
Smart Pick Suggestions
Go for the usual 12-ounce one but depending upon the weight you can carry, hammers can differ. Right from 8-ounce till 16-ounce hammer can be chosen. Always check for the one with a smooth head and curved claw. Usual go for the wooden handle but if you want the inexpensive ones, then go for a fiberglass handle. Even the ones with wooden handles can be bought cheaply.
While the metal handled ones are expensive, they are quite sturdy and durable. Go for the one you are comfortable with! This tool is required every often, so comfort comes first and then durability. Buy the one which you feel grips well in your hand and is well-balanced when you swing it.
Sale
EFFICERE 8-oz. Stubby Claw Hammer with Magnetic Nail Starter for Household
Drop forged and heated treated alloy steel head provides maximum striking strength
Sharpened and curved claw ends generates maximum nail-pulling leverage
Finely polished finish with rust-preventative clear coating insures durability and longevity
Built-in magnetic nail holder for easy start with one-handed operation
Ergonomically designed anti-shock handle offers extra comfort and non-slip gripping
Advantages
Hammer is an essential tool.  Its main advantage is its reliability and multiple usages. You always require a good hammer for nailing the walls.
If you are interested, then you can save quite good cash by using hammers. Instead of buying readymade furniture, you can go with the ready-to-assemble ones. But this is a personal choice, and it is not possible for everyone. Hammer is an essential requirement in DIY projects. Any whacking requirement is incomplete without the usage of a hammer.
Screwdrivers
Another essential one! Just like Hammers go with nails, Screwdriver go with screws. Different screws require different sizes and shapes of screwdrivers, so make sure that you have the ones usually used.
Uses
It is an essential tool because screws are everywhere in your house. Just in case a screw loosens, you will require a screwdriver to fit it back. Screws hold the objects. In case they are not tightly fitted, they can seriously damage your objects or family members. Screwdrivers are used to loosen and tighten the screws, just like hammers work with nails. Thus, screwdrivers are quite essential for any household! Arguably they are the second most used tool from your toolbox. The first being the hammer.
Smart pick suggestions
The types of screws determine which type of Screwdriver is required. The most common screwdrivers in the US are the slotted and Phillips. At the same time, slotted and Posidrive is commonly used in Europe. Buying a set of screwdrivers is preferable as you may have to deal with a large variety of screws. Go for the basic screwdriver sets, which are usually available in the market.
Another option is to go with the all-in-one or multi-bit Screwdriver. These are the ones with only a single handle, and you can replace the driving end of the Screwdriver according to your (screws) requirement. The significant advantage of this Screwdriver is that it can save some space in your toolbox. Like hammers, even for the screwdrivers, you should go for the durable ones and grips well in your hand.
Sale
Magnetic Screwdriver Set 10 PCS, CREMAX Professional Cushion Grip 5 Phillips and 5 Flat Head Tips Screwdrivers with Case Non-Slip for Repair Home Improvement Craft
💡MULTI-PURPOSE USE: CREMAX 10 PCS screwdriver sets is designed for domestic appliances, furniture, automotive, factory. With 5 Phillips head screwdrivers and 5 flathead screwdrivers, our screw driversets set is capable of meeting your various needs.
✒️STRONG MAGNETIC TIP: CREMAX screwdriver set magnetic attracts screws easily, and make it easy to take the screw out after unraveling. Blackening treatment prevents rust effectively.
💎PREMIUM MATERIALS: S2 tool steel screwdriver bar for enhanced durability. Screw driversets all in one with ergonomic non-slip and soft handle let you feel soft and comfortable at work.
💎2-in-1 Magnetizer/Demagnetizer Tool: Magnetize or demagnetize the screwdriver as you please by sliding it on the tool's center or top. This craftsman screwdriver set meet your work needs and suitable for all kinds of projects, electronics, computers, watch repair, jewelry repair, etc.
😉UPGRADED PACKAGING: The packaging of the screwdriver kit set has been upgraded from bagged to boxed. It is more convenient to store and carry our screwdriver set with case.
Advantages
Just like a hammer, a screwdriver is an essential tool that is required for ready-to-assemble furniture. As there are many electric appliances and other objects comprised of screws, screwdrivers become necessary while they repair or replace.
Wrench/Spanner
The name varies upon where you live! A wrench or spanner is a tool used to apply torque. They are usually used for nuts and bolts.
Uses
When objects are not attached with nails or screws, they can be attached with nuts and bolts. Wrenches are used to tighten and loosen bolts. These bolts are tightened or loosened over the nuts, which require a wrench.
Smart pick suggestions
Well, you can go with an eight-inch one or a set of six-inch and ten inches one. Six inches has its advantage such that it can fit into tight spaces. While ten-inch, one can be more effective while tightening or loosening bolts. Eight inches one is like the best of both the spanners. And as always, go for the comfortable one. It should be durable and grip well in your hand.
Crescent 6" Adjustable Black Oxide Wrench - Carded - AT26VS
Alloy steel and heat treated, Black Oxide finish resists corrosion, Polished head and regular, non-slip grip handle
Laser Etched Scale Provides a Quick and Convenient Way to Determine Fastener Size in Either SAE or Metric
Wide Capacity Jaw Allows Each Tool to Work with More Fastener Sizes
Wider Handle Provides More Comfort and Less Stress to the Hand
Tension Spring Stabilizes Jaw and Knurl Adjusts Easily
Advantages
Apart from its usual advantages regarding nuts and bolts, the wrench can be used in multiple DIY projects. It can be used in simple repairs, such as in plumbing.
Pocket/Swiss Knife/Utility knife
Pocket knives are inexpensive when compared to the swiss knives. Pocket knives are quite handy as these sharp bladed knives can do many tasks like cutting, trimming, and shaving.
Uses
When you compare your standard kitchen knives with a pocketknife, you will have a perk of safety. The blade is usually stored inside the handle. Thus, you cannot hurt yourself or your loved ones, even due to an accident. Its sharp edges allow you to use it for different works of cutting and trimming.
Smart pick suggestions
A pocketknife should only be bought if the handle is safe, sturdy, and comfortable. If you go with the swiss knife, you will have multiple options to choose from. Choose wisely according to your DIY projects. Sometimes Pocket/Utility/Swiss knives have some additional features like lock-in in a particular position or an extra space for another blade. You can choose your add-on features according to your requirements.
Victorinox Swiss Army Huntsman Pocket Knife (Red)
A CUT ABOVE THE REST: Compact, agile and ready to face any adventure head-on. Our range of Swiss Army Knives have been established since 1897 and continue to be an icon of utility and smart design.
DURABLE CONSTRUCTION: Swiss made stainless steel construction encased in our popular scales offers a slimmer profile and is extremely resistant.
COMPACT CARRY: Bring this knife with you on your daily adventures without sacrificing space. It makes a great gift for any occasion or stocking stuffer for Christmas.
FIT FOR ALL TASKS: At their heart, all our pocket knives are a survival tool; multitaskers that deliver in any situation. At their most evolved they have surpassed basic function to pioneer space travel and restart engines.
TRUSTED QUALITY: Made in Switzerland; Victorinox provides a lifetime guarantee against defects in material and workmanship. Making a lifetime commitment has never been so easy. No assembly required, money back guarantee.
Advantages
A utility knife is a must. It is undoubtedly a prime member of this essential tool kit list. Any DIY project or anything involving cutting or trimming will indeed require a good sharp knife that is better than a handy, easy to carry, multipurpose Swiss or pocketknife.
Other Tools
With essential tools being wrapped up, there are some other essential tools essential for specific DIY projects and other repairs.
Pliers
Controversially, pliers are not essentials but are quite useful when in the primary home tool kit.
While you are busy during a repair or DIY project, you may require holding onto something. Usually, we try to grab them with our bare hands, but it does not help. That is when pliers come into the picture.
They have long handles at both ends and metal teeth that hold the material. You can use a plier to hold the nails while hammering. This process can be used smartly to protect your fingers during the process of hammering.
Sale
IRWIN VISE-GRIP Long Nose Pliers, 6-Inch (2078216)
Features durable nickel chromium steel construction
The ProTouch grips provide extra comfort and reduce hand fatigue
Machined jaws provide maximum gripping strength. Induction hardened cutting edge stays sharp longer
These pliers feature a superior long reach design for work in confined areas
Handsaw
A simple handsaw is nothing but a cutting blade (usually the one with teeth) attached to a handle (usually a metal one). For wood-related DIYs and other projects, a handsaw is a must. You can go ahead and buy a power saw, but they are usually expensive. For smaller and thin cuts, a handsaw is preferred as it is much easier and quicker than the power saw. It is also used when the bulky power saws cannot be used.
Sale
FOLDING HAND SAW Wood Saw Multi -Purpose 8" Triple Cut Carbon Steel Blade - Premium Folding Saw w/Gear Lock for Security - Ergonomic No-Slip Handle - Rugged Strength & Durability for Camping, Hiking
MANY HAND SAWS ARE MADE OF FLIMSY AND CHEAP MATERIALS that bend and even break after a few uses. At Home Planet Gear, we made it our goal to create a SOLID, HIGH-PERFORMING saw made of PREMIUM MATERIALS that don't bend or break. After weeks of testing, we perfected EverSaw Folding Hand Saw, a rugged pull cut hand saw with a MEDIUM-TOOTH, ADJUSTABLE 8" SK5 CARBON STEEL BLADE. Made to easily cut wood, bone, and plastic up to 4" in diameter, cutting will never be a struggle again.
UNLIKE FOLDING SAWS WITH FAULTY POP-BUTTON LOCKING MECHANISMS that allow the saw to close or snap unexpectedly – a major SAFETY HAZARD – our small hand saw wood is specially designed with a stronger, DEPENDABLE GEAR LOCK to secure the open blade firmly in place. Our folding camp saw 's blade fits fully into the handle, so NO TEETH ARE EXPOSED when closed – You feel extra safe while carrying it.
WHILE OTHER hand saws for cutting wood TEND TO BE MUCH DULLER THAN EXPECTED, our saw blade features super sharp, TRIPLE-CUT RAZOR TEETH made for Japanese-style pull cut sawing. Hardened to stay sharp and reduce friction, for SMOOTH, FAST SAWING. And with our butcher saw 's ergonomic, thermoplastic RIBBED RUBBER HANDLE, you'll never have to worry about it slipping.
TRULY MULTIPURPOSE – Our wood cutter has a WIDE VARIETY OF USES ranging from a backpacking saw, camping saw folding and hunting gear saw to a branch cutter, tree saw, limb saw, snow saw, winter pruning saw and pruning saws for tree trimming. They're the perfect camping gear dad gifts for men and women, for their portable tool box. With an extended full length of 17" and 9½" inches when closed, our bone saw is a CONVENIENT SIZE AND WEIGHT for easy carry.
AT HOME PLANET GEAR, WE PUT IN THE TIME, RESEARCH, AND CARE to craft PREMIUM QUALITY, HIGH-PERFORMANCE TOOLS for the outdoorsman and outdoorswoman. A FAMILY-OWNED company right here in the U.S., our customers have been our top priority from day one. If for any reason you aren't satisfied with our hand saws for trees – during the entire LIFETIME of your purchase – don't hesitate to REACH OUT TO US so we can make it right.
Tape Measure
Another controversial non-essential tool in the primary home tool kit. In some repairs and DIY projects, accurate measurements can be required. Locking and retracting tape measure is the best option.
Sale
Where's My Tape Measure? - 10ft Tape Measure Retractable (3 Pack) Accurate Tape Measure with Fractions - Locking Small Measuring Tape with Fractions Measurement Tape - Easy to Read & Easy to Find!
Tired of poorly made Measuring Tapes that fall apart with cheap plastic housing and clips that break off? That's why we designed our Home Planet Gear pocket tape measure with a durable, Impact Resistant ABS Case & Non-slip Rubber Grips. Fits comfortably in the hand with compact housing 2.5" x 2.5" x 1" & sturdy metal belt clip that grips well on a belt and also fits as comfortably in a pocket or purse. Quality DIY tools you can rely on to be there and work right when you need them.
While other retractable Measuring Tape often don't retract fully or properly or have cheap blades that bend or even break, our measurement tape has a 10' Nylon Polymer Bonded Flexible Stainless Steel Blade for long lasting, reliable service. Blade: 5/8" Standout to 4 ft. Sliding thumb lever securely locks the position of the blade. Auto Retracting smooth rewind will let you get the job done with ease.
Why Buy 3? Tape Measures are like Potato Chips – One is never enough! We get it! You're busy. You don't have time to go looking for that one missing small tape measure... With 3, you'll always have one to hand when you need it! Perfect for weekend home projects, crafters, home decorators, realtors, store managers, framers, etc. Because 3 is better than one!
Accurate, Easy to Read Feet, Inches & Fractions to 1/32 plus stud marks. Get the measurements you need quickly and error free with this reliable, easy read tape measure. Make great gifts for men, gifts for dad, & gifts for him. **Does not have metric measurement**
At Home Planet Gear, we put the time, research and care into crafting premium quality, durable performance tools for everyday use. A family-owned company right here in the U.S., our customers are our top priority from day one. If for any reason, you aren't satisfied with our retractable measuring tape, don't hesitate to reach out to us so we can make it right.
Tape
Tapes are not a good idea when it comes to repair jobs. But on the flip side, they can be useful in quick fixes. There are different types available in duct tape, electrical tape, and plumbers' tape. Either you can choose amongst them or go with the multipurpose tape.
Grizzly Power Clear Packing Tape Refill Rolls for Shipping, Moving, Packaging - True 2 Inch x 65 Yards, 2.8mil Thick, 12 Rolls
12 STRONG ROLLS - Provides excellent holding power for normal, economy or heavy-duty packaging and shipping supplies
65 YARDS PER ROLL - More yards than standard refill rolls (over 780 yards or 2340 feet). Also true 2" wide tape offers more coverage compared to traditional 1.88" wide tape.
EXCELLENT ADHESION - Perfect long lasting bonding range in performance for shipping and storage in hot/cold temperatures.
THICKER THAN COMPETITORS - Tired of dealing with flimsy tape? Pack and ship confidently with our thicker 2.8mil / 71 micron.
SHIPPING, MOVING, LONG TERM STORAGE - General purpose, lightweight, affordable and meets postal, courier, shipping regulations for shipping and packaging.
Drill Machine
One of the most useful power tools and the one that can be included in the essential home tool kit list. The drill can also be used as a power screwdriver. Just replace the drilling head (bit) with a screwdriver head, and you can use your drill as a power screwdriver. They are usually used to make holes in the walls and took tighten or loosen screws.
The real decision you make is about whether you go with cord or cordless ones. Cordless ones are expensive when compared with the ones with cords. But again, the cordless ones are not as powerful as the corded ones.
Cordless Drill, TECCPO 20V Drill Driver 2x2000mAh Batteries, 530 In-lbs Torque, 24+1 Torque Setting, Fast Charger 2.0A, 0-1700RPM Variable Speed, 33pcs Accessories, 1/2" Metal Keyless Chuck
【2pcs 2000mAh Li-Ion & Fast Charger】TECCPO drill with 2 battery-packs, 2pcs 20V 2000mAh large capacity Lithium-Ion batteries with power indicator. And 2A ultra fast charger keeps cordless drill constantly running, excellent temperature management system keeps the batteries cool
【530 in-lbs Torque & 24+1 Clutch & 2 Speed Adjustment】Powerful 4-pole copper motor delivers 530 in-lbs(60Nm) peak torque; 24+1 position clutch generates 150% precision of torque adjustment than regular 16+1 cordless drill; 2 speed transmission (0 - 450 & 0 - 1700 RPM) for a range of drilling holes and driving screws on wood, metal and plastic. ⭐Upgraded 4-pole copper motor ensures 25% more stable and long-time operation, with 530 In-lbs torque which is much more powerful than other 2-pole motor
【1/2" Metal Chuck】All-metal gears and 1/2" key-less ratcheting chuck provide maximum durability and great accessory compatibility; F/R button and variable speed trigger are available for drilling and fastening
【Ergonomic Design】Rubber over-mold handle with ergonomic design offers maximum user comfort and less vibration; Trigger-activated LED light illuminates your work area
Father's Day Gifts — Best Helper 🎁for Driving and Fastening Tasks1 * TECCPO Cordless Drill/driver Set; 2 * 20-Volt Batteries; 1 * 2.0A Fast Charger; 1 * Contractor Bag; 1 * Belt Clip; 32 * Driver Bits; 1 * Extension Rod(60mm); 1 * User Manual
Safety Gear
Some repair or DIY projects can be potentially risky. Thus a few protective types of equipment like safety goggles, gloves, and masks should be used.
Finally, these ten essential tools are most used in repairs and DIY projects. We recommend you have at least the essentials. While the other tools are not compulsory but required for any specific requirement, they can be bought.
TR Industrial TR88011 Hard Hat Forestry Safety Helmet & Ear Muffs
5 in 1 safety helmet comes with helmet, adjustable/removable earmuffs, plastic visor, and mesh visor, providing dynamic protection for any job
Provides the protection you need when using chainsaws, brush cutters, and trimmers, ideal for forestry type work
Secures firmly on head and convenient dial knob makes it easy to adjust the circumference 20 - 24.5 inches (52-62 centimeters)
Lightweight, interchangeable mesh and plastic visors provide shielding from debris
All parts are ANSI and CE approved - Helmet carries a Z89.1-2003 ANSI rating