Guttering is an integral part of one's home and it performs the function of diverting rainwater from one's house roof into the underground drains. Earlier models of gutters were manufactured with cast iron. However, these days, with the advent of various technological processes, it is commonplace to see houses with gutters made of uPVC – Unplasticized Polyvinyl Chloride. They are well-known to have an easy installation process, low maintenance, durability, and low cost set up. You can access various types of systems.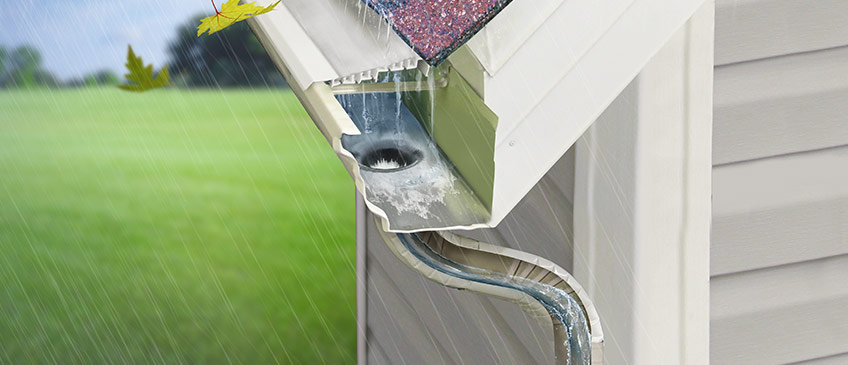 Various Types of Gutters And Materials
Guttering materials are produced from various components such as galvanised steel, concrete, stainless steel, aluminium-alloy, and many more. Nevertheless, the most popular material that is being used on houses is plastic – being that it is easy to install. They also have various profiles. However, in general, rainwater pipes feature a round profile and are basically 4 meters in length, with a diameter ranging from 68 – 160mm. A guttering system is made up of the following: gutter branch connectors, bends, lengths, support brackets, gutter hoppers, gutter unions, diverters and harvesters, angled shoes, and many more. These features are available on several guttering ranges.
How To Install And Maintain A Gutter
Over time, a guttering system can be blocked and become less effective, most especially when it gets accumulated with debris without getting cleaned. For you to avoid this issue, it is required of you to constantly maintain it – you can install hedgehog brushes or leaf guards to ensure that it doesn't get littered with unwanted particles.
You can easily install a uPVC guttering system with standard hand tools. This can be done by fixing the guttering range to the fascia board via the use of fascia board brackets. Then place the range above the soffit board; this helps divert rainwater into the underground drainage system. For you to finish the job in time, you may need to use nails or screws, sealants, and few fixtures.
Factors To Consider When Installing Gutters
As a house owner, you need to be proactive when installing and maintaining your guttering system.
Only SAB certified quality waterproofing plasters should be installed. That way, your structure stays intact even when you have issues with your guttering system.
You need to install membranes that are of top-quality. That way, the parapet roof do not degrade or crack.
Ensure that your guttering system is installed in such a way that doesn't allow water pooling at the ground area of your house.
You need to consider the roof pitch when installing gutters.
Ensure that you use the right materials.
The appearance of your gutter matters to the design of your house. Use a guttering system that augments or complements your house.
Benefits Of Having A Guttering System
Having a guttering system in place helps stabilize the soil around your home. This is due to the fact that there won't be flooding which leads to soil erosion.
It helps you prevent foundation problems.
It prevents flooding around your house and basement.
Your walls are being protected from rainwater.
It helps protect your exterior doors.
If you would like to know more about how you can access the perfect guttering system for your home, please see here.