If you're living in one of those classic NYC, San Francisco, or Washington, DC apartments for rent, then you know that space is limited, and you need to get creative in order to make the best of it. A living room is usually the place where everyone gets together, so it's likely to become the busiest room in the home. However, there are some tricks to make it look and feel larger, which focus primarily on creating a visual illusion.
Decluttering & Storage
Before anything else, it's crucial that your space be free of clutter. Having a lot of things and little storage room is not ideal, so make sure to go through your stuff and donate or throw the items you no longer use or need. Then, find smart solutions for storage, especially making use of the vertical space. Incorporate shelving or built-in storage solutions, and invest in some double-purpose furniture, such as a coffee table with hidden storage space underneath it.
Colors
The color scheme you choose for the room is crucial, as the right color scheme for the layout of the room will turn it into a perfect place to sit and relax. The tendency is to go for light colors, which open up the space and create a feeling of warmth and coziness. However, darker shades and hues work amazing in smaller areas, especially if combined with bright accents to create a contrast that surprises the eye.
A darker gray like charcoal or smoke for the walls will add an air of sophistication; combine this with rich greens and bright oranges to create an exotic feel that will enlarge the room. Think about implementing some metals into the combo by adding copper or brass details.
Light
Leave plenty of options for the natural light to diffuse and fill the room. Don't stuff the area around the windows with anything, but rather invest in very thin, very delicate curtains, in champagne or another light hue, which will filter the light and help spread it, offering the room a silky warmth.
For the artificial lighting, go for very warm hues but don't spread them out. Invest in some industrial-themed lightning systems which will go great with the darker background, as well as thin, standing lamps to illuminate the corners. By dodging a uniform light coming from a single source, you create depth with light spots and shadows.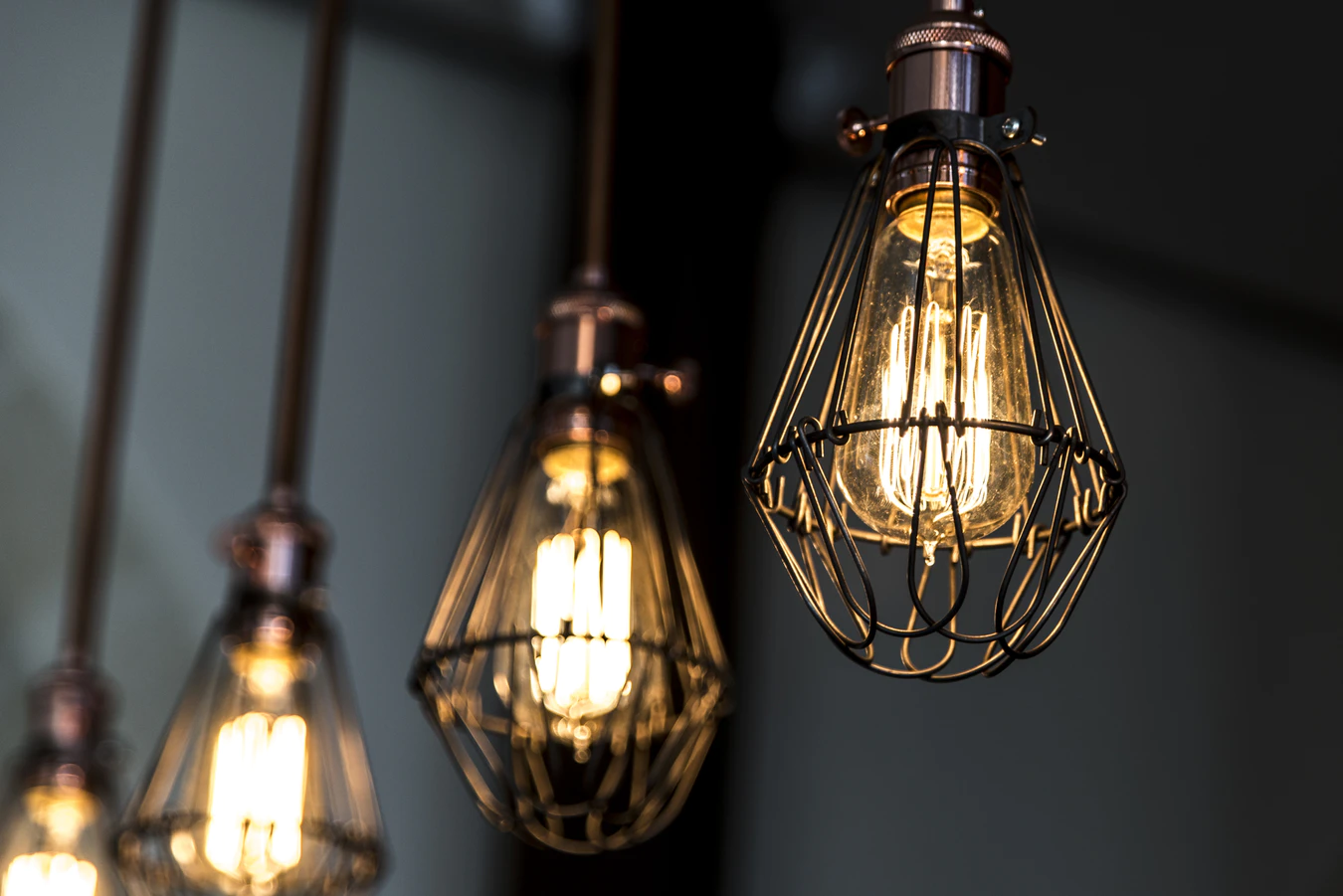 Defining the Space
The important thing is to make the space feel cohesive and not as if it is made up of different sections. That will break the room and make it feel even smaller. The way you lay out the furniture matters, so think about placing larger units such as a couch up against a wall but leaving room for a lighting unit behind it. Where things get crowded, adding a little bit of light can save the area.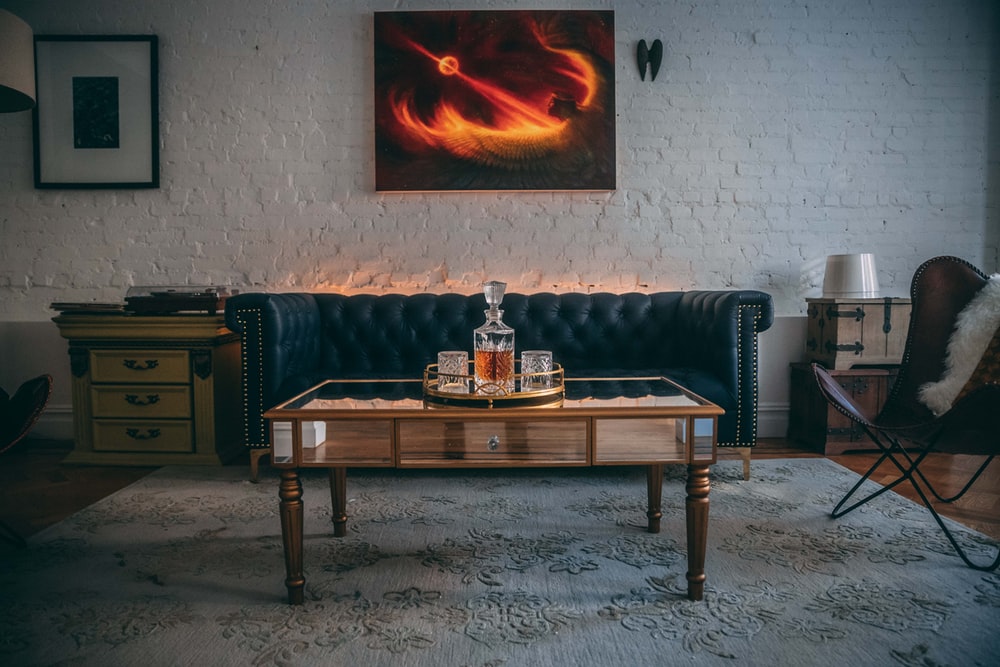 Source: https://unsplash.com/photos/i-kp9etCTzA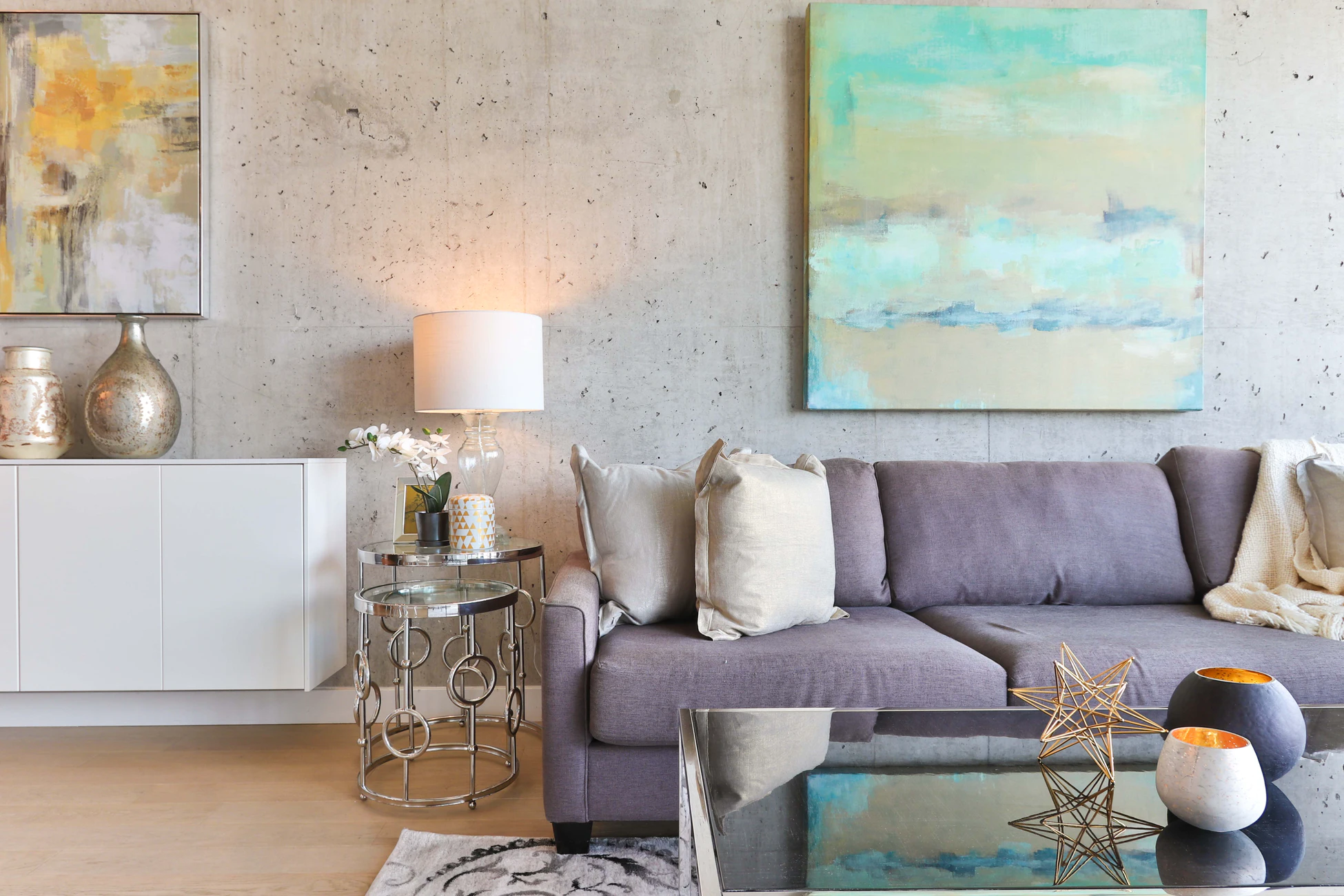 What helps really define the area is the elements of comfort. To maintain coherence, you want to add a very comfortable, central rug in a color that fits the scheme. Make use of vertical space as well with large artworks. Even if that sounds counter-intuitive, an elongated painting that starts from right above the couch or a cupboard and goes up will carry the eye with it, making the room feel taller.
There isn't one good recipe for all rooms, mostly because each one should mirror the individuality of its inhabitants. Guidelines, however, apply; so think about what works for you and what doesn't, what you can easily change and what would require an investment and a discussion with your landlord.
If you feel lost and don't know where to begin, moving the furniture around might spark an idea and help you remove that fixed image of the room you have in mind. Take it one step at a time and don't forget the most important thing: make it your own, so you can feel good in it. Good luck!