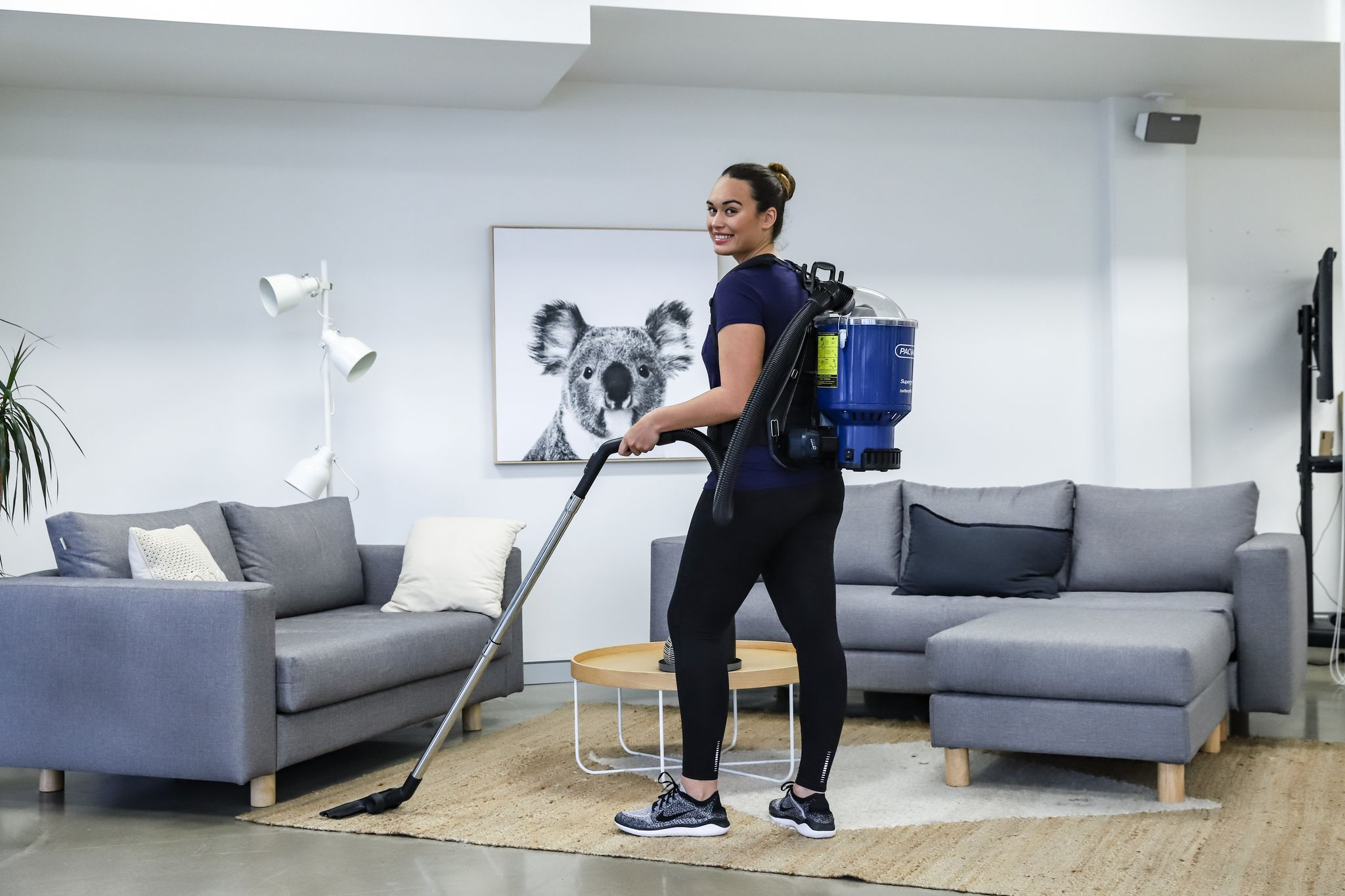 Are you tired of lugging around your bulky vacuum cleaner all these years? If you find the process of vacuuming your house more and more difficult every day, it is time to upgrade your vacuum cleaner.
If you have back problems or find it painful to constantly bend down to vacuum, battery backpack vacuum cleaners might be the right solution for you.
Gone are the days when cleaning schedules were frowned upon by family members. With the battery-powered backpack vacuum cleaners, cleaning your house no longer has to be a tedious or painful job. So, how does it manage to improve your cleaning experience?
Lightweight and Versatile
Cordless backpack vacuum cleaners are versatile and light to carry compared to canister and upright vacuums. You can easily maneuver backpack vacuums in a variety of settings rather than using multiple machines. They can easily transition from different floor types like commercial and residential wood flooring to carpets and even stairways.
Unlike the upright machines and bulky canisters, backpack vacuums can clean around fixtures and furniture. You no longer have to spend time shifting around the table, chairs, and fixtures to get the space cleaning ready.
Some cordless backpack vacuums also come with a wand extension which allows you to reach high spaces like light fixtures, vents, window casings, and ceiling fans.
Furthermore, battery backpack vacuum cleaners paired with additional fixtures will maximize productivity and help you clean your house in a better way.
A Safer Way to Clean
A Battery-powered backpack vacuum cleaner gets rid of the hassle of cords, thereby improving the efficiency and safety even more than corded backpack vacuum cleaners. Cordless cleaners boost efficiency by saving approximately 1-1.5 hours per 4-hour vacuum schedule.
Especially during the end of the year or spring cleaning time, when you have a schedule for cleaning the entire house, using backpack vacuum cleaners will be of great help.
You will be able to move around more freely without backtracking and searching for outlets now and then. Moreover, cordless vacuums also eliminate the caution you must take to maneuver around the cord to avoid tripping. As electricity has its own set of safety issues, using a cordless backpack vacuum reduces such threats.
Improved Ergonomic Design
When worn correctly, backpack vacuum cleaners can help reduce physical fatigue. Reduced stress on the body lowers fatigue, allowing you to clean more areas effectively in a shorter span.
Most backpack vacuums that come today are light in weight and evenly balance the machine's weight across your hips and back. The device is equipped with an adjustable harness or strap which lets it sit comfortably on your back.
Due to the placement of the backpack and your increased capacity to walk in a natural motion, you no longer have to hunch over or resort to repetitive movements while cleaning the space.
As the neutral posture reduces vigorous movements and excessive bending, it helps boost your endurance. With higher endurance, you can exert more energy and achieve higher productivity while cleaning.
Requires Lower Maintenance
Generally, backpack vacuum cleaners tend to have lower maintenance costs compared to other models. The traditional vertical vacuum has about approximately 50 parts which can eventually break down or wear out over time.
But, depending on the model, a backpack vacuum cleaner may have very few "wear and tear" parts. They may not have several parts like brush rolls and belts, which are prone to breakage and jamming.
As they are devoid of such intricate parts, it reduces the chances of facing broken equipment, repair costs, and mainly unexpected downtimes during cleaning. You can adhere to the cleaning schedule without any last-minute hiccups.
Reduces Additional Damage
Additional damages caused by a vacuum cleaner can hinder the cleaning process in many ways. While using upright models to clean your house, there are high chances of the canister bumping into furniture, fixtures, and other objects while it is moved around.
Also, as the canister modes have wheels, they can easily scrape the baseboards or cuff the floors. All these issues will require special attention, and you have to be extra cautious while maneuvering the machine. Eventually, it takes up more time to get done with the cleaning.
This is not the case with backpack vacuum cleaners.
As you carry it on your back, battery backpack vacuum cleaners allow you to move naturally freely and quickly. As they don't have wheels, you don't have to worry about accidental damages to the baseboard and floors. You can spend your time effectively on cleaning instead.
So, backpack vacuums provide you a wide range of benefits, starting from improved safety, reduced fatigue, and improved cleaning methods that ultimately allow you to complete more work in a shorter span. So, get your battery-powered backpack vacuum right now and test it out on your carpet.