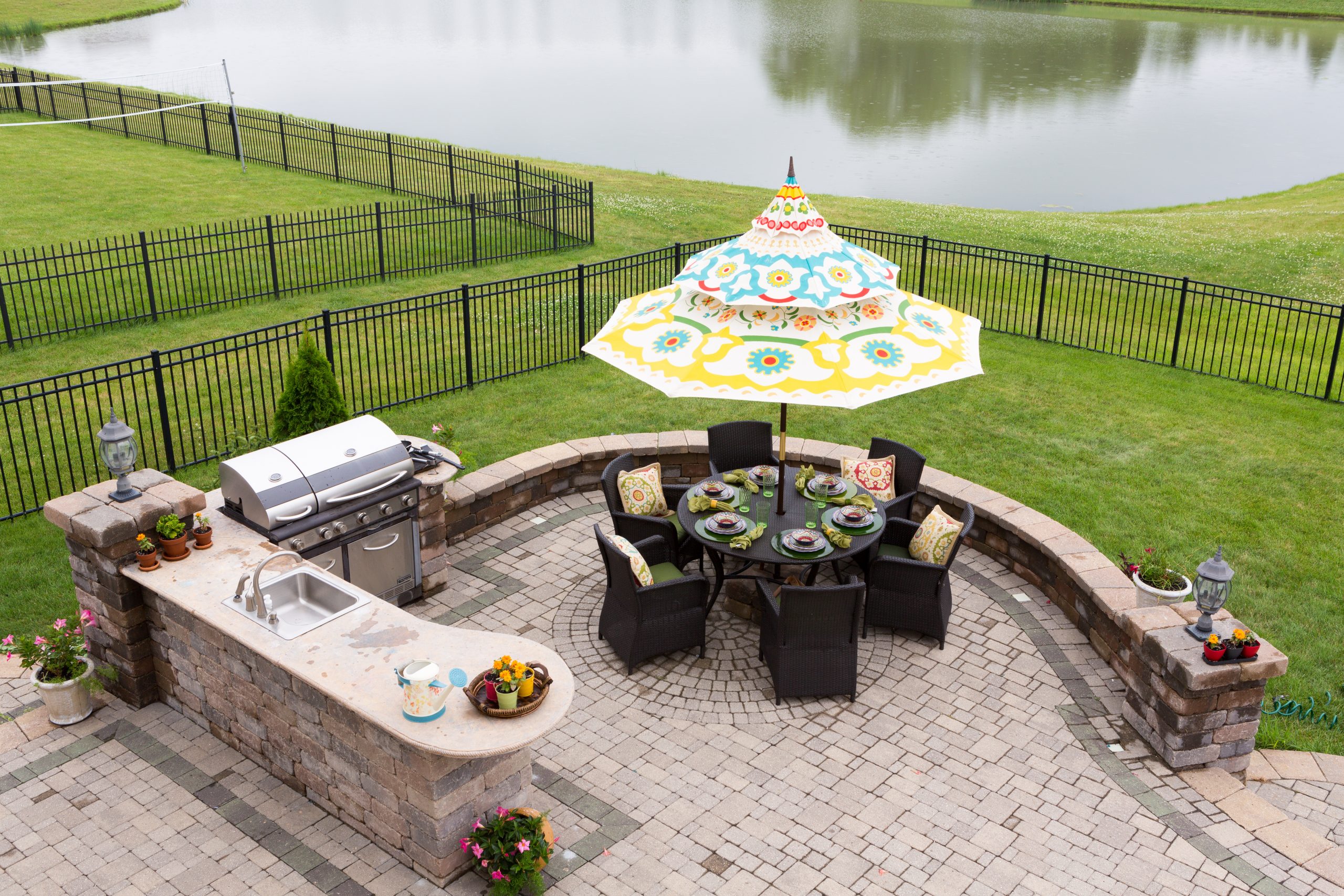 In the modern world, there are many things that can make you stay and lounge indoors for the rest of the day. Sitting in front of the TV or playing video games, as many people have been doing, can be a threat to your health.
Many people, though, stay indoors not because they're busy but because there are no resting places outside their buildings. Regardless of what's keeping you inside your house, you'll need something to encourage you to step outside and enjoy what Mother Nature has to offer.
Creating a stunning outdoor living space is possible with the right amount of planning and creativity. Many people have a patio and gazebo set up in their backyards and spend hours relaxing and entertaining there. They love their outdoor living space because they feel it gives them access to a private oasis away from the rest of the world.
If you are planning on building a new setup on your back deck or patio, landscaping the area will make it more appealing to everyone. Wondering how that's possible? Here are a few items that will make your outdoor living space as good as your indoor experience:
Plants
If you look around, you'll realize that any cool environment isn't only made up of buildings and other artificial structures. All of them consist of a few plants, although this composition has changed greatly over the past few years. The environment as we knew it decades ago is no longer the same. You can, however, recreate your own exciting surrounding in your outdoor living space.
Inasmuch as plants are expected to complement your compound, they can also truly break it if done incorrectly. You probably already have several plants within your yard's perimeter, but are they creating that desired ambiance? Do they bring those pops of color? If not, then you need to find great options that'll match your style with the surrounding environment.
For instance, you might want to build a tropical oasis that's filled with canna lilies, tropical hibiscus, and birds of paradise. The plants you pick for this project will significantly affect how you enjoy your outdoor room.
Don't forget the direction of the sun and corresponding shades. These are some tiny details that will definitely have an impact on the whole 'feel' at the end of your project. Subdivide the areas into 'full-sun,' 'partial sun,' and 'shade.'
This is dependent on the number of hours each section receives sunlight, with 'shade' having access to these rays for less than three hours per day. These notes will help you determine which plants will grow well in which corners of your garden. Of course, you can always hire a tree surgeon if you're not sure about this and any other tree-related issues.
Fire Pit
Traditionally, a fire pit has been known to bring people together. Families and friends tend to socialize very well while seated around a fire in the evenings or during chilly weather. Such events are common during camping trips, but you can apply that idea in your home. Apart from improving socialization, this will also bring that unique camping feeling.
But safety should be prioritized. First, you need to make sure that everyone's seat is strategically positioned. All members should be close enough to feel the warmth but also far enough to avoid any burns. Additionally, make sure there is a filled watering can ready in case of anything. If coal rolls away from the fire point, distinguish it as soon as possible.
Lighting
No project within your compound is complete without sufficient lighting. Just like every room in your house, your outdoor living space also needs some custom LEDs. The good thing about outdoor spaces is that you have a lot of options when it comes to lighting. The are several companies like Oregon Outdoor Lighting that'll not only sell you the lights but also help you with the installation process.
However, as you make your choices, always make sure that you have three types of lighting installed and working. The first type is functional lighting. This is designed for pathways and other areas meant for movements. You would want to have all these areas visible at night to avoid tripping and injuring yourself.
Task lighting is another type that should be installed around your outdoor space. Just as the name suggests, this is meant for general tasks like firing up the barbecue. Finally, you might want to install fun lighting to enhance the environment. This will come in handy when you're having a party with your friends and family.
When your outdoor living space has great lighting, you'll be encouraged to spend time outside the house. It'll also give you the confidence to invite your friends over no matter the time.
Comfortable Seating
Just like lighting, you have many options when it comes to outdoor seats. You can either go for a patio furniture set, hammock, or porch swing. Regardless of the choice you make here, it's always important to prioritize the enjoyment and durability of the items.
Of course, the main determinant factor in that regard is the material used in their construction. Sturdy and weatherproof fabrics are a perfect combination given the conditions that your seats are likely to be exposed to.
If you want to enjoy seating outside, then plump cushions must be included in the mix. Everything you pick here should be cozy and comfortable as your living room coaches. This way, you won't have any reason not to spend most of your daytime in your outdoor living space.
Throws and Pillows
If you're all for comfort, throw pillows will definitely do the trick. Having enough throws will help make the whole area quite cozy. Keep some extra pillows handy for those chilly nights.
One thing you can be sure of is that throw pillows are available in different shapes, sizes, and colors. Mixing up these factors will give your outdoor space an excellent appearance. Of course, it goes without saying that you should make sure that you work within your budget and buy these items slowly with time.
Outdoor Rug
As earlier mentioned, you can turn your outdoor space to look exactly like your living room, or even better. Just like throw pillows and cushions, outdoor rugs have grown in popularity over the last few years.
The appearance of these rugs is exactly the same as your regular indoor rugs but with all-weather properties. They can withstand the outside conditions throughout the year. They make porches and patios a lot comfier for your pets and kids.
Grill
Another investment piece that'll surely improve your enjoyment of outdoor living spaces is a grill. Every family should have one not just for themselves, but to use it even when visitors are around.
Hotdogs and hamburgers are some of the most popular food items that to mind when one mentions a grill. But who said there aren't any other uses? In fact, once you have one in your backyard, you'll usually come up with other new ideas.
For instance, have you tasted a mixed grill of onions, eggplants, peppers, and fried mushrooms? If no, then this should be the first delicacy you try out on your new grill. Additionally, you can use it as a substitute for your oven when the temperatures are high or as a way of saving on your power consumption. The fact is, a grill can become your companion in many things than you can think of.
Sound
How can we forget the best form of entertainment? Music is undoubtedly the best and cheapest stress-reliever you can ever ask for. Make your outdoor space more than just a resting area but also an entertainment room by installing a few speakers. Of course, it doesn't have that booming sound. You need something soothing to relax your mind on Saturday afternoons.
Do you love sports? Why not install a TV in your backyard living space? The idea is to create a space that'll let you enjoy the properties of mother nature. Of course, you can only install a TV when you're sure about the security and its safety from environmental conditions; otherwise, just go for a small sound system.
Conclusion
Having an amazingly looking outdoor space can act as one of the motivators for your family to get out of their living room comfort. Adding some of the items mentioned in this article will bring that excitement. Start with the seats, lights, and pillows to make the space quite cozy and usable at any time of the day.
Plants are other must-haves in this living space because they create that cool feeling. A grill should also be installed in your backyard for parties and other domestic cooking ideas you might want to try.
Oh! And don't forget about a fire pit, that warmth is what many people need to spend time outside the house. Also, if you still have enough left in your budget, then a sound system and small TV screen might do the trick.