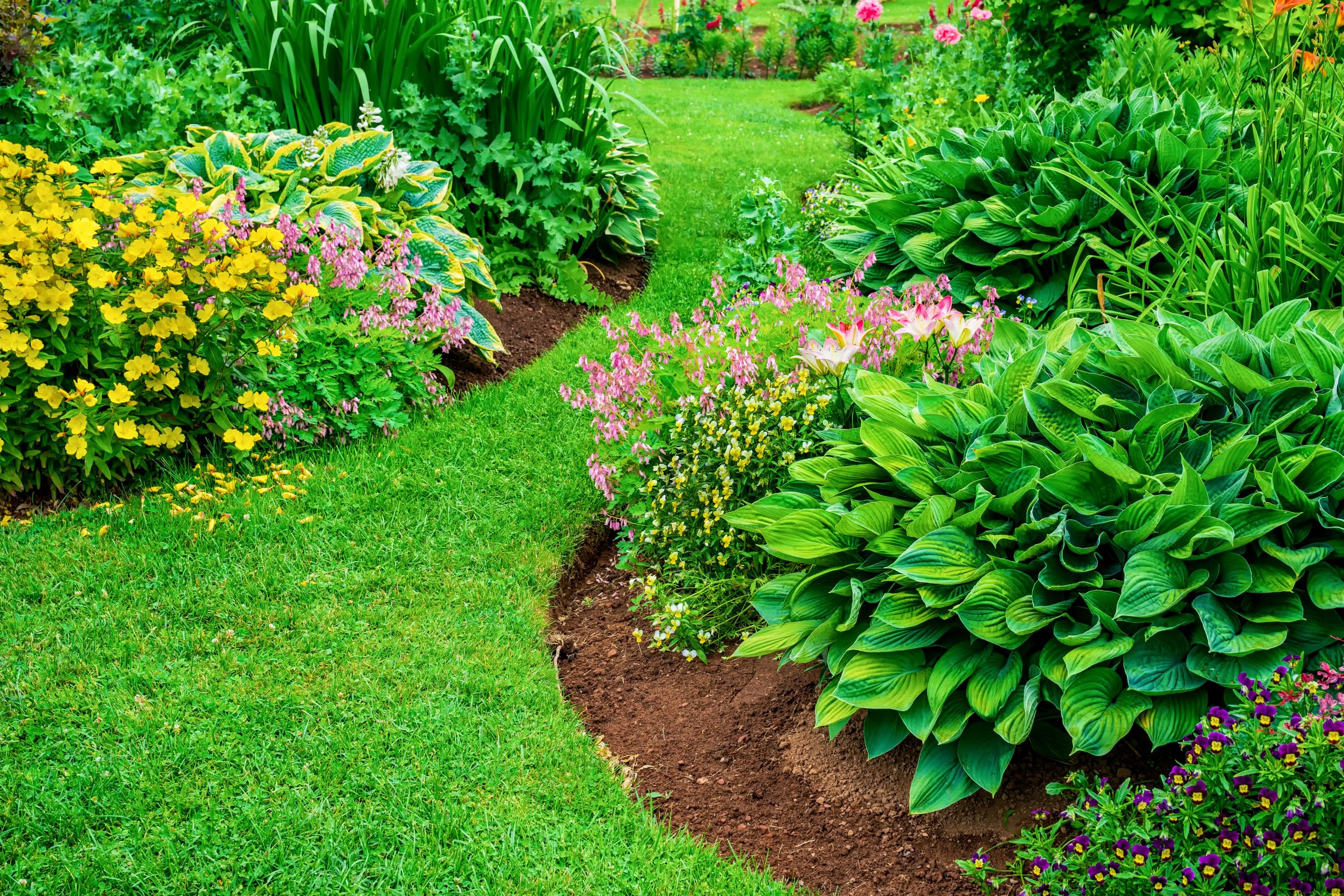 If you're eager to add spark to your garden or yard or you're planning a major overhaul, there are a few basic principles and design tips to consider, especially if it's your first time tackling a landscaping project.
The variety of landscaping tips you can find online can be overwhelming. You have different choices to choose from when it comes to plants, pathways, and hardscapes to achieve the exact look you're after. It might be best to think of a specific area in your yard as you would a room inside your home. If it's your first time working on a landscaping project, here are a few landscaping tips to help you start creating a new landscape project to make your outdoor space stand out:
1. Determine Your Preferences
If you've been planning for an outdoor space to unwind while reading a book, a recreation area for everyone to enjoy, or a combination of both, you should think of the primary purpose for the landscaping project.
The best way to start is to list down your specific needs. Then, sketch out how you picture the outdoor space and how all the elements you want fit in it. Utilize this as a starting point and guide. If you find it challenging to decide on the suitable landscaping design for your property, companies like Yard Butler can help you create the perfect outdoor space that best suits your specific needs.
2. Check The Area
If you want to make the most of your outdoor space, you need to consider several factors in your yard. First, take the time to study sun and wind patterns when designing your yard.
Placing a patio on the western side of your house might not be a good choice since it'll receive a significant amount of afternoon sun, which would make dinner time unpleasantly warm. Remember that your landscape design must be appropriate for what the sun and the wind do at certain times of the day and year.
It's best to determine the location of sunny areas and assess the suitable spots to plant trees. You should have a place to unwind that's shaded from the sun's rays. Come up with a space that will benefit from the sun's warmth on cold days. Additionally, you must fully grasp how you'll transport water from one section of the yard to another. Start by charting the sun's angle and deciding on a scheme for watering plants to know how and what to plant.
3. Stay In Your Yard
Before making any modifications to your yard, you should try spending a bit of time in your current outdoor space. Until you stay in an area in your yard for a while, you won't know what changes or features would fit your plan. You can move a chair around and look for different areas to sit each day. Take note of any possible focal points and how these areas interact with your house and the views from the windows.
Consider how the existing walkways work with the overall theme. The paths and the surrounding environment can affect your experience as you stroll down your yard. Walkways serve as a guide from one area to another but also allow people to better appreciate your landscape design.
Hastily making conclusions about your yard can result in choices that won't work in the long run, so think everything through. After spending some time outdoors, you may be able to spot areas you haven't considered that would be ideal for relaxation or other purposes.
4. Start With Small Projects
If you watch home and garden remodeling shows, you'll see that the professionals in it can finish an outdoor makeover in just a few days. However, they work with a large crew and make changes to the property that not all homeowners prefer.
When working on the ideal landscape for your yard, you should follow a steady process that involves developing a plan that's not only feasible but also satisfying. You can start landscaping for an hour or two if you have spare time and take on less urgent tasks later on. Remember to take your time and avoid taking shortcuts to achieve the landscaping of your dreams.
If you're uncertain about what your ideal landscape is, it's best to start with a flower bed. Working on a flower bed is a starting step that'll allow you to begin improving the configuration of your yard. Depending on your landscape design plan, select the plants you want and position them appropriately. See to it that the space has adequate exposure to sun and rain.
After planting your flowers of choice, fill the area with mulch and line the bed with stones to create a clean look. The edging will provide your landscape with a clean and precise look and make your yard more organized. Don't forget to take your time in preparing your flower bed, even if you'll only spend an hour or two.
5. Have A Focal Point In Your Yard
Depending on the space available for you to work on, a vital element to consider when designing your yard is the focal point. When deciding on the ideal focal point, you have various options. Ensure that you choose a big piece such as a shrub, a tree, a swimming pool, a gazebo, or a fire pit.
Take into consideration where you'll position a more prominent element and allow the rest of the yard's design to flow from that point. If your outdoor space already has a large item, it's best to work with it to improve or draw attention to it.
6. Create A Pathway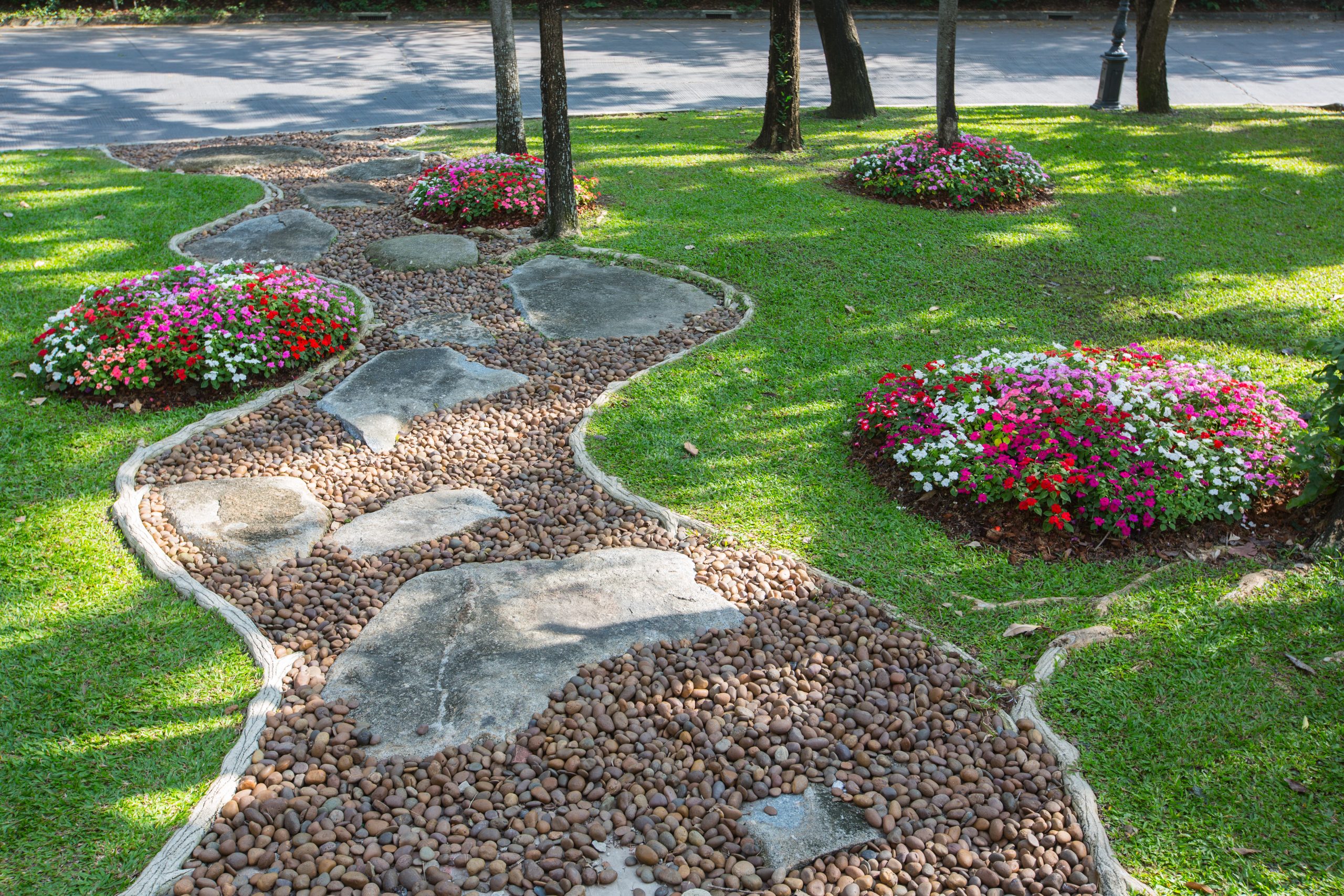 For those who love to spend most of the time outdoors, it's best to create a pathway using any type of stone along with mulch.
Arrange the pathway and complement it with solar accent lights to ensure visibility while staying energy-efficient. Plant small shrubs along the edges to contain the mulch. Working on this small project is worth it due to its functionality and the touch of style it adds to your outdoor space.
7. Consider The Scale And Pacing
For most beginners, scale and pacing are challenging elements when thinking about the ideal landscape design. However, remember that both factors are crucial in achieving a coherent look for your yard.
There are differences in shape, size, and color between tall plants standing against a structure or in the back part of a flower bed and the paths that are part of your outdoor space. It's crucial to find the right balance between new elements and repetition. Take note that although repetition ensures a sense of solidarity, you don't want to be monotonous. Adding a unique feature is a better approach than having different elements all over the space.
8. Mailbox Makeover
If you want to add an attractive element to your landscape, you should consider giving your mailbox a makeover. You can replace your mailbox with a new one or give it a facelift by applying a fresh layer of paint that matches the color scheme of your home. Additionally, place some small plants close to the base of your mailbox to make it more pleasant to look at.
9. Attractive Light Source
Some homeowners don't install lighting in their yards. If you want your outdoor space to make a statement and boost your home's curb value, adding lights to your landscaping design will enhance the beauty of your home and result in a welcoming ambiance.
One way to arrange outdoor lights is lining them up along your yard's pathway or adding some colorful lights to a water fountain if you have one. Fairy lights can also add warmth to your outdoor space, especially if you place them on some shrubs and small trees. This is a simple yet effective way to upgrade the overall look of your landscape.
10. Keep The Lawn Lush
Your landscaping is not complete without grass. If you want to keep your yard in tip-top shape, you should water grassy areas regularly and perform routine trimming or you can have artificial grass installation. Depending on the overall condition of your yard, you can use a weed-controlling product to ensure better and ongoing growth of grass. You can also install artificial grass, it needs little maintenance and ideal for small gardens.
11. Select The Plants You Love
The ideal landscape design should include the plants you love. First, it's best to keep a list of plants you want to grow in your yard. Then, determine if they can thrive well in your yard.
If there are areas with partial shade, avoid them when figuring out where to put plants that love the sun. Make sure that you'll create a watering plan based on the requirements of your plants. Don't forget to figure out the appropriate tools that would work best for your project.
12. Be Open To Changes
As the seasons change, so should your preferences. While deciding on which aspects of your landscape need tweaking, you might discover elements you no longer like. If this happens, don't hesitate to experiment and make the necessary changes as you go. Remember that what matters most is that you love and enjoy your yard.
Conclusion
When creating the ideal landscape design, patience is the key, especially if it's your first time tackling the task. Although landscaping is a significant and hectic job for those who lack knowledge about the basics, these design tips will surely help you achieve the right design for your specific needs.