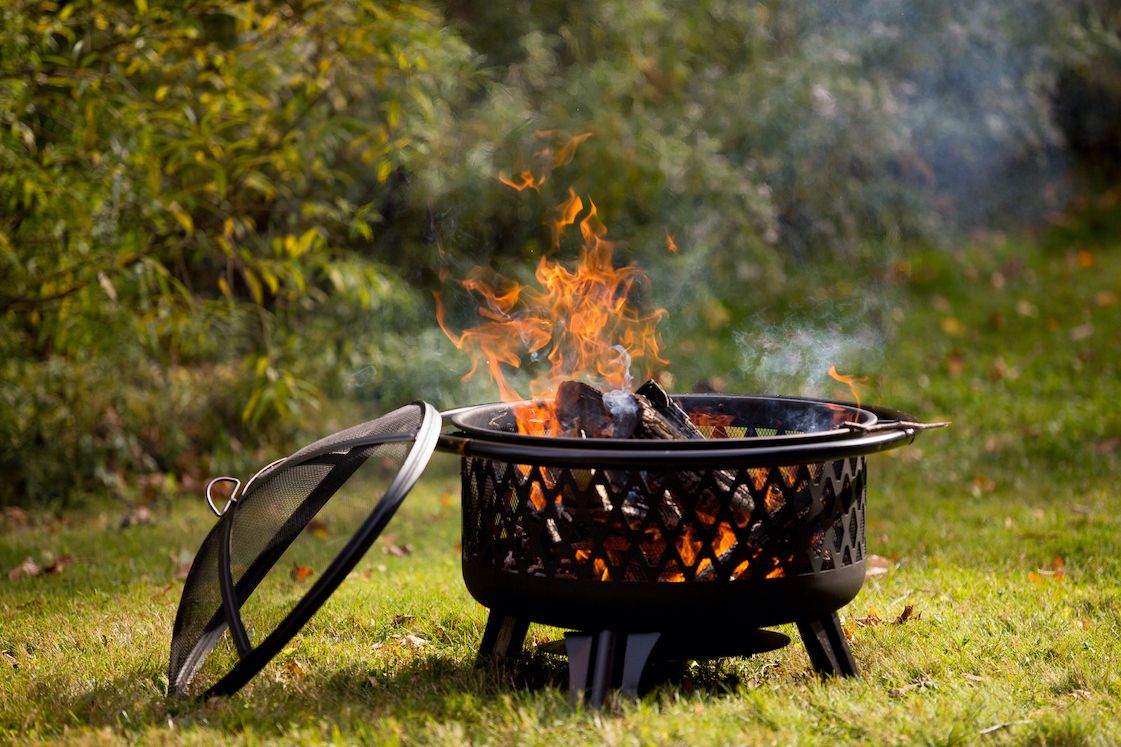 Chilly winds and pumpkin-spiced everything is all the annual rage once again: it must be fall. Before bundling up inside for the winter in your modern kitchen in Denver, don't forget to skip fire pit season with the family. It can be an ideal time to try some fun new, camping-friendly recipes in your own backyard.
But before you get cooking, it's important to know what kind of fire pit in Denver is allowed. Open burning of wood (or other materials other than propane, natural gas, or charcoal briquettes) is strictly prohibited in Denver without permits from the Denver Department of Environmental Health and the Fire Prevention and Investigation Division.
Propane and natural gas fire pits are allowed with no requirement for a permit (with exceptions on balconies, where no fire pit of any kind is allowed).
So as long as you're aware you can't burn anything other than propane or natural gas, let's get cooking.
What you'll need:
A propane or natural gas fire pit or grill
A pan and pot to hold over an open flame
A service for cooking that suspends over the fire pit
Necessary ingredients are listed below
Foil for cooking
Instruments for flipping, turning or spearing food
Campfire Hash
Though you won't be using a traditional campfire with wood and ember, a skillet is a very fire-universal cooking tool that can be used with natural gas or propane as well. Hash is one of the easiest and most family-friendly meals you can make. Add some extra green chilis to give it that Colorado signature flare.
Ingredients:
Four large potatoes, peeled and cubed
1 pound of smoked sausage, cut in half or sliced
Fresh green chilis
1 large chopped onion
2 teaspoons of canola oil or substitute
2 minced garlic cloves
1 can of sweet yellow corn
2 eggs or substitute (optional)
Servings: 6
Total Time: 40 minutes
Use medium heat, and start with the onion and oil. Stir until tender, then add garlic and cook for another minute. Add potatoes and cook uncovered for 20 minutes. Then add your sausage, and cook for 10-15 minutes until brown and snappy. Stir in corn and chilis and you're set.
Lemon-Dill Salmon
For that extra feeling of living off the land, imagine you just wrestled in the river with that salmon you picked up from the store on the way home. This will fill up the family and add a rustic layer to backyard dining.
Ingredients:
1 teaspoon of softened butter
4 six-ounce salmon filets
½ teaspoon salt
¼ teaspoon pepper
½ sliced medium onion
4 sliced garlic cloves
4 fresh dill sprigs
1 sliced medium lemon
1 tablespoon of fresh minced basil
Servings: 4
Total Time: 25 minutes
The simplicity of this dish will allow the flavors of the salmon to speak for themselves. Wrap the salmon filets in double foil with butter in each. Top the filets with salt, pepper, onion, garlic, dill, basil, and lemon slice and seal. Place the covered salmon filets over the grill or pan over the open flame and wait for the fish to flake, usually 8-10 minutes. Turn when necessary to avoid burning.
Perfectly Seared Hot Dogs & Chips
A longtime campfire classic, grilled hot dogs and potato chips are a kid's favorite meal and can be the easiest and most fun family backyard cooking experience. Each family member can choose their toppings for maximum satisfaction.
Ingredients:
1 pack of eight ballpark frank hot dogs or veggie/plant-based dogs
1 pack of white, wheat, poppyseed, or pretzel buns
Ketchup, mustard, relish, horseradish, etc. (optional)
1 chopped medium white onion
1 bag of shredded cheddar cheese
1 family-sized bag of potato chips
1 can of chili (optional)
Servings: 4
Total Time: 10-15 minutes.
The best part about this recipe is its simplicity. Use a stick to impale a hot dog and stick it over the fire to cook to preference. Toast buns by placing them on a sheet above the flame. For those who want chili, simply empty a can into a pot to hold over the fire until warm. Add the desired toppings and enjoy a simple, American backyard meal.
Grilled Spicy Corn On The Cob
Make the most of harvest season by cashing in on one of fall's greatest rewards: corn. This super easy, kid-friendly meal is a low hassle, satisfying take on an effective dinner option or side dish. Since corn is just coming off its peak season, it's prime for adding that wholesome element to any meal as we approach the holiday season.
Ingredients:
4 large ears of sweet corn, husked
¼ cup of melted butter
2 teaspoons of dried thyme
1 tablespoon of hot pepper sauce
1 teaspoon chicken bouillon granules
¼ cup chopped, seeded jalapenos
Servings: 4
Total Time: 25 minutes
Wrap each ear of corn in double-layered foil. Combine the other ingredients and then brush over each ear of corn. Seal tightly after sprinkling with a teaspoon of jalapenos per each ear. Place on a pan and grill over the flame for 15-20 minutes, while turning periodically. Open slowly after cooking and let sit before serving. This dish works as a substitute for fries for burgers, hot dogs, or other usually grilled items.
S'mores Aplenty
As if there was any doubt, the undisputed champion of fire pits or camping, s'mores allow for a fun, specific treat to using a campfire or open flame. The simple, delicious dessert is inexpensive, consistently good, and hard to mess up. S'mores are also customizable: try using white chocolate or dark chocolate for once or consider flavored marshmallows to spice it up a bit. Add honey or peanut butter to take your creation to the next level. Some like s'mores burnt while others like them lightly toasted. Generally, each person can tailor-make their s'mores to their liking, and they're usually a sign that fall has arrived.
Ingredients:
1 pack of honey graham crackers (eight sheets)
1 or 2 full-sized hershey bars broken into pieces (dark, milk, or white chocolate)
1 bag of large marshmallows (10 ounces)
Honey (optional)
Nutella or peanut butter (optional)
Jelly or jam (optional)
Strawberries or bananas (optional)
Servings: Varies (usually 1-3 s'mores per person)
Total Time: 2 minutes per s'more
Start by piercing a marshmallow with a stick or other instrument and holding it over the open flame to preference. Use one side of a graham cracker to hold the chocolate piece on, then place the cooked marshmallow on top of the chocolate to accelerate its melting before sandwiching the other graham cracker on top. Adding a banana slice or strawberry can take your s'mores to the next level.