Want to make your very own porch swing beds? You don't have to be an artist or a craftsman in order to make your own. You can purchase porch swing beds from retail outlets, or you can find free patterns on the Internet.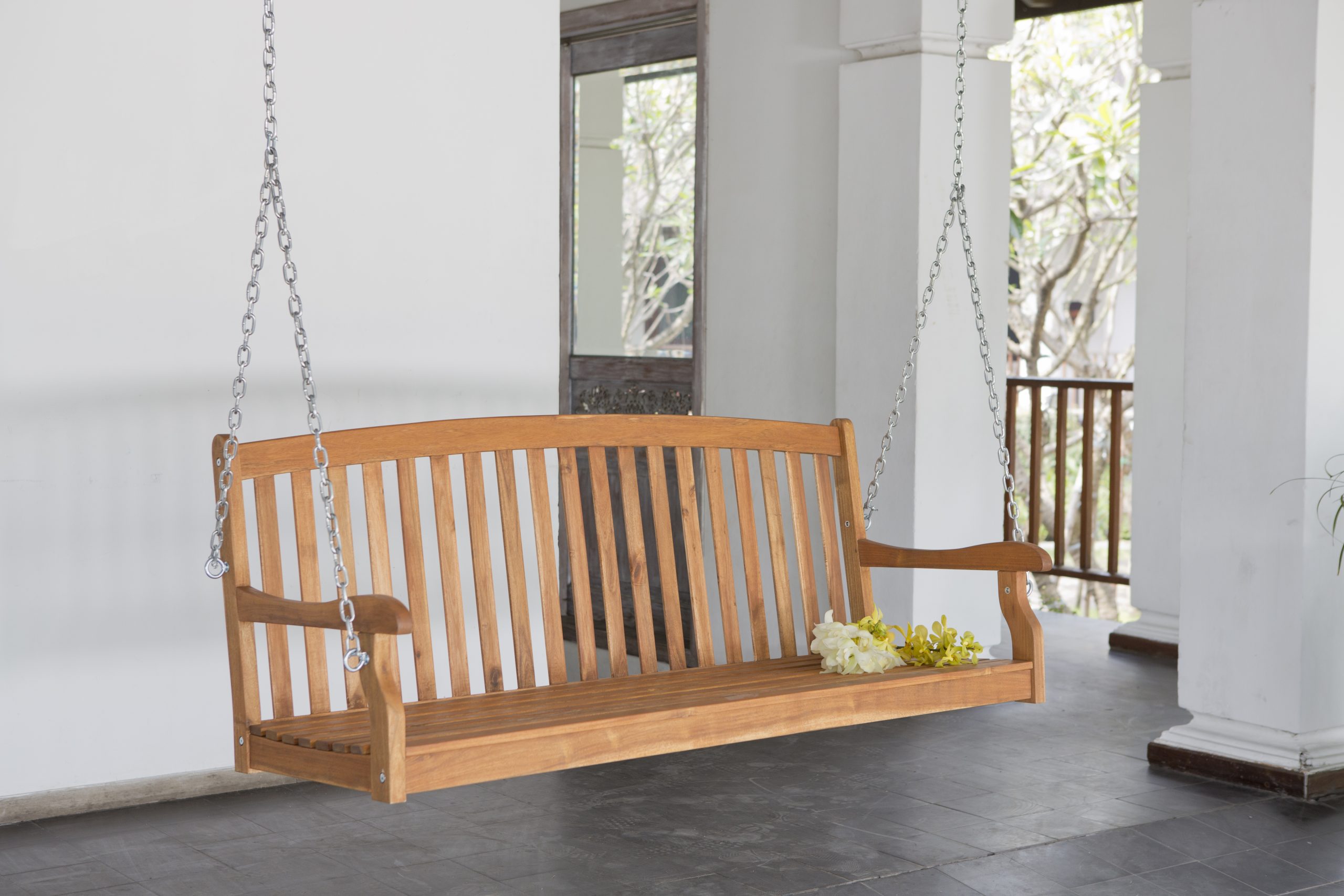 A porch swing bed can transform any backyard. Porch swing beds are larger than a regular porch swing and are sturdier than hammocks. They can be your perfect daybed if you're looking for a relaxing way of melting away all the accumulated stress after a very busy day. You don't even have to worry if you haven't designed a swing before because in this article are tips on how to design and build your own porch swing bed.
You need to have a plan before putting up your own porch swing bed. This includes where you want you it to hang, measuring the dimensions, choosing the materials, and setting up a budget.
You can either build the frame of your porch swing bed or purchase it from a local store. But, if you decide to build it on your own, start by measuring the width and length of the swing bed. Next, measure the distance between the two corners of the bed. This will be the center point for your swing frame. If you want a sofa bed, you can drill this center point and screw in a teak or wood screw. If you want a bassinet or cradle for your baby, you can make this same adjustment and drill the same spot. Be sure that your bed is sturdy enough to support the weight.
After you have your measurements and your platform ready, you can begin the construction process. Start by drilling pilot holes. You want to allow room for the headboard on your porch swing beds. Then you will want to screw on the frame, and attach the bottom rail. Afterwards, you can add the wicker to the frame and attach it to the center piece.
The next step is to build a slanting platform from which you can hang the canopy. It's easiest to just line up the canopy on the center piece of your bed and make the slanting platform first.
Choose A Frame, Finish, & Fabric
Choosing a frame for your porch swing bed is the easiest part. Choose your frame according to the style, function, and size that you want.
Consider what kind of functions you want from your porch swing bed. Do you want a porch swing bed that has support for pillows for reading and napping, or do you want a swing that is more entertaining?
The size is also a determining factor when it comes to choosing a frame for your porch swing bed. How big is the space in which your swing will hang? Porch swing beds come in different sizes from compact to large.
As for the finish, make sure that it'll complement the style of the space where the porch swing bed will hang. You can even match the finish with the existing furniture in your backyard patio, or choose a contrasting finish to add visual interest.
When it comes to fabric, choose a neutral one. A neutral fabric for your porch swing bed will allow you to change the accessory pillows as seasons change. Neutral-colored fabrics such as gray, ivory, khaki, and white can stand the test of time.
If you have kids or pets who will also use the swing from time to time, it's best to opt for a neutral fabric with a little bit of texture on them. This can help hide wear and fur from your pets. Also, choosing a textured neutral fabric can also add visual interest to your swing.
Add Porch Swing Accessories
Once your porch swing bed is up and hanging, you'll want to add some accessories to make it look appealing and relaxing.
If you like to have your morning or afternoon coffee while gently swinging, you'll want to get a cup holder for your swing bed. You can attach the cup holder on the left or right armrest of the swing. If you're going to hang your swing bed outside, you'll need to get a waterproof swing cover to protect it from rain, sun, and snow. You can also add pillows and a foot rest to your swing bed to make it comfortable.
Final Thoughts
A little bit of planning goes a long way. Of course, if you follow these tips for designing your own porch swing beds, you'll have a great-looking piece of furniture, and you'll have learned some very helpful design techniques as well. Just make sure that the measurements you take are accurate and that you get an appropriate piece of wood for your porch swing bed. You will also want to consider the amount of space you have because you don't want to have a big yard only to have a small bed. But, if designing and building your own porch swing bed is too much for you, you can always opt to buy one. There are plenty of porch swing beds to choose from online.