Man is a tool-using animal. Without tools, he is nothing, with tools he is all. ~ Thomas Carlyle
Tools are always an essential component of humankind eternally since the Stone Age. Although in the olden times they were used to get desired end-products, the type of jobs that could be prepared with them was restricted and more physical effort was required.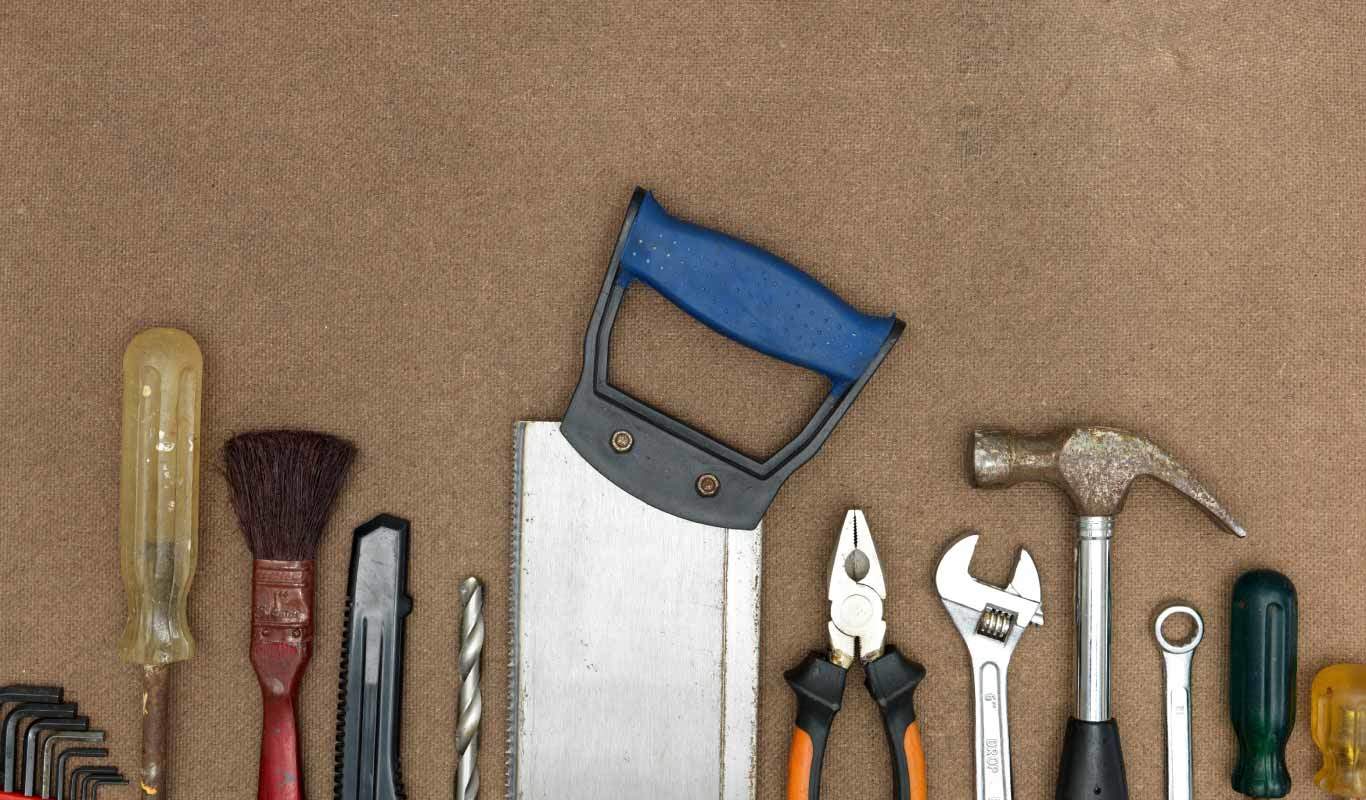 But, nowadays, tools are particularly significant assets in our everyday lives, and also, they are easier to use (even for women). But they also help us to carry out a wide variety of tasks, kitchen-related, be it plumbing, electrical, and so on. These household tools not only reduce the amount of effort needed however tools also help to complete the work fast and ensure accurate end-results. Many house owners and DIY-lovers comparably have an array of toolkits that could make some of us, who want to become like them, go green with envy.
Apart from the skill level one of the best things a new house owner should do poses a well-stocked tool kit with all the necessary hardware tools that will help you to take care of tiny tasks by yourself and ultimately save your valuable time and money; with the lack of tools, you'll be unable to perform the simplest jobs on your own.
Apart from home maintenance responsibilities, you can also start on different home improvement plans like renovating your external or house interior set up. Once you are victorious in your first plan, you may grow interested and try out all kinds of various plans and over the time you may obtain many tools in the process as you continue getting better and better by using them.
To assist you to start off, we have prepared the basic tools everyone must have at your home, from power tools to hand tools and other essentials.
#1 Screwdrivers
This is one of the significant tools that you need to keep with you, they must be of different sizes which can do any work. They regularly come in Toolkits, which have a wide variety of Philips Head and Flat Head, which are the most generally used all around the world. An upgrade for this is to have a magnetic screwdriver which will help you to pick up a screw when it falls in a narrow space and you don't have any other way to pick it up.
These days even Ratchet types are available so even the amount of force needed to apply is minimum. Always choose insulated handles as it is secure and also comfortable even to perform electrical works.,
#2 Measuring Tape
This is very necessary for the basic purpose because it helps you to measure everything practically. Like, when you plan to install an appliance on the wall, or for some other purpose, this will assist you to measure and drill the holes correctly. They come in different sizes, based on your requirement.
#3 Duct Tape
This is the available strongest tape which can be used for various purposes such as momentarily sealing a broken pipe or for covering any other damages. It is unbelievably cheap, extra sticky, and super thick. This will determine its beneficial in the time of need.
#4 Hammer
Hammers are used for varied purposes, such as chipping a wall, hammering, and pulling out nails, or even used for destroying a full wall. Discover a good quality hammer that is covered with a vibration-absorbing substance that helps to save your hands from sensing the vibration while you hammer and prevent your muscles from getting sore too quickly. ensure that the top of the hammer is smooth, as opposed to having anything engraved on them, and it should have a curved claw, this will help you to pull open or extract stuck nails.
#5 Pliers
There are various types of pliers, each has its own use. These are typically used to hold small things that cannot be easily managed in our hands, and also used to draw out nails, and turn metals back to shape. They are even useful to peel and connect electric wires. Always ensure to buy a set and do not waste time to buy only one.
#6 Wrenches
This is a must-have in any home which is required to tighten or loosen a nut. Having different sizes and various combinations helps you to manage hex nuts, making it helpful and easier when you require service or repair appliances or anything. Also, you can find various types available like in socket and ratchet to make the work more relaxed. An Allen Key wrench is also feasible that will significantly reduce your work.
#7 Utility Knives
The main purpose of the knives is to cut through the substance. Owning a good quality modern knife will help you to easily cut, remove gas pipes, heavily taped bags, or other rubber tubes, and to scrape away gum or paint. This is a multi-purpose tool that will help you in the time any hassle or emergency.
#8 Flashlights
We have all forgotten another important tool i.e.., Flashlights, with the arrival of smartphones we are able to use the small light provided in the phone. But when the lights go out suddenly or you require powerful light to examine around, you will need a trusty LED flashlight that cannot be beaten.
Maximum batteries will work on alkaline or rechargeable batteries. But reusable flashlights charge a little more, and quick charging will pay off in a long way. It's also essential to consider having several various size spotlights on hand in several rooms in case of emergencies.
#9 Extension Cord
A comfortable and secure way to power electric appliances, these extension cords are perfect for distance jobs. One end has a plug and another end with the socket, extension cords are available in various types of lengths and sizes. you need to always select the extension cords according to the job size, length, and wire gauge.
#10 WD-40 Spray
WD-40 Spray is a particularly important tool which helps you to save time and effort and also acts as a cleaning agent. It helps in loosening a rusted bolt and a metal surface filled with rust easily. They are very handy, and the uses are endless, so it is a must-have in your home.
#11 Power Drill
If you need to have one power device in your home, then a Power drill is a must. one of the simple purposes is to drill holes on various broadness, but it also has a reversible option and different speeds which indicates that it can work as an electric screwdriver and it also acts as a buffing machine which helps you brighten your car like a grinder, new and also sander. The ones with the cord are more affordable and powerful, while the cordless ones are much extra costly.
#12 Circular Saw
Circular Saw is one more powerful tool that everyone must-have in their home. Which will help you cut, pipes, wood, and tiles. It is also used for multipurpose and has the ability to cut material of any width with great accuracy and make your work easier.
#13 Drain Unclogger
This is a must-have in your bathroom. It is extremely helpful when your bathroom starts to flood, and you have to unclog the drain. Often this tool is ignored while purchasing essentials for your home. Therefore, next time when the drain gets unclogged just use the unclogger to restore the toilet drain.
The Final Take
Tools are a one-time investment and also for which you don't require experts for these manageable jobs, by performing small repairs or home renovation tasks you will also be able to save a lot of money.
However, do not limit yourself to above-mentioned tools. These mentioned tools are great to start your journey for home maintenance & improvement and help you while relocating to your new home. While shifting your home there are multiple tasks such as dismantling furniture, refrigerator, and other appliances etc.
Some of these tools would be helpful to perform the task, or else hire a home shifting service provider in Pune or in your particular city who can perform all these tasks without any hassle. Expert moving company will possess all the required tools to complete the job from start to end of your relocation.