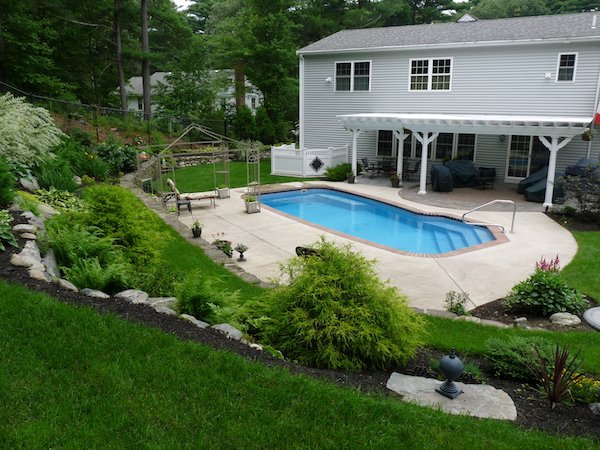 Do you live in Texas and are planning to install a swimming pool? Regardless of where you may be in the planning process, a swimming pool is a major home investment. With that said, you'll want to do your due diligence when it comes to ensuring that you get a pool that is ideal for your situation and in regulation of Texas zoning laws. But, just like any investment, the key to being successful is to do your homework first. Luckily, we've done the homework for you and provide a list of things you should consider before installing a swimming pool.
1) What's The Reason Behind Your Desire For A Pool
It may seem like a mundane question to ask but, it really should operate as the primary factor that you operate on when it comes to getting something that you will truly love. In fact, many home renovators start by documenting the reasons why they wanna pursue a given project. Your reasons for getting a pool should have direct influence on the depth, shape, size and type of construction that you should pursue. For instance, will it be used for personal recreation or is it more for the children? Once you have a clear set of reasons, you will be able to sort out the other aspects of getting a pool more easily.
2) In-Ground Or Above-Ground
In-ground and above-ground pools have their own distinctive sets of pros and cons. For starters, soil excavation is expensive when it comes to inground pools. But, in-ground pools have a more permanent feel to them than their above-ground counterparts. But, in the same breath if you live on a property that is particularly steep, excavation expenses could be more expensive since the process of excavating soil on steep grounds takes longer and is more difficult for contractors. If you have surrounding accommodations on your property such as a deck, this should be taken into consideration as well. Installing an inground pool amongst various sheds, decks and garden spaces may make your yard feel cluttered in comparison to an inground pool which would provide more access in a situation like this.
3) Establish The Right Kind Of Budget
Most people only think of the initial expenses of getting a pool. Very few ever consider the expenses that are associated with maintaining it. When you establish a budget, maintenance, accessories and longevity should be considered. Therefore, it's highly recommended that you consult with a financial advisor on the feasibility of you being able to maintain the expenses that are associated with the pool, with your current income.
4) Fiberglass Or Concrete
Fiberglass and concrete are the top 2 most commonly used materials. When it comes to durability, steel reinforced with concrete has traditionally been viewed as being the strongest. But advances have been made in fiberglass technology that has improved its strength and longevity. The construction of a concrete enforced pool can take as much as 3 months. While Fiberglass can take as little as less than a week. However, concrete provides more flexibility in size, depth and shape. And, the interior portions of a concrete pool are more varied such as marble plaster, pebbles, tiles and quartz. Fiberglass poles are pre-molded beforehand and positioned in a hole that has been excavated or set on the ground with the utilization of stiffening supports.
5) Evaluate Your Contractor
The State of Texas stipulates that every Austin Texas Pool company has to be licensed and insured to install pools. The prices associated with an off-label contractor can be alluring but, beware. If anything goes wrong with the construction process, without insurance, you will not have legal standing to take said individual to court, who will view the entire transaction as being illegal. By working with a reputable contractor, you can be rest assured that they will assist you if any issues manifest themselves. And, you can be rest assured that your pool will last as long as stated in the warranty.
6) Landscaping
Most people strive to improve the aesthetic value of their yards once they install a pool. Therefore, don't forget to consider using landscaping services in addition to installing the pool. Features such as lighting and other accessories can enhance the aesthetic pleasure that a pool provides.
7) Compare Prices
Once you find a set of contractors who you find interesting, it's highly recommended that you compare quotes. However, the primary thing you should remember is that most affordable could also mean, most problematic. Therefore, do not look to work with a Austin Texas Pool company who gives unbelievably low rates, but rather, one who offers very competitive rates that are more realistic with industry standards. In addition to that, ensure that contractors include the expenses of everything when they make their initial bid.
8) Texas Zoning Laws
Each state as a given set of zoning stipulations that dictate the legal way one can install a pool. These laws were created to avoid instances of accidental drownings and other disastrous scenarios from occurring. Failure to adhere to these stipulations can lead to fines and the removal of your pool at your expense. Some of the things pool zoning guidelines stipulate include the height of the surrounding fence, enclosure, the width of openings, the utilization of handholds footholds in certain areas and the features of the gate. When it comes to how to build the pool, you will have to check the state's zoning laws.
9) Eligible Site
The expenses you face will be partially dependent on the quality of your site. Said in simpler terms, certain conditions such as having a yard that is very rocky, sandy or unstable soil can make the building process more complicated and subsequently more expensive. In addition to that, if the property is steep, construction expenses will be significantly higher. But in general, the location and size of your property will determine what size, design and shape you are able to get. For instance, urban sites have more strict requirements than rural sites. This is especially the case when it comes to positioning a pool within close proximity of property boundaries.