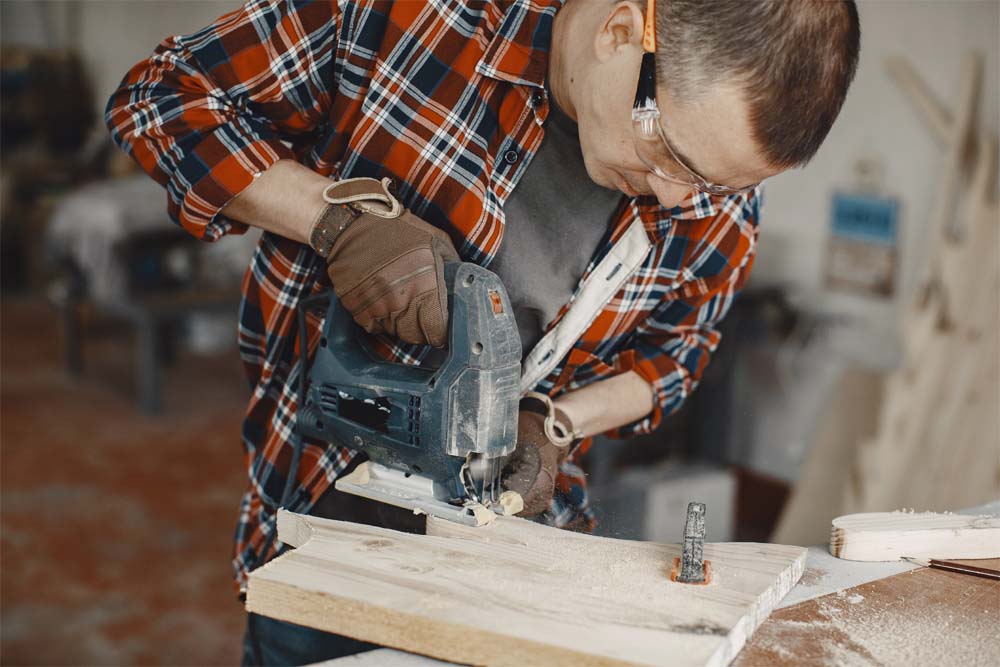 Cutting hard materials with great finishing is undoubtedly a challenging task. But when you have a Jigsaw, it just becomes a piece of cake.  People say, "It is not how you start but how you finish. Finish strong!" And with the right jigsaw, a strong finish of your project is just one step away.
Jigsaws were first introduced in the 19th century. However, the modern jigsaws arrived in the market in 1947 by Scintilla AG. The tool is a combination of motor and reciprocating saw blade.
Adding a jigsaw to your inventory could be a wise choice to make things easier for you. So, now you must be wondering, what is a jigsaw used for? Let's dive into the detail.
What is a jigsaw?
Making fine cuts in hard-objects such as woods or metal is not child's play. You can't get precise cuts with great finish using traditional saws. And that's where jigsaw appears as the savior. So, what is this jigsaw?
It's an advanced saw that works by using a reciprocating blade to make irregular curves. It has an electric motor and reciprocating saw blade that helps you to make cuts in woods and metals with great precision.
Jigsaws that come with beveling functions are capable of cutting angles normally up to 45 degrees. To make the jigsaw functional, you got to attach a blade with it. And this blade has two different variants one is a T-shank blade and the other U-shank.
Types of Jigsaws
Jigsaws come in various types depending on your need. In general, Jigsaws have four different types such as Straight-Reciprocating Jigsaws, Orbital-Reciprocating Jigsaws, Top Handle, and Barrel Grip. In this section, we will talk about top handle and barrel grip types.
Top Handle
Typical jigsaws come with tall and large handles. The shape is somewhat like the letter "D." You will get a basic finger-trigger inside the hand loop. Which is used in controlling the saw. You can comfortably wrap around your hand to the grip.
Barrel Grip
This is comparatively a newer design. Using this jigsaw, you will keep your hand lower to the object you are working on. That gives better control so, you don't have to be worried about tipping the saw and skewing the blade's path. For operating the barrel grip jigsaw, you get thumb switches.
What is a Jigsaw Used For?
Jigsaw is one of the easiest tools you can use. You don't have to be MacGyver to use this tool. Even a 10-years old kid can operate it quite effortlessly. This multipurpose tool can bring a new speed and enthusiasm to your work life.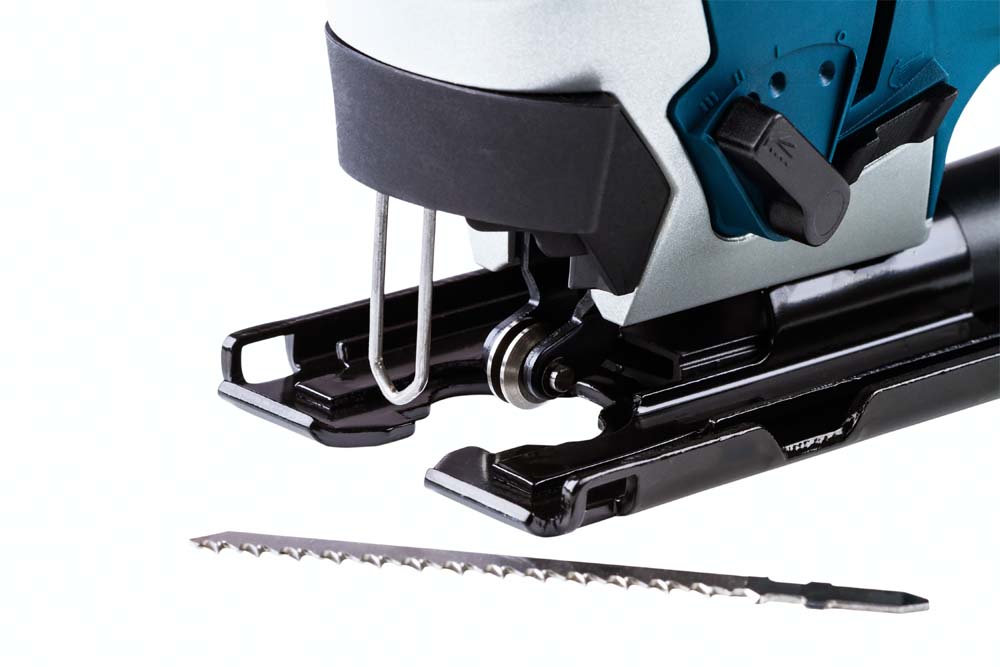 You can make cuts on woods, plywood, countertops, ceramic tiles, metal sheets, concrete, soft materials
even a pumpkin!
For better result you need to use a best jigsaw blade based on the type of cutting job. Just change the
blade and enjoy the great performance of your jigsaw.
Let's get into the details.
Cutting different type of wood & plywood
A jigsaw can be your trump card in cutting wood. Most professional woodworkers around the world have been using this tool to cut curves on woods as this tool is designed specially to make great cuts in wood.
No matter how complex design you have drawn in your workpiece, the jigsaw can get it done like a pro. This is somewhat like a magic machine that brings your imagination into reality. Jigsaw is also great at cutting plywood with smooth edges.
Cutting Ceramic Tiles
When it comes to cut ceramic tiles, a jigsaw can be your loyal assistant. In order to cut ceramic tiles, you will need the carbide-grit ceramic blade. However, if you want to cut tiles using a jigsaw, that's quite effortless as jigsaws cut tiles like a katana on a pancake.
Cutting Soft Materials
Jigsaw offers a special blade that can cut soft materials quite smoothly. You can cut cardboard, carpets and, leather with great precision using a jigsaw. When using a regular utility knife, you don't get many smooth cuts and, that's where a jigsaw appears as a gamechanger.
Cutting Metal Sheets & Aluminum
Do you love making designs on metal sheets? Well, then you must have a jigsaw. With a good jigsaw, you can make your dream cuts come alive on the metal sheets. No matter how complicated the design is, there's nothing to worry about when you have a jigsaw.
Concrete Cutting
It's amazing that a jigsaw can even make cuts in such rigid materials as concrete. But we should let you know that; it won't be possible to make cuts in all types of concretes out there using a jigsaw. It's going to work only on porous concrete and fiber cement.
Safety Tips for Using a Jigsaw
A jigsaw is a powerful tool with an advanced motorized, reciprocating blade that is widely used in the construction industry. Besides that, many woodworkers and DIYers use this tool for their projects.
As you are going to have to operate this tool using your hand, you got to be cautious about the safety regulations, especially when you are a beginner. Down below, you will find everything you need to know about safely operating a jigsaw.
Always avoid jigsaw in a wet environment as it's an electronic device. So, if you are not careful enough, you accidentally get yourself shocked. And that's why you should operate the jigsaw in a dry and covered environment.
A jigsaw can even cause a fire to erupt! Jigsaws are meant to be operated in RCB circuit breaker. If you connect it with a non-RCB circuit, the extra supply of power may cause a fire to erupt or end up shocking you.
A laceration is a typical injury people often get when operating a jigsaw. To avoid that, use a jigsaw that has a sharp blade as dull blades tend to do kickback. The best advice is always to wear Kevlar-lined gloves when using the jigsaw.
Read the user-manual attentively before starting the jigsaw for the first time.
Wear PPE personal protective gear for maximum security.
Final Words
So, what is a jigsaw used for? You can see clearly how much of a versatile and effective tool a jigsaw is. You might be thinking, well, a jigsaw is going to cost a lot of bucks? I better stick to my traditional tools as they are getting the job done.
You know, in today's world, "time is money." So, you got to find as many efficient ways as possible to accomplish your tasks. When you are a woodworker or carpenter, a jigsaw can save you from a lot of hassles. And most importantly, saving your precious time.