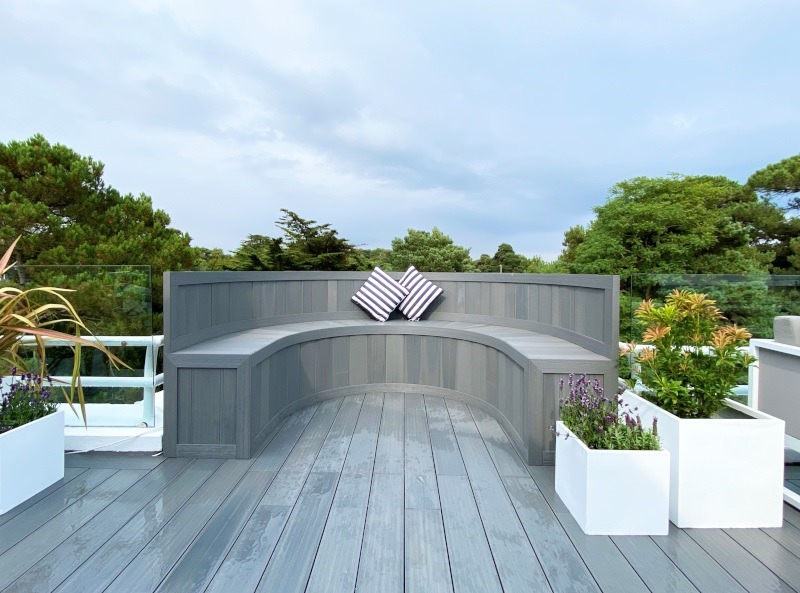 Modern, lightweight, and demanding little in the way of time and attention – there are few materials more loved for the garden than composite decking.
In so many instances it outstrips the traditional alternative of timber. Which got us wondering…
…if composite boards make such a great alternative for decking areas, what else could they be a superior substitute for?
Whether you're seeking inspiration to make use of leftover boards, or just intrigued to find out how else composite could be put to good use, read on to discover 'alternative' uses for composite decking.
8 unusual (and useful!) uses for composite decking
#1 Seating
Garden furniture that can stay out all year? Now there's a good idea.
Incorporate seating into your decking design to create a simple stylish sitting area that doesn't need repainting and is super easy to keep clean.
#2 Play areas
Playhouse, sand pit, toy zone – all these things sound like a great idea at the time but when it comes to keeping them in a safe and usable condition the appeal quickly lessens.
Not so with composite decking.
Use these boards and thanks to their durable nature you can be confident of a safe play space (no risk of painful splinters, no worrying about rotten panels) without making extra work for yourself.
#3 Storage
No one wants to stare at the bins. If you haven't got room to shuffle them out of sight, why not use composite boards to conceal them?
Build a bin storage area and not only will you be able to shield bins from view, but you'll also protect against wafting bin odours. Even better – if there are any spillages – boards are easy to wipe down and clean.
And why stop at bins? You can use composite decking to create all manner of storage – great for garden toys, cushions, and other garden paraphernalia you want to store close to hand.
#4 Landscaping
Window boxes, raised beds, planters, tubs – using odds and ends of composite boards to create interesting features is great idea.
Moisture and mould resistant, and hardy to frost, you can fill them with colourful blooms all year round without the worry of rot setting in.
#5 Walkways
You'd be surprised how many people don't think of this as an option, but composite boards make a great garden path.
With built-in grip, use boards to create an accessible link from the house across the garden, connecting areas such as the shed or garage straight from your door. At this time of the year, not only does this avoid slipping and sliding on wet grass and getting your shoes covered in mud, but it also prevents the grass from getting trampled on and ruined.
#6 Birdhouse
Even if you're not an avid birdwatcher, attracting more wildlife to your garden is still a good idea. And rather than opting for a traditional wooden birdhouse or feeder why not build one from composite boards?
Not only will this mean there's no painting required, but your creation will stay looking as good as new for many years to come, creating the perfect retreat for feathered friends.
#7 Shelving
Whether it's a spot to hold herb pots, a place to perch glasses when entertaining outside, or a space to create a trendy 'indoors out' look with ornaments and prints – shelving outdoors can add real design flair to outside space.
#8 Outdoor bar
If you want to get really creative, why stop at shelves? Composite decking can be used to create a full outdoor bar – perfect for summer barbeques and socialising with friends.
Go all out with overhead shelter and you can enjoy last orders whatever the weather.
Get creative
Feeling inspired to get creative with composite decking?
This is only the start – with composite decking the possibilities are endless.
For more inspiration, or to order composite boards, check out HR Composites. With no minimum order restrictions, whether you're revamping your patio area or planning to get even more inventive, their friendly team are on hand and ready to help.