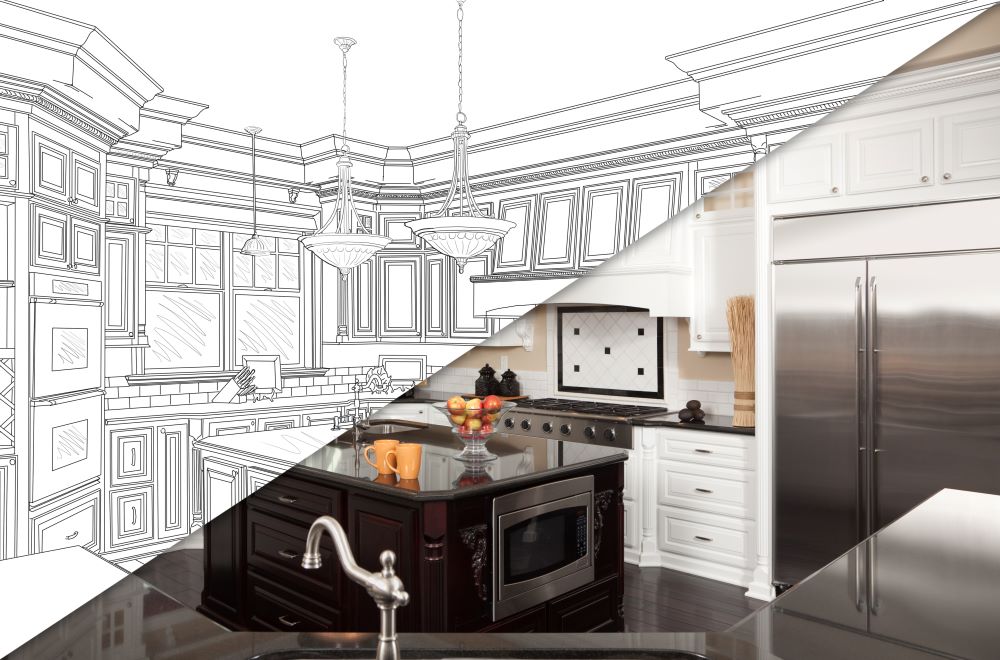 Let's be real for a moment, home renovation is expensive! It's not just fixing one broken pipe or redoing the faded and out-of-date paint. It's a juggle between choosing the right fittings, floorings and interiors. Some major interior renovations require the help of a contractor too. However, the results are always worth it. You can turn any room into your dream room.
The trouble is, renovations can be costly. From the materials, right down to the labor, everything adds up pretty quickly. For example, renovating a kitchen costs anywhere between $12,567 to $34,962 on average. That's a good chunk of change! That's why we want to help you find ways to save up for your next home renovation.
Let's unfold the secrets
Start An Account Dedicated to Renovation
There are so many benefits of starting a dedicated account for your major home renovation.
A goal-dedicated account allows you to be more conscious of your funds, you'll start avoiding unnecessary expenses because your money is already going somewhere and you'll always have an untouched stash of funds at your disposal to steal the bargained deals as you spot them.
Talk with your bank and get one set up. You can opt for a traditional savings account, or you can make your money work for you by investing some of it. While investments can be a gamble at times, they are a proven method of growing your wealth to help with major projects like a home renovation.
Also, saving some money outside of your regular savings account will help you stay organized when you're looking over your funds.
Reuse or Restore Your Old Stuff
We understand how tempting it is to swap every old item with a new one when you are renovating, but it can really take its toll on your finances. If your appliances or cabinets are old and damaged, then you may not have a choice. However, you also may be surprised what some new paint and hardware can do to older pieces!
Cupboards, pillows, sideboards, etc can be restored with new paints, stains, and fabrics to breathe new life into something old. It's something you can do yourself too, so you won't need to spend more money on your contractor! In fact, in most cases, all you'll need is a screwdriver, a couple paint brushes, new hardware such as door knobs and hinges, and the paint/stain of your choice.
If your old stuff simply doesn't have a place in your home, consider selling it! There are plenty of crowd-source online resale options out there. Plus, what money you make can be put right back into the renovation!
Buy SecondHand Too
Not everything needs to be new. While you're selling your old things, look to buy from others as well. You'd be surprised what you can find online! Refrigerators, washers and dryers, wood, flooring, antiques, furniture for every room, and even the bathroom vanity can all be found at heavily discounted prices on resale sites.
Just remember to check it over before you buy it!
Calculate Your Budget Upfront
It's impossible to save money if you don't have a set budget in mind. Before you hire your contractor, always talk shop. Get down to the nitty gritty and ask them for an estimated cost on the entire project. They'll be able to walk you through their fees, the labor, and the cost of the materials.
This is a great opportunity to save money. You can bid out contractors to find the best price for you, as well as cut back on some material costs by buying it yourself, or not choosing designer/top-of-the-line labels. We often find that the mid-tier options look and function the same as most of the higher end models!
If you don't know where to start with hiring a contract, check out companies like The BC Team. You'll want to find someone who is well-established in your community, with a long history of home renovations and great customer feedback.
Focus on Long Term Sustainability
You're probably looking to redo your home because it isn't checking off all of your boxes, right? The kitchen isn't your style, the master bathroom is outdated, or the foyer just really needs some work. But what about sustainability?
Try to make sustainable upgrades that will have a long-term impact on the overall living conditions and value of your home. While these investments are usually more costly upfront, they are proven to reduce monthly utility bills. In fact, Energy Star-certified windows can lower your home's energy bills by up to 15%! More specifically, it can reduce energy costs and water bills. Look into double-paned windows, SMART thermostats, tankless water heaters, and more to help save you money down the road.
And that's it! Saving for a renovation is a big task, but there are ways to help you offset the cost and fund it upfront. We hope this blog helped you!