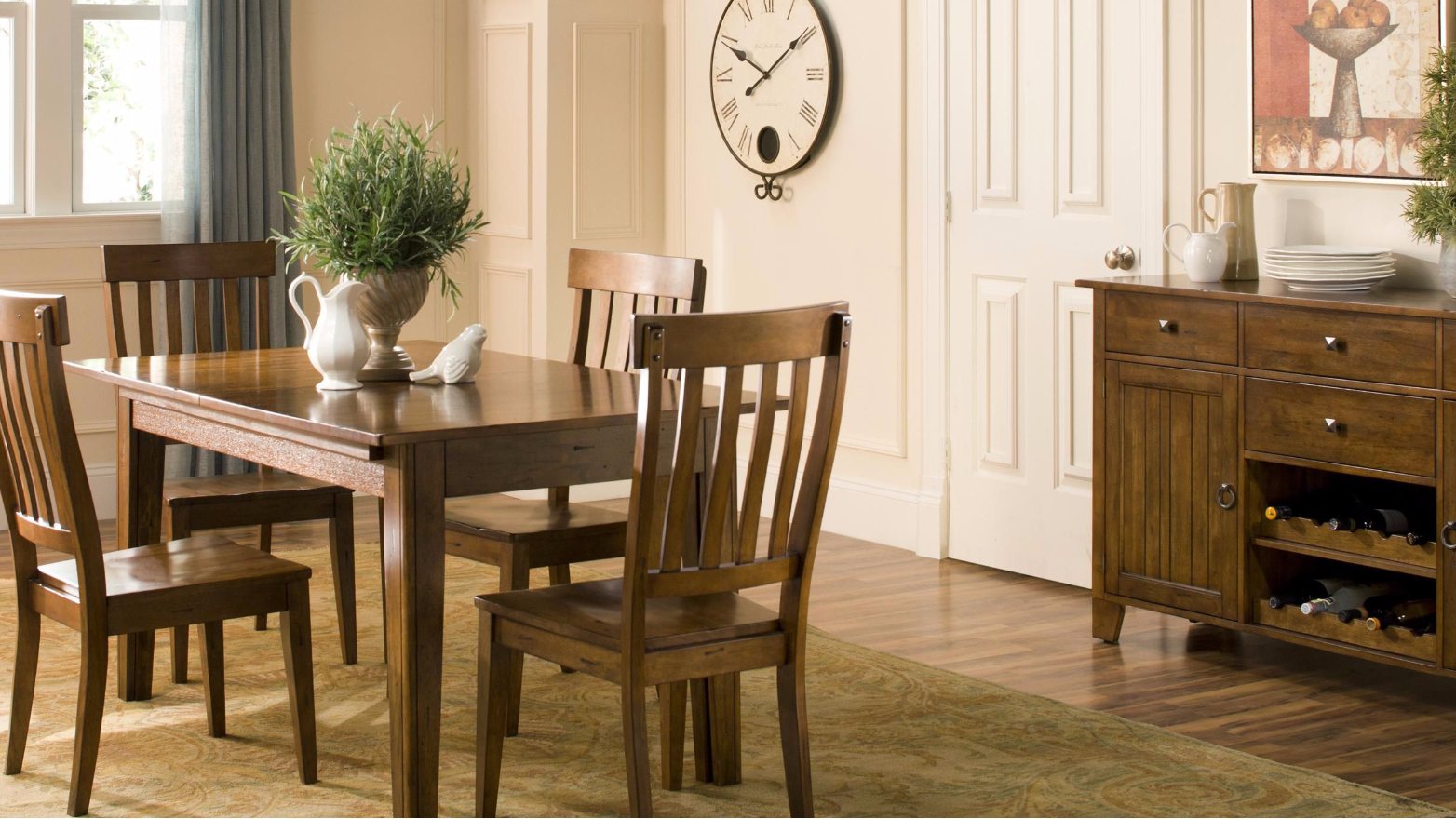 Many homeowners prefer dining tables made of solid wood because they are durable, easy to maintain, and aesthetically appealing. But there are numerous things to keep in mind when choosing a solid wood dining table. Although it ultimately depends on your dining space and what you want to achieve, we'll look at the primary considerations you need to make before choosing your dining table.
Best wood for dining tables
If you decide to go with a solid wood dining table, there are many options for you in the market based on the overall interior look you want to achieve. A new trend in the market is the extendable dining tables that bring in the versatility of small and large dining tables. They are compact in their basic size but can be extended to a larger size to host more guests.
Keep in mind that any wood needs maintenance to keep it in good condition. Also, moisture is the number one enemy to the wood, so it's best to wipe any spills right away or use table mats when in use.
Oakwood
Oak is popular as a hardwood that can withstand constant use, and it also has a distinct beauty that is hard to replicate. Oak trees need a more extended growth period to mature, making oak wood expensive than other solid woods. But the good thing about it is that the longer growth period produces dense and strong wood perfect to withstand the test of time. Oak extendable dining tables are quite the investment that will serve you for many years to come, and they come in both light and dark shades.
Walnut wood
Walnut dining tables stand out from their distinct dark and bold look. They come in shades varying from dark chocolate brown to light chocolate. Walnut is one of the popularly sought-after woods, so a walnut dining table can be slightly expensive. However, it is known for being hard and dense, making it perfect for dining tables.
Pinewood
Although pine is a slightly softer wood, it comes in gorgeous shades from creamy white to yellow. It is a cheaper wood than oak and walnut but is still hard-wearing and durable. It has a light color making it easier to stain to achieve your desired look and match the rest of your interiors. It is also lightweight. Hence, you can move your dining table with ease.
Best wood dining table finishes
The best thing about purchasing a dining table is that it can be customized to match your interiors and suit your style. Applying a finish to your wooden dining table is one of the ways of customizing. A finish is a unique liquid used on the wood then left to dry to form a protective layer. It can also highlight the color of the wood or transform it depending on your needs. Let's look at various types of wood finishes and their pros and cons.
Wood oil
One of the options for finishing a wooden dining table is wood oil. Wood oil maintains the natural texture and feel of the wood and adds a protective layer against spillages. However, frequent reapplication is required, especially with regular use of the table. Wood oil also adds an unmatched sheen to your table, highlighting the grain and texture of the wood.
Varnish
Varnish comes in the form of a sticky liquid that dries hard on the wood surface when applied. It cures into a hard, shiny layer sealing your wood table against dirt, stains, and spillage. Because of its hard-wearing nature, applying varnish means you cannot feel the natural texture of the wood. The best thing about varnish is that it lasts for many years, so you don't need to reapply it; hence great if you need a lower maintenance dining table.
Wax
Wax greatly enhances the grain of the wood and fills any voids in reclaimed wood. But a dining table with a wax finish requires the most upkeep, and the wax needs to be reapplied every six months to ensure maximum wood protection. Thankfully, hard wax oil is more durable than wax and provides a tough finish on your dining table. It can last for a year before it needs reapplication.
The bottom line
The greatest advantage of solid wood dining tables is that they are durable, and you can apply a new finish to enhance their look.