With the lockdown and recent COVID developments, the idea of spending your nights out on the town has become a distant memory. We are all forced to spend a lot more time at home than we have previously. In the past, weekends were spent in retail settings or having a nice meal at a restaurant, but now they are spent sitting at home with family and loved ones.
With all that extra time at home, why not plan out a new renovation project with a Toronto landscaping company?
While no one enjoys having to spend all of their time at home, you can make the experience a little less painful with a beautiful new deck that you can use during your leisurely time or work hours if you work from home.
M.E. Contracting is a Toronto landscaping company committed to creating a backyard you'll love. Over our many years of experience, we have worked on various projects. From big to small, from high-end to cost-effective, we have worked on a host of diverse projects. Our expert design team will work with you, so you get the backyard of your dreams. We offer professional landscaping services, pool construction, outdoor kitchens, decking, and more.
To give you a good idea of what M.E. Contracting, the premier Toronto landscaping company, can do for your backyard, we have picked one of our favourite recent projects.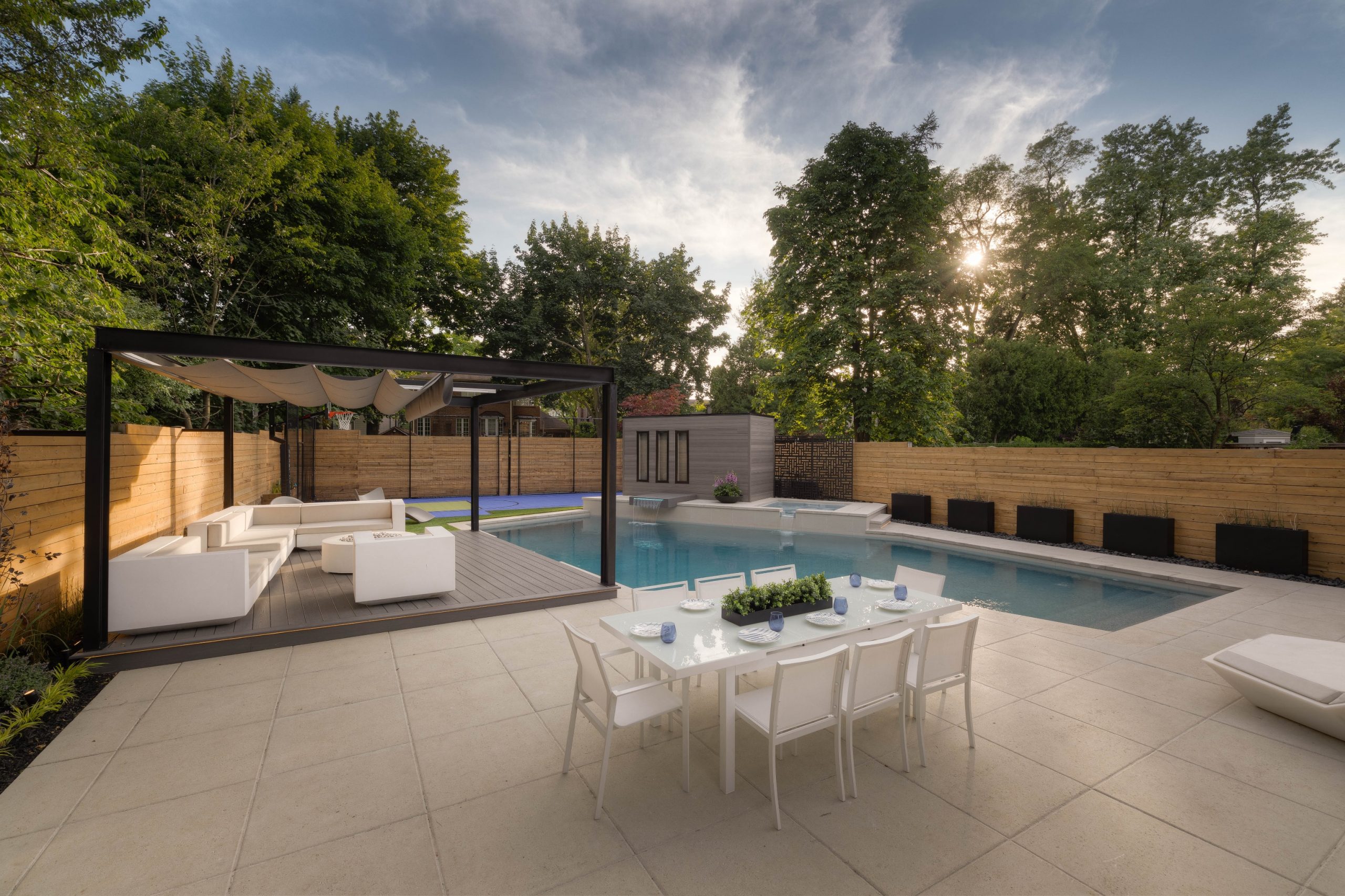 An Exceptional Toronto Landscaping Company Project
This Toronto client wanted to transform their landscape to create a breathtaking backyard where they could enjoy countless nights. Here are all the features added to this property to make it stand out:
Fibreglass Pool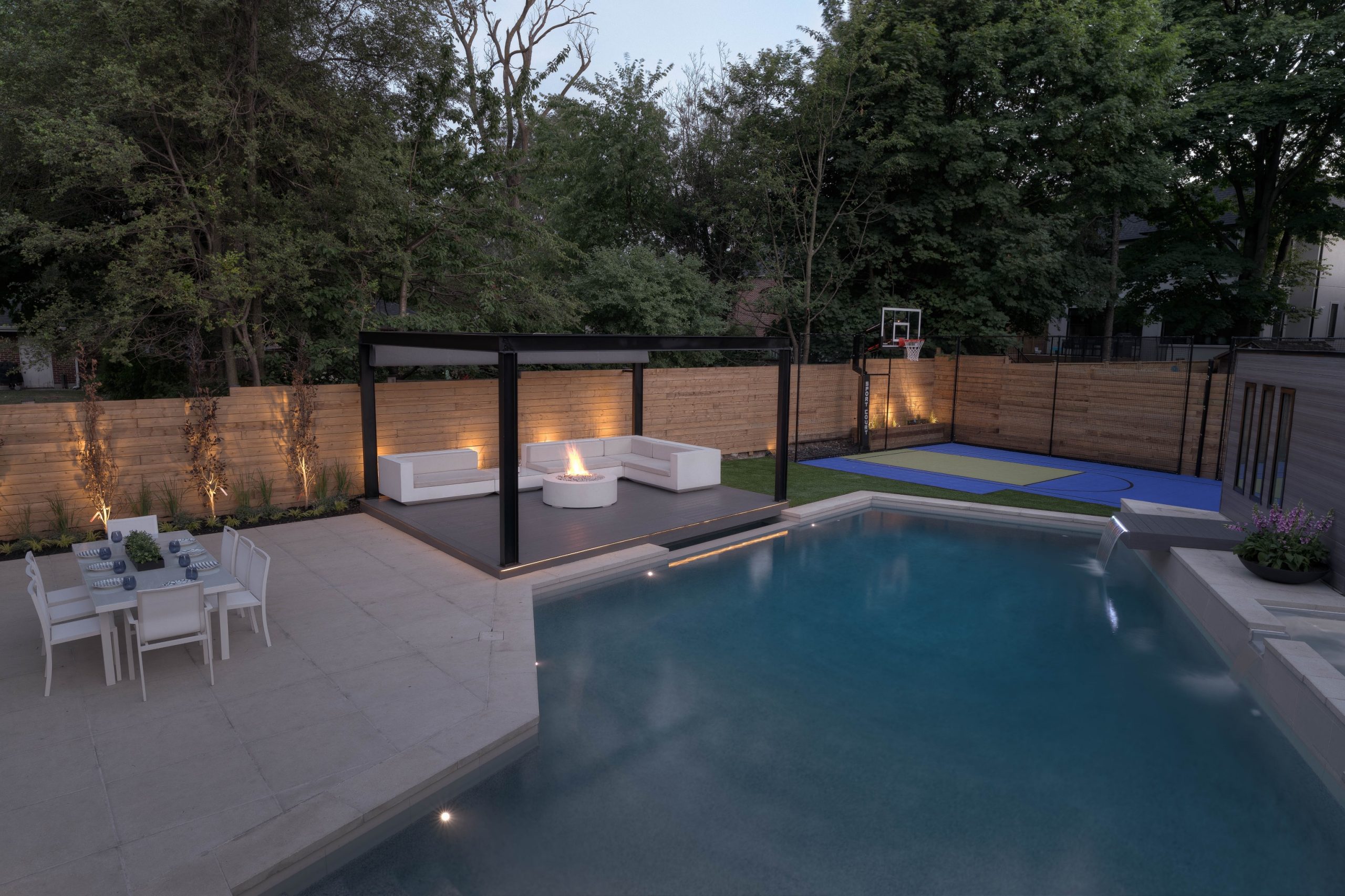 At the center of the property lies one of our magnificent fibreglass pools. Our fibreglass pools are incredibly durable and can last well over 30 years with minimal need for maintenance due to the construction, including algae resistance surfaces and a crack-resistance structure.
Additional features of the pool include a jacuzzi that pours water into the pool to heat it and a splash pad. We also added a small shower and washroom to accompany the pool to allow them to change/shower without going inside and possibly causing a mess.
Our Toronto landscaping company have built countless pools, all ranging widely in style and size so you can feel confident leaving your trust in us.
Poolside Deck with Retractable Gazebo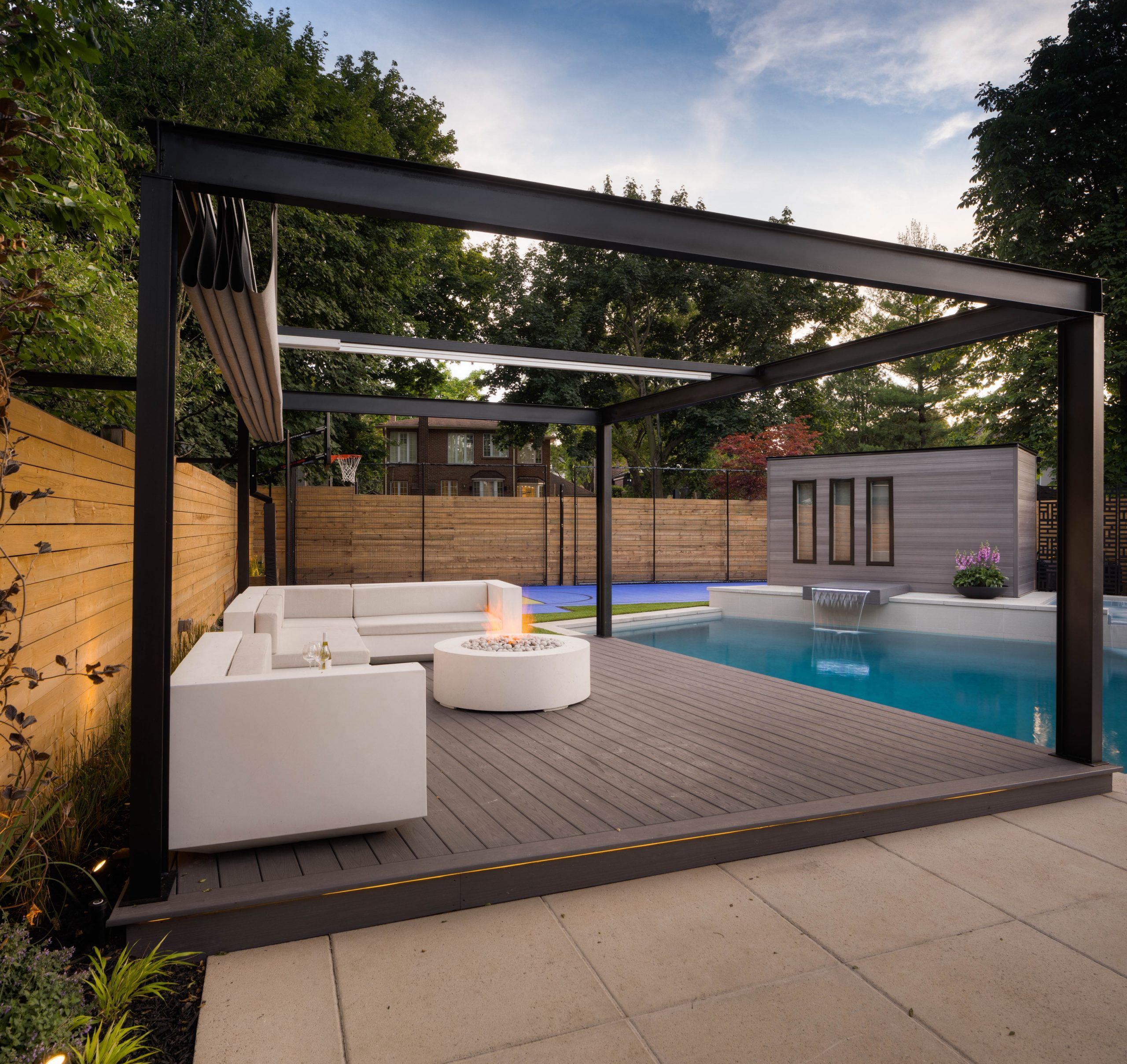 To ensure that no space was wasted, we added a poolside deck with a retractable Gazebo to give a feeling of cohesion throughout the yard, making an excellent spot for outdoor lounging.
This deck was entirely custom made and contemporary thanks to our deck design team and building professionals who pride themselves on keeping their fingers on the pulse of all of the latest desk design trends.
Our Toronto landscaping company is always on top of the latest updates regarding outdoor bars and kitchens, comfortable outdoor family rooms, gardening centers and everything in between. Because of this, we are the go-to source for building your next deck.
Sports Court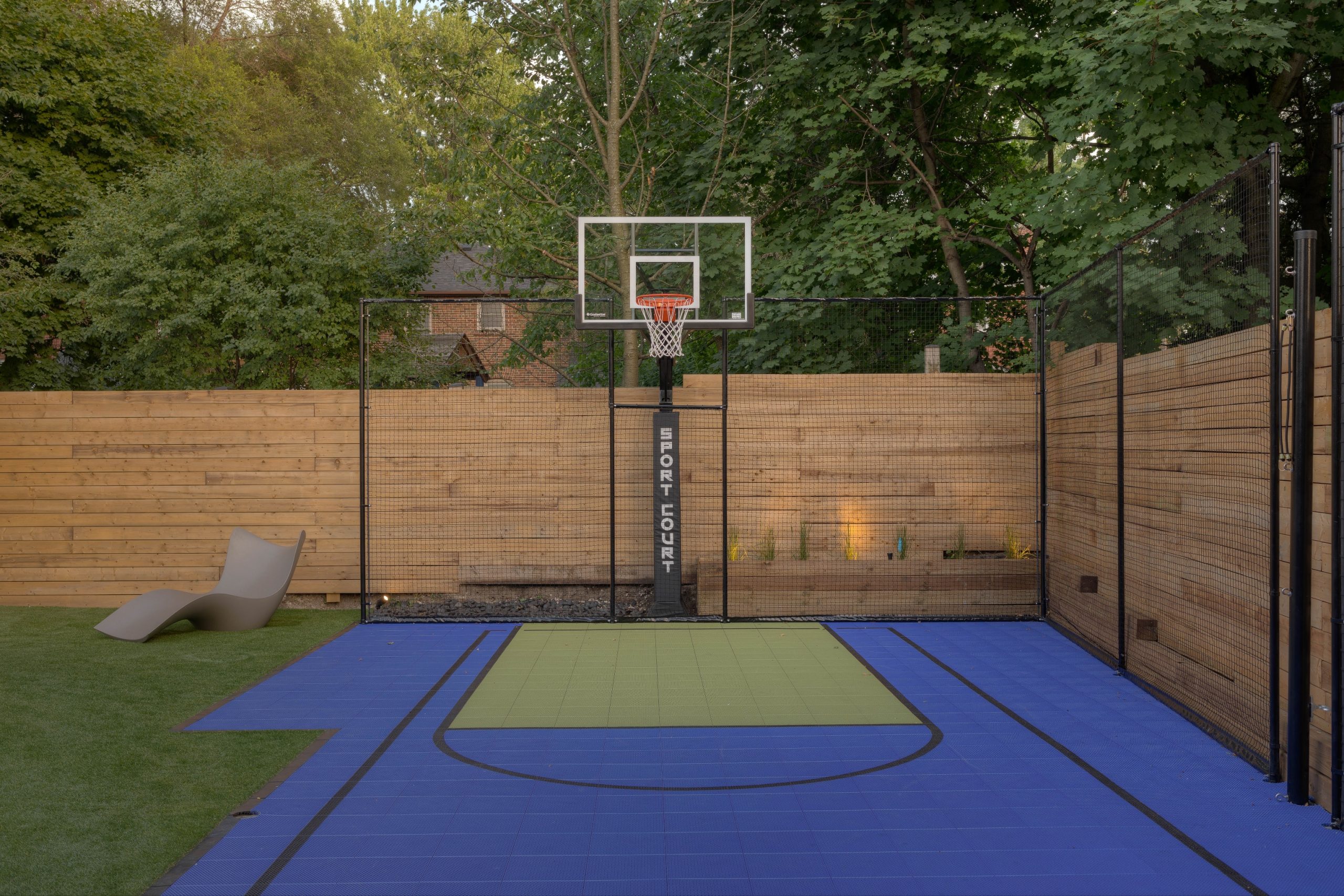 One of the more unique additions to the back yard was a sports court for their children to use. The sports court consists mainly of a basketball hoop set up over blue cement to provide the property with some extra colour.
Our Toronto landscaping company has created many different sports courts in the past. If you have children or play sports, we can transform your backyard into a multi-purpose, versatile surface. We can accommodate any backyard size to have a basketball court (half or full court), a volleyball net, a tennis court, a hockey rink, and much more.
Interlocking
To connect the pool and deck to the home, we installed interlocking, a great looking addition that is ideal for minimal maintenance.
Interlocking can provide a unique and decorative touch to any backyard, driveway, or pathway. Our Toronto landscaping company will implement interlocking the highest standards necessary to meet all of your expectations and give you confidence that it will stand the test of time.
Wooden Fence 
Our highly trained carpenters used their expert woodworking skills to create a wooden fence surrounding the backyard to provide privacy and complement the property. The earthy look of the wood offers a natural look to the property.
The woodworking services you can expect from our Toronto landscaping company extend far beyond fences. We also create premium gazebos, pergolas, or any other wooden structure you would like to add to your property. We will work with you closely to ensure your custom wooden structure is built precisely to your specifications.
Fireplace
Within their poolside deck, we installed a modern outside fireplace that perfectly matches the seating surrounding it. Together with the gazebo, pool-side deck, and fireplace, the property is given a luxurious feeling.
On top of the aesthetic factor a fire-place can add, it is also beneficial for those colder nights when you and your guests or family members decide to watch the stars while sitting around the fire.
Our Toronto landscaping company offers a wide range of options when building fireplaces. We have many materials to choose from cast iron, copper, stainless steel, or cast aluminum. We will also create your custom fireplace to fit the types of fuels you wish to use, from using the preinstalled propane or natural gas outlets you have or sticking with purely natural sources of fuel.
Your Trusted Toronto Landscaping Company
M.E. Contracting is a top-notch Toronto landscaping company that excels when it comes to backyards. No matter the project you have in mind, we will happily work with you on each step of the process to make sure it comes out just as you envision it. We create picturesque backyards that are easy to maintain as well as increase your home's price by dramatically upping its curb appeal.
We offer an in-depth Toronto deck builder. guide to help you find the perfect deck for you and your property. By evaluating your need for the patio, how big your family is, the expected amount of use, your property, and more, we recommend a deck that will fit your exact specifications.
Call M.E. Contracting today, your trusted Toronto landscaping company, for a free consultation regarding landscaping, pool construction and installation, interlocking, woodworking, stonework and deck building, and much more.
Request a free in-home estimate or visit our 7,000 sq. ft. Landscaping showroom for inspiration.