A hand reel lawn mower provides homeowners the traditional mowing technique preferred by lawn care professionals, with the additional benefit of a gasless output. Manual mowers are powered instead by the operator. The best part about hand reel mowers, besides the economical price, is that they last. Manual lawn mowers put in years of dependable service and provide gentle lawn care.
Unlike the standard rotary mower, manual lawn mowers only cut what gets between the reel and the cutter bar, making it necessary to mow more often to maintain a proper lawn length.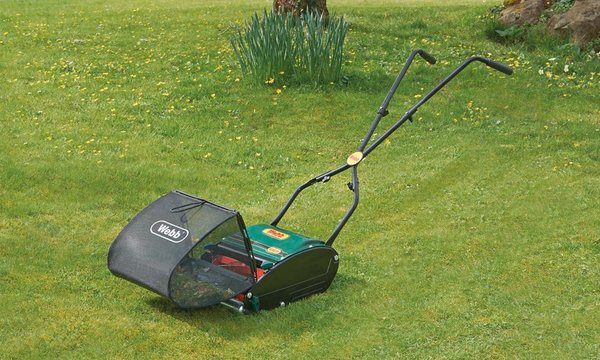 1. Sun Joe MJ501M Manual Reel Mower w/ Grass Catcher
No messy gas; just an easy-to-use, lightweight, maneuverable and economical push reel mower. The Sun Joe MJ501M Reel Mower with Grass Catcher handles tough turf with ease and provides a quiet, eco-friendly solution for any lawn. The Sun Joe MJ501M is perfect for anyone looking for a budget-friendly and healthy way to mow their lawn. Its 18″ cutting path is perfect for any small or medium yard, allowing you to finish the job faster than you could with a smaller mower. And with a durable but light body, it's easy to push and store away. Plus, with the grass collection bag, you have the option of mulching or bagging your clippings.
Price: $100.29
2. Earthwise 1715-16EW
For the price, the Earthwise 1715 is a terrific bargain for anyone looking for a well-made lawn mower of this style. Homeowners will enjoy the 16″ cutting width, and the featherlite weight (26 lbs) which makes this Earthwise model effective and compact enough for easy storage. The tempered steel alloy blades and steel side plate give the Earthwise 1715-16EW added durability.
Price: $118.79
3. Greenworks 25072
For those looking for an affordable manual lawn mower for medium lawns, the Greenworks 25072 is an excellent model to consider. Its 20″ cutting width make this the largest lawn mower on this list. Larger in the case of manual mowers just means fewer passes to get that perfectly manicured lawn. The added ability to collect grass clippings makes the Greenworks 25072 an overall best-in-class manual lawn mower.
Price: $119.99
4. Fiskars StaySharp Max Reel Mower
The Fiskars StaySharp Max Reel Mower is the most expensive model on this list, but there are several good features that make this premium option worth the extra money. Fiskars make some of the top lawn and garden care tools on the market today, and this built-to-last manual mower is a prime example. Steel blades deliver precise, clean cuts through even the toughest patches, and the 1″ to 4″ cutting height ability is one of the largest ranges offered on the market. While it weighs 51.7 lbs, the design allows for easy maneuvering. It won't take long to craft the perfect lawn from the Fiskars StaySharp Max Reel Mower's five blades.
Price: $198.20
5. American 1815-18
The American Lawn Mower Company has been making top-quality products for over a century and the American 1815-18 reel mower is no exception. This remarkably light, maneuverable and store away. You might be surprised then that the American 1815-18 is sturdy enough to navigate a medium-sized lawn, leaving crisp, clean cuts in its substantial 18″ path.
Price: $99.99
Here are some more great tips for helping maintain your lawn before, during and after your lawn mower purchase.
Encourage a more in-depth grass root system by mowing no more than one-third of the grass blade. A lawn with a widespread network of roots finds food and water quickly while giving weeds no place to grow.
Overlap your passes to cut evenly and consistently.
If the mower jams, you are cutting too much grass or pushing the mower too fast.
Maintain your manual lawn mower, and it will improve the health of the lawn in return.
Keeping your yard clean, edged, and mowed can be a very satisfying thing to do while maintaining the value of your home. Whether you've just purchased your new home or looking to sell your home in the near future, yard maintenance is a must-have to maintain the value of your home.