There are two ways to expand your home and inject that extra space. The first two are the cheapest and include building upwards into the loft or expanding outwards with the addition of a kitchen or alternatively, a side return extension.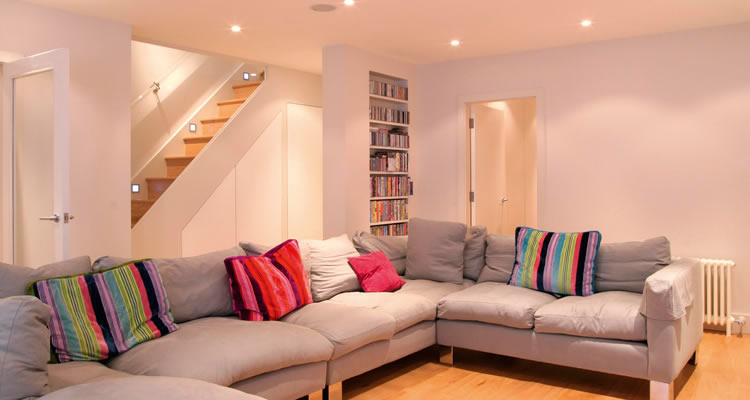 The second method of extension is the costliest and this requires building downwards with the creation of a basement.
The fact that it is costly doesn't mean you should be daunted or consider basement conversion only as the last option. If handled right, this could be the perfect way to augment the space you already have and with modern architecture and home designs, basements do not serve as synonyms for dark and mouldy, these days what you get is a beauty that surprises you.
Some houses offer more latitude for expansion than others and to be really sure of what you are getting into, you should do your due diligence, research homes just like yours that underwent similar modifications before you invite experts to take a look. If you want to dig deep, we have broken down the benefits, options, and technical challenges you will encounter in the process.
There are a few good reasons why people love basement conversions. The first is that it can improve your living space significantly.
You get to add extra space to your home without making any alterations to the exterior. If you ever consider selling, the value of your property will definitely go up.
Contact a tradesperson and he/she will give you all the information you need on basement conversion cost without any extra charge for services.
Before you undertake a basement conversion, consider the following;
Planning permission
If you aim to modify your home and improve your space without any extra additions, you may not need planning permission for that because it is already covered under your Permitted Development Rights.
If on the other hand, you have to dig, lower the floor or carry out any kind of extension for space then you need to ascertain what the best practices are from your local authority before lifting a finger.
Tanking the Basement
Since most people have no use for their cellars or basements, the area is often neglected meaning it is not always properly tanked or waterproof. You really cannot move forward with your proposed modifications without carrying out proper damp proofing. This is because basements are overly susceptible to damp problems because of their location, which is underground and below the water table.
Locate an expert
You can't do this yourself, the people you should trust for a top-notch job is a reputable company equipped to handle your conversion needs. It is advantageous when the expert you chose comes with years of experience in structural and waterproofing projects, both of which should be of particular importance to you.
If you find the best companies, they would even help get you access to similar projects in your neighbourhood or the homes of former clients and trust me, this is very helpful.
Brainstorm basement conversion ideas
What do you want the basement for? A playroom, family room, or a mini-theatre?
Often, we find that people elect to use their new basements as games/playrooms. It offers several advantages like soundproofing (especially when you use the room as a music or media room). Such rooms in the house mean the children's clutter gets shoved out of sight. You could use the basement as an extra bedroom, gym, wine room, or a home office.
If you are looking to create something luxurious, a swimming pool, or spa area combined with a home cinema or gym are all great choices.