Wealthy people on TV always seem to spend enormous amounts of money on their homes. Between hiring decorators and builders, paying painters, and splurging on sofas, living their life of luxury is beautiful, but expensive! But living in the home of your dreams doesn't have to be this way. There are a lot of home improvement projects you can do by yourself that instantly add elegance and sophistication without breaking the bank.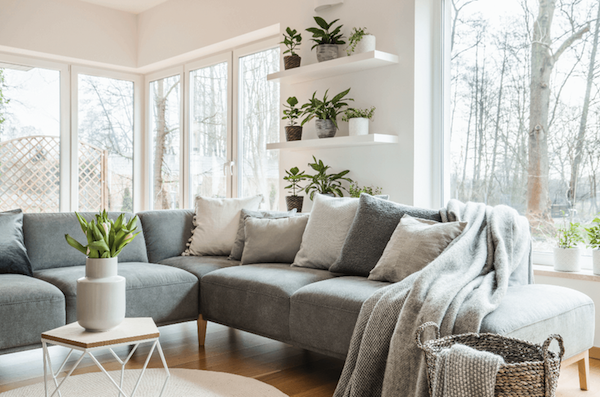 Choose a Cohesive Palette
Use a color scheme through your space that linked to something in your home – a piece of furniture, a rug, or a painting. Once you have decided on the theme, use it throughout your space to unite the rooms for an intentionally designed appearance.
If you feel comfortable, use a deep, rich color and paint it across both the walls and the trim. For a really bold look, paint your doors a deep color – black anyone? Your hardware will pop against the dark rich hue. If neutrals are your preference, select a soothing grey or an ivory tone and add rich colors in your accessories. Is black and white more your style? Keep your area monochromatic and sleek.
Update the Architecture
You do not have to knock down walls to make a room look completely different. You can easily modify the architecture of a room by updating or augmenting the decorative molding. If you don't like the current trim, remove it and install a modern border. If what is there is sufficient but not as grand as you would like, add thicker, taller, or more ornate decorative levels. In formal rooms, invest in wainscotting, picture frame molding, and chair rails to gain refinement on a budget.
Enhance With Fabric
Add pillows, blankets, and rugs that enhance the palette. Opt for a sheepskin blanket or faux-fur throw for texture and richness. A large rug fills a room, making it feel bigger, and instantly makes it feel more expensive. It also adds warmth and ties everything together.
Don't forget window treatments! Make sure your curtains are the right length – window treatments that are too short look cheap. If they touch the floor, they look like they were custom made for that window rather than simply purchased at a shop. Before you hang them, make sure to iron out the folds from the packaging. Dual rods with layered curtains are great if you are concerned about making a room too dark or a wall too heavy with drapery. Opt for simple rods with clean lines and coordinating patterns
Illuminate the New Look
Add new lighting fixtures or put an existing ceiling light on a dimmer switch for drama. Plug-in wall sconces and table lamps allow you to layer the lighting sources, so place them around the room rather than grouped together. Display candles in a glass bowl and place electric candles on top of shelves.
Introduce reflective surfaces to the room. Floor and wall mirrors, glass tabletops, and metallic accents like a brushed brass clock or a gold door handle add instant luxury. Cover your furniture with high-gloss paints and hang metallic wallpapers to increase reflective surfaces on your walls. If you can't afford real metal accents, upgrade your items with metallic spray paints. They come in a variety of colors and finishes to match any decor. Spray tin pots gold, or make a basic table elegant with a silver finish. Make sure you do all spraying projects outside and protect the area with drop cloths
Accessorize Sparingly
Don't go overboard on your decorations, keep things clean and simple. Make sure to mix affordable coordinates that match old family items to extend your theme without overextending the budget. Keep photo and picture frames all the same color, simply spray paint mismatched frames you already have for a cohesive look. If you have a large book collection group them by color. If your collection is smaller, create clean lines by wrapping them in flawless white paper covers made from a roll of children's art paper.
You don't need to buy everything brand new. Inspiration can be found everywhere. Look for antiques, vintage shops, thrift stores, auction houses, and estate sales. These places have lots of furniture and accessories at great prices that can be updated with a new coat of paint, a good cleaning, or fresh upholstery. If you find a broken mirror at a resale shop for cheap, throw away the cracked glass and add the vintage frame over inexpensive art you found at a national chain store to make it unique.
With great lighting, colors, and fabrics, your home can look and feel truly luxurious without spending like the people on TV. All you have to do is find the right inspiration and make smart decisions, and you can easily upscale your home on your own.