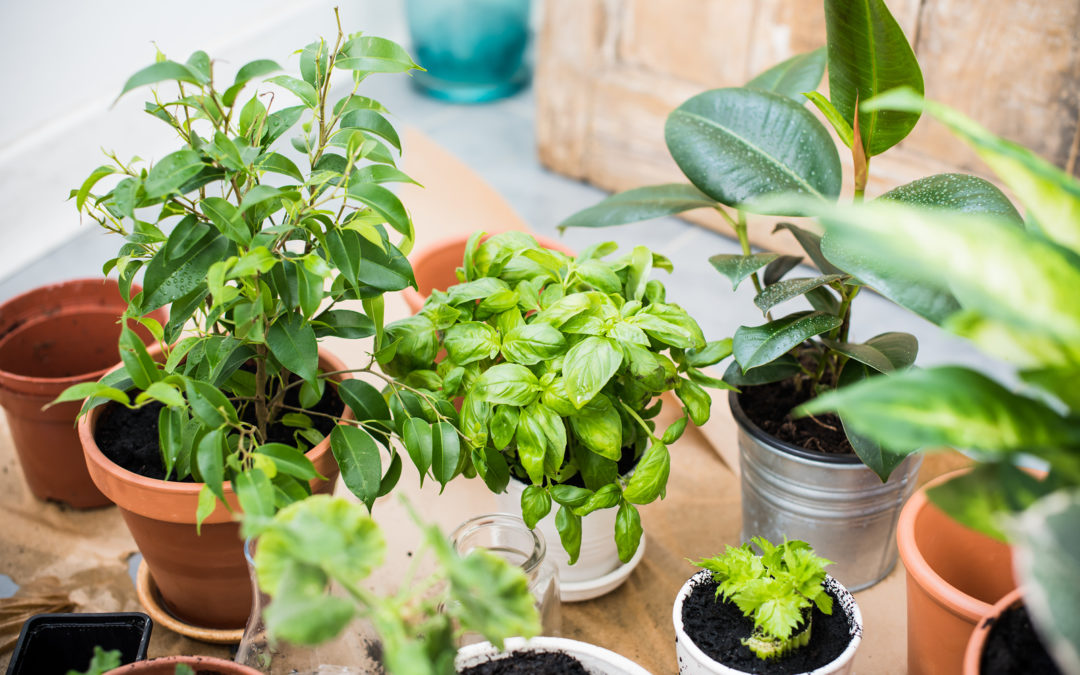 Home is traditionally a safe haven, yet the Environmental Protection Agency has warned that in many American homes, the indoor air quality is up to five times worse than it is outside. Items such as pressed wood furniture, flame retardants in soft furnishings, dander, smoke, space heaters, and more can interfere with the purity of air. Many of these toxins have been linked to a plethora of health problems – including respiratory and reproductive problems, as well as cancer. When it comes to breathing fresh air indoors, natural is the way to go, since the overload of chemicals, dirt, bacteria and mold is what causes the problem in the first place.
Indoor Plants
Plants absorb toxins, and using the right species can help reduce indoor pollution – as found in research published in the journal Cell Press. Researcher and plant physiologist, F Brilli found that a better knowledge of plant physiology, alongside the use of smart-sensor-controlled air cleaning technologies, can purify air in an affordable and sustainable way. Some of the most efficient plant species when it comes to removing chemical vapors, for instance, include butterfly palms, orchids, dwarf date palms, ficus, and kimberley queen ferns.
Bamboo Charcoal Air Purifier Bags
Bamboo charcoal bags for quality air are a simple and efficient way to eliminate bad smells, allergens, odors, and some VOCs from your indoor environment. These bags are essentially carbon activated purifiers made from bamboo, utilizing both the roots and stems (which are exposed to extremely high temperatures). As thermal decay sets in, oxygen is provided to the bamboo, facilitating natural activation. This type of purifier requires no electricity to work, making it a sustainable solution. It comes in a variety of sizes, so if you have several rooms in your home, invest in one purifier for each room. You can also opt for a blend of charcoal and HEPA filters. These are powerful filters capable of eliminating particles as tiny in size as 0.3 microns.
Eliminating Root Causes Of The Problem
If you are keen on redesigning your home, try to do so with your family's health in mind. Consider replacing pressed wood furniture with sustainable pieces in materials such as bamboo, rattan, metal, or reclaimed solid wood. Carpets can house dander and other allergens, so replacing them with solid flooring can help improve air quality. Because harsh cleaning products such as bleach and ammonia can interfere with your respiratory health and cause irritation of the eyes and throat, consider making the switch to natural yet powerful cleaning methods – such as steam vacuuming. Surface cleaners and grease removers can be made with simple ingredients such as white vinegar, water and baking soda. You can also clean tables, chairs and décor pieces with a cleaning solution such as Thieves, which is based on the antimicrobial power of essential oils such as clove.
If you wish to live in a cleaner environment, start by reducing the number of items that can contribute to toxic overload in your home. Consider bringing more plants inside, so as to embellish your home while also filtering out VOCs and other compounds. Finally, consider using a natural filter that requires no energy at all. A bamboo charcoal air purifier bag can work wonders, but if you prefer HEPA filters, these too can efficiently eliminate many particles that can cause a wide range of uncomfortable symptoms.